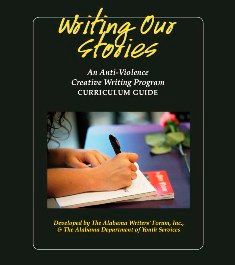 Since its beginning in 1997, Writing Our Stories: An Anti-Violence Creative Writing Program has touched the lives of hundreds of students in Alabama and beyond. To facilitate the program, in 2002 a team of talented teaching writers and arts and education administrators from the Alabama Writers' Forum and the Alabama Department of Youth Services collaborated on the Writing Our Stories Curriculum Guide, researched and published with the help of a generous grant from the Children's Trust Fund.
Although designed as a program for adjudicated youth, Writing Our Stories and its Curriculum Guide also work well as a creative writing program and text in public, private, and home schools. The guide is an accessible educational resource for both new and experienced teachers of creative writing.
Order your copy of the Writing Our Stories Curriculum Guide. The $55 price includes shipping and handling.