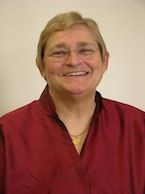 Virginia Gilbert
125 Horseshoe Bend S.
Madison, Alabama 35758
256-464-9130
vgpoet@aol.com
Hometown: Cary, IL

Genre
Publications and Awards
Books:
Greatest Hits, Pudding House Publishers, 2004
That Other Brightness, Black Star Press, 1995
The Earth Above,Catamount Press, 1993
To Keep at Bay the Hounds, Nebraska Poets' Association,1985
Anthologies:
Whatever Remembers Us; An Anthology of Alabama Poetry
Ordinary and Sacred as Blood, Alabama Women Speak
Claiming the Spirit Within: A Source Book of Women's Poetry
Cameos: Twelve Small Press Women Poets
I Hear My Sisters Saying
New Voices in American Poetry
I Love you All Day
And others.
Journals: (title, issue)
Beloit Poetry Journal
The Seneca Review;
Prairie Schooner
Poetry Now;
Sumac
The North American Review
Southern Poetry Review
New York Quarterly
Mss., The Poetry Society of America's Poetry Review
And others.
Literary Awards:
Alabama State Council on the Arts Individual Artist Grant in Literature for poetry, 2009-10
Alumni Achievement Award from the University of Nebraska-Lincoln 2006
Pudding House Nominated Poet for their juried Greatest Hits Series, 2002
Alabama State Poetry Society's Poet of the Year, 2001
First Place, Alabama State Poetry Society's Poetry Slam, 1998
Alabama Humanities Foundation Speakers Bureau Fellow,1997-98
Share our Strength Conference of Leaders,1995
Fulbright Fellow, China, 1992
First Place, Adult, the Second annual Sakura Haiku Contest,1992
Title III Faculty Development Grant, Alabama A&M University, 1990-91
Hackney Award in Poetry, 1990
Nebraska Poets' Association's Chapbook Series, 1984
Outstanding Young Woman of America, 1980
National Endowment for the Arts Fellowship in Poetry, 1976-77
First Place Honorarium, First Earth Day Competition, The Daily Iowan, 1970
Harlan Award, Iowa Wesleyan College,1966-69
And others.
More Information
Gives readings: Yes
Travels to readings: Yes
Conducts workshops: Yes
Available for interviews: Yes