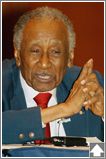 Albert Murray (May 12, 1916-Aug. 18, 2013)
New York City, NY
Hometown: Magazine Point, AL






The Alabama Writers' Forum is saddened to announce that inaugural Harper Lee Award recipient Albert Murray passed away on Aug. 18, 2013.
Genre
Publications and Awards
Books:
The Blue Devils of Nada: A Contemporary American Approach to Aesthetic Statement, 1996
Good Morning Blues: The Autobiography of Count Basie, coauthored with William "Count" Basie, 1985
Stomping the Blues, 1976
The Hero and the Blues, 1973
South to a Very Old Place, 1971
The Omni-Americans, 1970
Literary Awards:
Harper Lee Award for Alabama's Distinguished Writer of the Year, 1998
Lifetime Achievement Award, National Book Critics Circle
DuBois Medal, W.E.B. Dubois Institute for African and African American Research, Harvard University
And others.