Speak Peace exhibit features art by Vietnamese children and poetry by American poets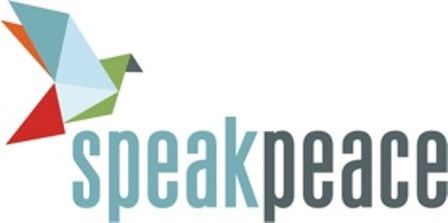 The Alabama Writers' Forum hosted a reception and viewing of Speak Peace: American Voices Respond to Vietnamese Children's Paintings on April 11, 2012. The event was held in the Old Supreme Court Library in the Alabama State Capitol. Three of the Forum's Mt. Meigs Writing Our Stories students have work in the exhibit and in the Speak Peace catalogue, and one of the newly published poets, Josh S., read his poem, "A Song for Peace," to the reception's attendees.
Speak Peace features original poems written by American students, veterans, and established poets in response to Vietnamese children's paintings on peace and war collected over the last ten years by the War Remnants Museum in Ho Chi Minh City, Viet Nam. A collaborative, international project between Kent State University's Wick Poetry Center and School of Art Galleries and Soldiers' Heart, a veterans' return and healing organization, Speak Peace is on tour nationally through September 2013.
In Montgomery, Speak Peace was presented by the Alabama Writers' Forum, a partnership program of the Alabama State Council on the Arts, and the Alabama Department of Youth Services in conjunction with April Is Child Abuse and Neglect Prevention Month. Generous support was provided by the Auburn University at Montgomery Center for Government, a unit of Outreach.
Below are photographs from the exhibit reception. Click the thumbnail to learn more. (Photos by Robin Cooper)
A Vietnamese child's art

Art from Vietnamese children inspired the Speak Peace exhibit. (02)

A panel from the exhibit

Art from Vietnamese children inspired poets to respond for the Speak Peace exhibit. (01)

Josh S.

Student poet Josh S. reads his poem, "A Song for Peace." (45)

Josh S. & Walter Wood

Walter Wood, executive director of the Alabama Department of Youth Services, chats with student poet Josh S. (11)

Jimmy McLemore, Josh S., & Jeanie Thompson

Forum board member Jimmy McLemore & Executive Director Jeanie Thompson congratulate student poet Josh S. on his appearance in the Speak Peace exhibit. (71)

Lisa Gallagher Williams, Marlin Barton, Josh S., & Maureen Womack

Mt. Meigs Writing Our Stories cooperating teachers Lisa Gallagher Williams & Maureen Womack with teaching writer Marlin Barton congratulate student poet Josh S. on his appearance in the Speak Peace exhibit. (54)

Two visitors read a poem

Two visitors read a poem from a panel in the Speak Peace exhibit. (16)

Frank White & Jeanie Thompson

Frank White, executive director of the Alabama Historical Commission, & Jeanie Thompson, Forum executive director, discuss a poem in the Speak Peace exhibit. (08)

Walter Wood

Walter Wood, executive director of the Alabama Department of Youth Services, reads a poem in the Speak Peace exhibit. (09)

Cathy Crabtree

Cathy Crabtree, a senior consultant for the AUM Center for Government, reads a poem from a panel. (23)

Jeff Blancett

Jeff Blancett, a senior consultant for the AUM Center for Government, listens as student poet Josh S. reads his poem, "A Song for Peace." (30)

Kelley Parris-Barnes, Mathew Duke, Frank White, Tyrone Yarbrough, Marlin Barton, Jimmy McLemore, & Walter Wood

Sponsors' representatives Kelley Parris-Barnes, director of the Alabama Department of Child Abuse & Neglect Prevention; Matthew Duke, senior director of the AUM Center for Government; Frank White, executive director of the Alabama Historical Commission; Tyrone Yarbrough, superintendent of the Alabama Department of Youth Services (DYS) School System; Marlin Barton, assistant director for Writing Our Stories; Jimmy McLemore, Forum board member; & Walter Woods, executive director of DYS, stand for a photograph. (50)