High school students compete in the state finals.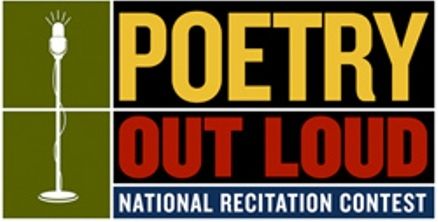 On February 20, a group of twenty-two students traveled from all over the state with their teachers and family members to the Alabama Shakespeare Festival in Montgomery to participate in the state finals of Poetry Out Loud. Alabama's new State Champion is Margaret "Peggy" Payne from St. Peter's Academy in Limestone County. Last year's Alabama champion, Youssef Biaz from Auburn High School, traveled to Washington, D.C., to become the National Poetry Out Loud Champion. Payne said that she hopes to follow Biaz as 2012 National Champion.
Doris Anne Darbouze of Auburn High School placed first in the Original Poetry category. The Alabama Writers' Forum underwrites two cash awards – First Place for $150 and First Runner-up for $75. First Place, First Runner-up, and Honorable Mention winners in Original Poetry receive a complementary one-year student membership in the Forum. All eight top winners in Poetry Out Loud receive contemporary poetry collections.
Visit the state winners below. (Photos by Julian)
Margaret "Peggy" Payne, 2012 Alabama Poetry Out Loud Champion

Margaret "Peggy" Payne of St. Peter's Academy, 2012 Alabama Poetry Out Loud Champion

Nicholas "Nick" Mecikalski, 1st Runner-up, Recitation

Nicholas "Nick" Mecikalski of Bob Jones High School, 1st Runner-up, Recitation

Daisy Dai, Honorable Mention, Recitation

Daisy Dai of Auburn High School, Honorable Mention, Recitation

Ashley Draper, Honorable Mention, Recitation

Ashley Draper of Trinity Presbyterian School, Honorable Mention, Recitation

Savannah Marie Wheat, Honorable Mention, Recitation

Savannah Marie Wheat of Austin High School, Honorable Mention, Recitation

Jeanie Thompson congratulates Doris-Anne Darbouze, Original Poetry winner.

AWF Executive Director Jeanie Thompson congratulates Doris-Anne Darbouze of Auburn High School, Original Poetry winner.

Jeanie Thompson congratulates Jakob G. Suell, 2nd Place, Original Poetry

AWF Executive Director Jeanie Thompson congratulates Jakob G. Suell of Foley High School, 2nd Place, Original Poetry

Jeanie Thompson congratulates Bonny Chen, Honorable Mention, Original Poetry

AWF Executive Director Jeanie Thompson congratulates Bonny Chen of Auburn High School, Honorable Mention, Original Poetry