Columbiana Middle School honors second class of Writing Our Stories students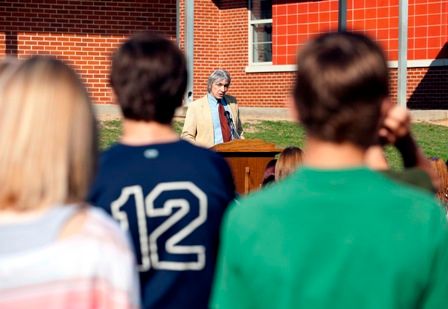 The award-winning Writing Our Stories (WOS) celebrated its second year at Columbiana Middle School (CMS) on May 18 with the release of Learning To Fly at the school's annual Honors Day.
Tony Crunk, veteran WOS teaching writer, worked with host teachers Maite Miller and Richard Scott and some fifty-nine students to complete their anthology of original poems and stories. Ten selected students read from their work at the event.
Writing Our Stories is a creative writing collaborative program whose partners include the Alabama Department of Youth Services (DYS), the ABSOP project, and the Alabama Writers' Forum. The Children's Trust Fund provided funds for the WOS Curriculum Guide.
The Forum worked with Terri Sullivan and the Shelby County Arts Council to bring WOS to the Shelby County School District in 2011. This residency is the program's first partnership with an Alabama public school outside of the DYS school system.
Additional support for WOS at CMS was provided by the Alabama State Council on the Arts, the Alabama License Tag Grant Program, and the Shelby County Arts Council.
Below are some photos from the book event. (Photos by Robin Cooper)
Maite Miller with student

Host teacher Maite Miller congratulates a student writer. (060)

Tony Crunk & Richard Scott with students

Teaching writer Tony Crunk & host teacher Richard Scott encourage their student writers. (003)

Tony Crunk introduces students

Teaching writer Tony Crunk introduces his student writers. (012)

Christine Muehlbauer welcomes audience

CMS Principal Christine Muehlbauer welcomes the audience. (008)

Maite Miller addresses audience

Host teacher Maite Miller addresses the audience. (070)

Terri Sullivan offers remarks

Shelby County Arts Council Founder & Director of Development Terri Sullivan offers some remarks. (015)

The Writing Our Stories team

Principal Christine Muehlbauer, SCAC Founder & Director of Development Terri Sullivan, teaching writer Tony Crunk, AWF Executive Director Jeanie Thompson, AWF Assistant Director for WOS Marlin Barton, & host teachers Maite Miller & Richard Scott (083)

"Learning To Fly"