2012 produces three new WOS anthologies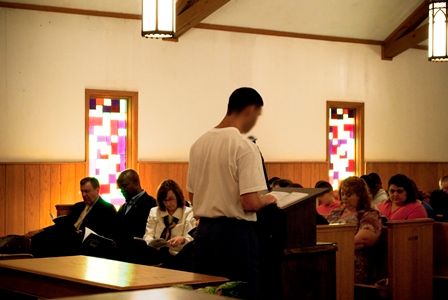 A Mount Meigs student reads from "Open the Door 15." (Cyndi Grimes)
Football standout Anthony Madison addresses WOS students
"You guys have a great future ahead of you," said former Crimson Tide and Steelers cornerback Anthony Madison, addressing the newly published writers from the Writing Our Stories (WOS) program at the Lurleen B. Wallace School on the Department of Youth Services (DYS) Mt. Meigs campus. "I read your book, and you are intelligent."
Held in the campus chapel, the event marked the release of Open the Door 15, an anthology of poems and stories from the student writers. Students, guests, and DYS faculty, staff, and administrators filled the chapel to capacity. "Optimism" was the theme of the day.
Broadcast journalist Jeh Jeh Pruitt applauds Vacca students
"I'm a huge fan," said Jeh Jeh Pruitt, Fox 6 broadcast journalist and co-founder of The Dannon Project, addressing a group of newly published student writers. Holding his copy of From Darkness to Light high, he said, "When I read this book I felt every word."
Pruitt gave the keynote address at the November 1 Writing Our Stories book release event in the Chapel of the Department of Youth Services (DYS) Vacca Campus in Birmingham. From Darkness to Light is an anthology of poems and short stories from the students at the Adele Goodwyn McNeel School at the DYS facility. Teaching writer Tony Crunk edited the book. Harold Abram Jr. is the cooperating teacher.
DYS celebrates WOS Chalkville team
In the early morning hours of January 23, 2012, an EF3 tornado roared down Old Springville Road in Clay. Its widespread path of destruction included the Alabama Department of Youth Services (DYS) Chalkville Campus. Though the students and staff there suffered no serious injuries, many of the campus buildings sustained irreparable damage. The young women there were transferred to group homes or other programs for troubled teens. Thus ended Writing Our Stories' fourteen-year run at Chalkville's Sequoya School.
On a bright, sunny morning on November 8, 2012, a group of DYS and Alabama Writers' Forum (AWF) administrators and staff, invited guests, and family members gathered in the administration building on the DYS Mt. Meigs Campus to celebrate the diligence of the Writing Our Stories (WOS) Chalkville team—teaching writer Priscilla Hancock Cooper, cooperating teacher Janet Dixon, and media specialist Mary Rencher—and the release of After the Storm, a compendium anthology of the work of WOS student writers from the fourteen-year Chalkville residency and the one semester that Cooper spent at the Working On Womanhood (W.O.W.) program in Tuscaloosa after the tornado.
Below is a photo gallery from the three events. Click the thumbnail for a full image.
Antony Madison addresses student writers.

Former Crimson Tide and Steelers cornerback Anthony Madison addresses the newly published writers from Open the Door 15.. (Julie Bennett, 2543)

Mount Meigs students read along.

Open the Door 15 student writers read along with a classmate. (Julie Bennett, 2550)

Student writer autographs a book.

A newly published student writer autographs a copy of Writing the Door 15. (Julie Bennett, 2557)

Anthony Madison swaps autographs.

Keynote speaker Anthony Madison and a student writer swap autographs. (Julie Bennett, 2560)

The Writing Our Stories Mount Meigs team.

(from left) Walter Wood, executive director of the Alabama Department of Youth Services; Marlin "Bart" Barton, teaching writer; keynote speaker Anthony Madison; Jeanie Thompson, executive director of the Alabama Writers' Forum; and Tyrone Yarbrough, superintendent of the DYS school system. Note Madison's Super Bowl Ring. (Julie Bennett, 2558)

Open the Door 15

Open the Door 15, edited by Marlin "Bart" Barton.

Jeh Jeh Pruitt addresses Vacca audience.

Jeh Jeh Pruitt, Birmingham Fox 6 broadcast journalist and co-founder of The Dannon Project, addresses a group of newly published student writers at the DYS Vacca campus. (Cyndi Grimes, 0075)

A student writer reads along.

A student writer follows along while his classmate reads from the podium.

Tony Crunk chats with a student.

Teaching writer Tony Crunk chats with one of his creative writing students during a reception in the McNeel School Media Center. (Cyndi Grimes, 0184)

Arthur Tigner & Jeh Jeh Pruitt have their anthologies signed.

McNeel School Principal Arthur Tigner & keynote speaker Jeh Jeh Pruitt have their copies of From Darkness To Light autographed by student writers. (Cyndi Grimes, 0174)

The WOS Vacca team

(from left) Tyrone Yarbrough, superintendent of the DYS school system; teaching writer Tony Crunk; cooperating teacher Harold Abram; McNeel School Principal Arthur Tigner; keynote speaker Jeh Jeh Pruitt; AWF Executive Director Jeanie Thompson; DYS Executive Director Walter Wood. (Cyndi Grimes, 0176)

From Darkness to Light

From Darkness to Light, edited by Tony Crunk

Priscilla Hancock Cooper reads.

Guest of Honor Priscilla Hancock Cooper reads from After the Storm. (Cyndi Grimes, 0232)

Janet Dickson presents a gift.

Teaching writer Janet Dixon (r) presents Priscilla Hancock Cooper with a a copy of Dr. Seuss' Oh, the Places We can Go. (Cyndi Grimes, 0307)

Jeanie Thompson presents a gift.

AWF Executive Director Jeanie Thompson presents a gift to Priscilla Hancock Cooper for her fourteen year residency with Writing Our Stories. (Cyndi Grimes, 0330)

The crystal vase

The Alabama Writers Forum presented this crystal vase to Priscilla Hancock Cooper to honor her fourteen years of service. Engraved with the Forum's logo, the inscription reads, "In honor of Priscilla Hancock Cooper, Teaching Writer, Writing Our Stories, 1998-2012."

The Writing Our Stories Chalkville team

Former Sequoya School Principal Cheryl Bufford; Media Specialist Mary Rencher; teaching writer Priscilla Hancock Cooper; cooperating teacher Janet Dickson; Principal Stacey Crowell

After the Storm

After the Storm, edited by Priscilla Hancock Cooper