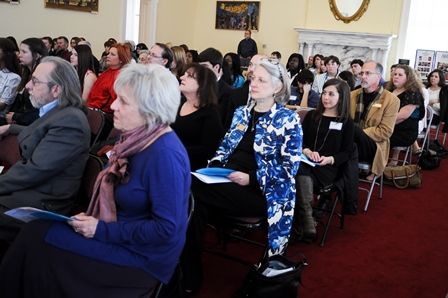 State Capitol hosts 19th annual Alabama High School Literary Arts Awards ceremony
Some thirty-two student writers representing twelve high schools gathered in the Old Supreme Court Archives Chamber in the State Capitol on March 13, 2013, to receive their honors in the 19th annual Alabama High School Literary Arts Awards and Scholarship Competition. This year, the Alabama Writers' Forum, sponsor of the competition, presented a total of eighty-four awards to students from around the state.
Prior to the ceremony, state legislators took a break from committee meetings to congratulate their young constituents. Senate Majority Leader J.T. "Jabo" Waggoner (R-District 16, Jefferson, Shelby), Sen. Cam Ward (R-District 14, Bibb, Chilton, Jefferson, Shelby), Sen. Linda Coleman (D-District 20, Jefferson), Sen. Bill Holtzclaw (R-District 2, Limestone & Madison), Sen. Gerald Allen (R-District 21, Hale, Pickens, & Tuscaloosa), Sen. Bryan Taylor (R-District 30, Autauga, Butler, Crenshaw, Elmore, Lowndes, & Pike), Rep. John Knight (D-District 77, Montgomery), Rep. April Weaver (R-District 49, Bibb & Shelby), Rep. Alan Baker (R-District 66, Baldwin & Escambia), and Rep. Paul Beckman (R-District 88, Autauga & Elmore) posed for photographs with students and teachers from their districts. In her absence, Rep. Patricia Todd issued legislative resolutions honoring her young constituents at the Alabama School of Fine Arts.
Below are photographs from the awards ceremony. Click the photo for a broader view. (Photos by Terry Bruno-fotowerks)
Senate Majority Leader J.T. "Jabo" Waggoner with ASFA students.

Senate Majority Leader J.T. "Jabo" Waggoner (R-District 16, Jefferson, Shelby)(right) congratulates the Alabama School of Fine Arts students & Executive Director Michael Meeks (center). WFA 15

Sen. Linda Coleman with Marlin "Bart" Barton & Cleveland Gavin

Sen. Linda Coleman (D-District 20, Jefferson) congratulates Writing Our Stories Master Teacher Marlin "Bart" Barton and Lurleen B. Wallace School Principal Cleveland Gavin, part of the WOS team at the Department of Youth Services Mt. Meigs Campus. WFA 32

Rep. John Knight with Jordan Rivers, Ameerah Sanders, & Jennifer Norris

Rep. John Knight (D-District 77, Montgomery) congratulates Jordan Rivers, Ameerah Sanders, & Jennifer Norris of Booker T. Washington Magnet High School. WFA 7

Sen. Bill Holtzclaw with Rachel Cunningham & her parents

Sen. Bill Holtzclaw (R-District 2, Limestone & Madison) (right) congratulates Rachel Cunningham of Sparkman High School & her parents Tracy & Rachel Cunningham. WFA 8

Rep. April Weaver with Elizabeth Ashley Leach & Connie Nolen

Rep. April Weaver (R-District 49, Bibb & Shelby) (left) & (R-District 14, Bibb, Chilton, Jefferson, Shelby) congratulates Elizabeth Ashley Leach & her teacher, Connie Nolen, of Pelham High School. WFA 10

Sen. Cam Ward with Elizabeth Ashley Leach

Sen. Cam Ward (R-District 14, Bibb, Chilton, Jefferson, Shelby) congratulate Elizabeth Ashley Leach of Pelham High School. WFA 11

Rep. Alan Baker with Crystal Boutwell

Rep. Alan Baker (R-District 66, Baldwin & Escambia) congratulates Crystal Boutwell of T.R. Miller High School. WFA 13

Rep. Paul Beckman & Jimmy McLemore with Hannah Walker & family

Rep. Paul Beckman (R-District 88, Autauga & Elmore) & AWF board member Jimmy McLemore congratulate Hannah Walker of Prattville Christian Academy and her family—father Bill, mother Cindy, & brother Matthew. WFA 18

Sen. Gerald Allen with Hale County High School students

Sen. Gerald Allen (R-District 21, Hale, Pickens, & Tuscaloosa) congratulates the students of Hale County High School. Teacher Donna Randall stands right. Chaperone Diane Livingstone stands left. WFA 25

Sen. Bryan Taylor with Hanna Walker, teacher Joel Dilbeck, & Jimmy McLemore

Sen. Bryan Taylor (R-District 30, Autauga, Butler, Crenshaw, Elmore, Lowndes, & Pike) congratulates Hanna Walker of Prattville Christian Academy, her teacher, Joel Dilbeck (left), & AWF board member Jimmy McLemore (right). WFA 28

Kirk Curnutt & Elizabeth Ashley Leach

AWF Board President Kirk Curnutt congratulates Elizabeth Ashley Leach, recipient of the Ashley Gordon / Mockingbird Publishing Senior Portfolio Scholarship. WFA 26

Jeanie Thompson & Natalie Landers

AWF Executive Director Jeanie Thompson congratulates Natalie Landers, recipient of the Leah Marks Memorial Senior Portfolio Scholarship. WFA 2

Jordan Rivers & Kirk Curnutt

AWF Board President Kirk Curnutt congratulates Jordan Rivers, recipient of the Ruth & Jay Ott Senior Portfolio Scholarship. WFA 6

Emma Carter & Jeanie Thompson

AWF Executive Director Jeanie Thompson congratulates Emma Carter, recipient of the Alabama Writers' Forum Senior Portfolio Scholarship. WFA 21

Jon Carter with students

Teacher Jon Carter with Caroline Carlise, Emma Carter, Hannah Hutson, & Matthew Giddens, his students at Briarwood Christian High School. WFA 22

Belle Griffin & Elizabeth Ashley Leach

Belle Griffin & Elizabeth Ashley Leach represent Pelham High School. WFA 27

April Shambo & Miso Kim

April Shambo & Miso Kim represent Montgomery Academy. WFA 29

Anna Claire McNoughton

Anna Claire McNoughton represents Charles Henderson High School. WFA 30

Thomas Perez & Susie Paul

Judges Thomas Perez (Drama) & Susie Paul (Poetry) WFA 23

Al Head

Alabama State Council on the Arts Executive Director Al Head welcomes the audience. WFA 119

Congratulations, Student Writers

Audience members watch the procession of literary champions. WFA 124