State Capitol hosts 18th annual Alabama High School Literary Arts Awards ceremony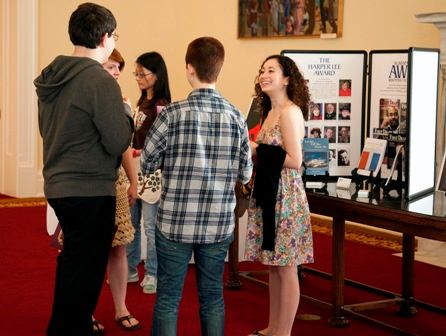 Thirty-four students representing eleven high schools gathered in the Old Archives Chamber in the State Capitol on March 21, 2012, to receive their honors in the 18th annual Alabama High School Literary Awards and Scholarship Competition. This year, the Alabama Writers' Forum, sponsor of the competition, presented a total of ninety-four awards to students at twenty-five high schools. The schools also received certificates of merit.
Prior to the ceremony, state legislators took a break from committee meetings to congratulate their young constituents. Senate Majority Leader J.T. "Jabo" Waggoner (R-District 16, Jefferson, Shelby), Sen. Paul Bussman (R-District 4, Cullman, Lawrence, Winston), Sen. Cam Ward (R-District 14, Bibb, Chilton, Jefferson, Shelby), Sen. Phil Williams (R-District 10, Cherokee, Etowah), and Rep. Greg Burdine (D-District 1, Lauderdale) posed for photographs with students and teachers from their districts.
Below are photographs from the awards ceremony. Click the thumbnail to learn more. (Photos by Robin Cooper)
Senate Majority Leader J.T. "Jabo" Waggoner & ASFA students.

Senate Majority Leader J.T. "Jabo" Waggoner (R-District 16, Jefferson, Shelby) congratulates students from the Alabama School of Fine Arts. ((l-r) Jessica Orcutt, Rolfe Briney, Sen. Waggoner, Jasmine Jones, Elliott Emfinger, and William Bradley. (025)

Senate Majority Leader J.T. "Jabo" Waggoner, Connie Nolen, & Scarlett Lara Alcantara.

Senate Majority Leader J.T. "Jabo" Waggoner (R-District 16, Jefferson, Shelby) congratulates Pelham High School teacher Connie Nolen and her student Scarlett Lara Alcantara. Alcantara received a Creative Nonfiction Judge's Special Recognition Award. (027)

Senate Majority Leader J.T. "Jabo" Waggoner & Emily Cutler.

Senate Majority Leader J.T. "Jabo" Waggoner (R-District 16, Jefferson, Shelby) congratulates Indian Springs School student Emily Cutler. Cutler was awarded 1st Place in poetry and 2nd Place in fiction. (026)

Sen. Cam Ward, Connie Nolen, & Scarlett Lara Alcantara.

Sen. Cam Ward (R-District 14, Bibb, Chilton, Jefferson, Shelby) congratulates Pelham High School teacher Connie Nolen and her student Scarlett Lara Alcantara. Alcantara received a Creative Nonfiction Judge's Special Recognition Award. (012)

Sen. Phil Williams & Logan Hill.

Sen. Phil Williams (R-District 10, Cherokee, Etowah) congratulates Logan Hill. Hill, a student at Cherokee County High School, received a Fiction Judge's Special Recognition Award. (014)

Rep. Greg Burdine, Darlene Freemon, Gabrielle D'Arcy, Sara Kachelman, & Teena Patel.

Rep. Greg Burdine (D-District 1, Lauderdale) congratulates (l-r) Florence High School teacher Darlene Freemon and students Gabrielle D'Arcy, Sara Kachelman, and Teena Patel. (029)

Rep. Greg Burdine, Anita Miller Garner, & Teena Patel.

Rep. Greg Burdine (D-District 1, Lauderdale) congratulates Teena Patel (c). Patel received the Lindsey Stricklin Senior Portfolio Scholarship. Author Anita Miller Garner (l) sponsors the scholarship. (030)

Sen. Dick Brewbaker & Parker Turner.

Sen. Dick Brewbaker (R-District 25, Elmore, Montgomery) presents a Senate Proclamation congratulating Parker Turner. A student at The Montgomery Academy, Turner received a Fiction Judge's Special Recognition Award. (001) Photo courtesy of the Alabama Senate.

Sen. Dick Brewbaker & Abigail Hagood.

Sen. Dick Brewbaker (R-District 25, Elmore, Montgomery) presents a Senate Proclamation congratulating Abigail Hagood. A student at The Montgomery Academy, Hagood received a Creative Nonfiction Certificate of Merit. (002) Photo courtesy of the Alabama Senate.

Sen. Paul Bussman, Walter Wood, Marlin Barton, & Cleveland Gavin.

Sen. Paul Bussman (R-District 4, Cullman, Lawrence, Winston) congratulates Mount Meigs Writing Our Stories team members. (l-r) Department of Youth Services Executive Director Walter Wood, teaching writer Marlin Barton, Lurleen B. Wallace School principal Cleveland Gavin, and Sen. Bussman. (021)

Kirk Curnutt, Marlin Barton, & Jasmine Jones.

Alabama Writers' Forum President Kirk Curnutt (l) and Assistant Director for Writing our Stories Marlin Barton (r) congratulate Alabama School of Fine Arts student Jasmine Jones. Jones received the Marlin Barton Senior Portfolio Scholarship. Curnutt sponsors the honor. (022)

Jim Buford & Kali Daniels.

Alabama Writers' Forum board member Jim Buford congratulates Kali Daniels. A student at Bob Jones High School, Daniels received the Mozelle Purvis Shirley Senior Portfolio Scholarship. (003)

ASCA Executive Director Al Head welcomes the audience.

Alabama State Council on the Arts Executive Director Al Head welcomes the audience of students, family members, teachers, and guests. (040)

Marlin Barton delivers keynote address.

In his keynote address, author Marlin Barton seized the theme of lessons learned from rejection. "I once got an NEA fellowship rejection the day before Christmas and a Sewanee Review rejection on a rewrite they'd asked for the day after Christmas," he said. "I felt a little like they were gunning for me, but they weren't. It was just part of the writing business, so to speak." (070)

Jeanie Thompson presents award to Pike County HS.

Alabama Writers' Forum Executive Director Jeanie Thompson presents a Certificate of Merit for Literary Magazine to Pike County High School teacher Alice Phillips and her students for their entry, Magic Carpet Ride. (002)