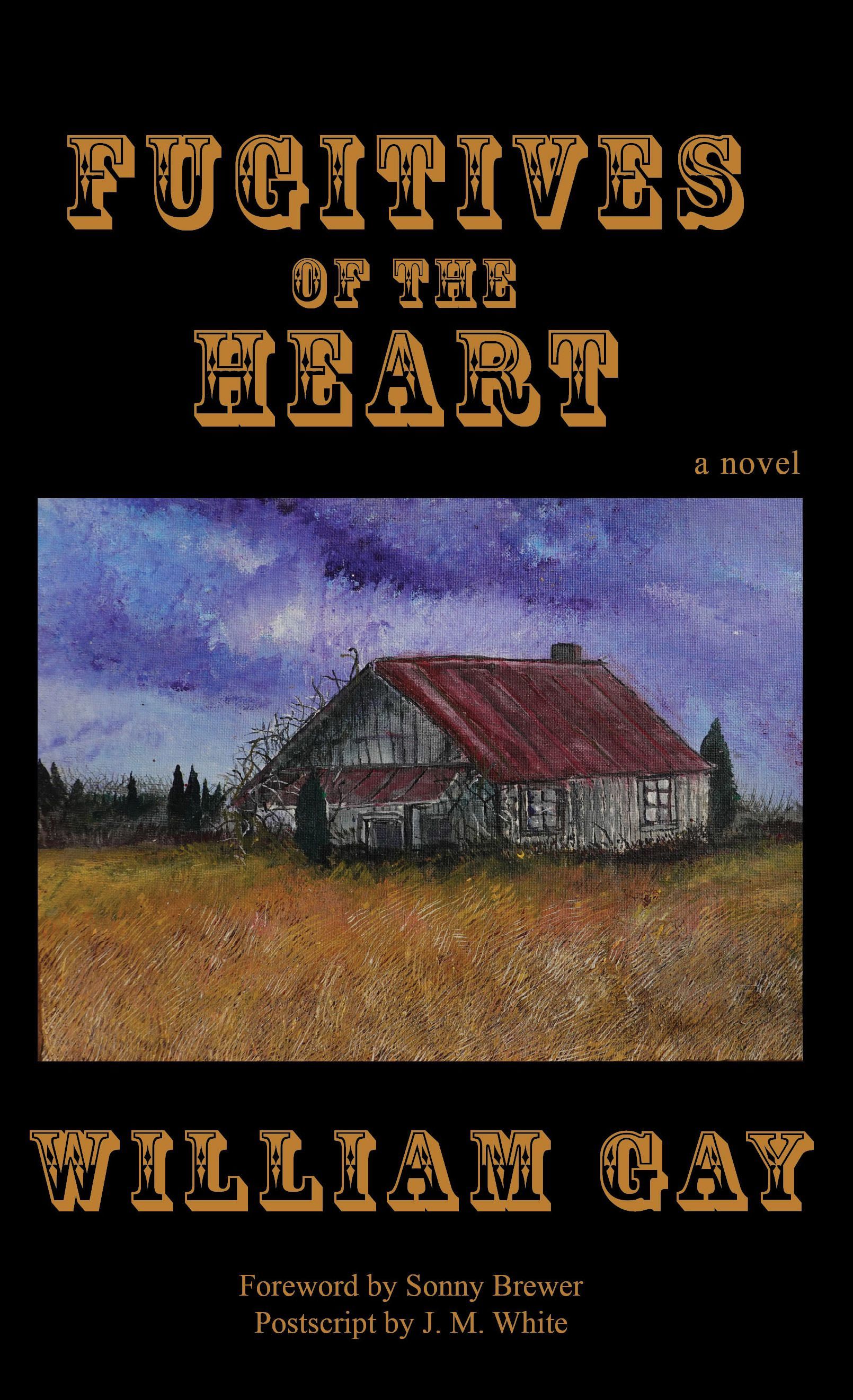 Fugitives of the Heart
by William Gay
Livingston Press, The University of West Alabama, 2021
E-Book: $19.95; Hardcover: $26.95
Genre: Contemporary Fiction
Review by Edward Journey
According to William Gay lore, when he first encountered a dictionary, he read it from cover to cover. A reader might reasonably speculate that he spent his writing career trying to use up all of those words. Here's a horrible example: the protagonist "… screamed a cry of outrage and bereavement and utter revulsion as should have sent the fabric of night to whatever light lay beyond and stitched a momentary caesura in the clockwork of the world itself and then he fled blindly back into the night." And here are some beautiful, and more typical, counterpoints: Gay describes an early spring as "blurred green motion" and, stopping for a drink on a woodland path, his protagonist finds a "deep cloistered coolness with a damp reek of peppermint." Gay is at his best in his descriptions of overlooked natural environments which contrast with the ugly world of the downtrodden all around. The language is visceral and raw.
William Gay started writing at a young age, but his work was not published until he was 59. His prodigious writing career did not end at his death in 2012 at age 70. His family, fans, and scholars have diligently continued to discover, reconstruct, and publish Gay's previously unpublished manuscripts. Fugitives of the Heart might be the final posthumous novel to be released, although writer / editor Sonny Brewer hints in an entertaining Foreword that there might be another novel lurking somewhere; Gay's editor J.M. White, in an equally compelling Postscript, seems inclined to disagree.
Set in the 1940s, Fugitives of the Heart is a grim elegy for time and place. Its episodic, often dream-like and nightmarish trajectory follows the coming-of-age of fifteen-year-old Marion Yates. Gay's obvious and often-cited influence for the novel is Twain's Huckleberry Finn. Yates (he is never called by his first name) falls in with Crowe, a self-described "educated negro with a kinship to Kierkegaard." Crowe is a former school teacher with a tragic past who "could see too many sides of the same question."
Yates becomes the beneficiary of Crowe's significant acts of kindness and generosity. He, in return, becomes an erstwhile caretaker and companion for Crowe when the older man is temporarily disabled by an errant workplace dynamite blast. Crowe's voice of tragic experience is a contrast to Yates's youthful awakening; "When you've been where I had been, seen what I had seen, you can do whatever it is you have to do to survive," Crowe tells the boy. Acts of violence define Yates's young life: "All these acts of violence seemed random but already he divined something unseen moving beneath the surface, bones and blood and nerves beneath the skin." A gentleness, however, is always there as Yates defiantly explores first sexual attraction, hides baby rabbits under his shirt in an effort to save them, and convinces himself that he is invulnerable to Crowe's eventual betrayal.
"Yates's father's sole claim to immortality was that he used to cause good car wrecks," Gay writes to introduce the gruesome circumstances of the death of the boy's father. After his father is murdered when he is caught stealing meat, Yates is on his own; his mother, a part-time prostitute, is still around for a while, as she slowly dies of tuberculosis, but the boy wanders the woodlands and caves of his surroundings, hops trains, steals chickens from the man who killed his father, and becomes self-sufficient. Yates's mode of transportation is by land, unlike Huckleberry Finn's raft, but his gradual loss of innocence reverberates with that of his literary predecessor.
In one of the most beautiful passages, Yates hops a freight train to travel to the village of Ackerman's Field, a common locale in Gay's writing. Yates longs to see the black panther that is prominently featured on a traveling circus poster. From the train, he gets a small view of houses in the distance and wants to find communion with their inhabitants, imagining that they have "a thousand stories he'd never hear." He seeks to find an "acknowledgment that he belonged." That black panther proves to be elusive, the subject of dreams to come, but Yates's first experience of fireworks in the night sky of Ackerman's Field is a transcendent moment in a bleak world.
Gay's narrative style is thoughtful and challenging. The reader is left to fill in missing pieces and make assumptions based on what is there. Gay craftily and subtly builds tension; nowhere is that more evident than in the passages involving Yates's time living with a young and attractive widow who takes him in as an act of Christian charity. She reads to Yates at night, alternating Bible stories with chapters from Huckleberry Finn. When the boy accompanies the widow to a Pentecostal church service – and flees when it starts to get wild – he decides, in an echo of Twain, that if Heaven is run by people like that, "He guessed he'd just take his chances."
Once, when Yates toys with the idea of joining the circus, Crowe scoffs, "Boy, you don't need no highwire. Your very life is an act of death defiance." Later, we are told that Yates had times "when he'd wonder: Am I crazy? He'd have had to answer: I don't know." William Gay's Fugitives of the Heart is a dire view of adolescence under the most difficult of circumstances, with wry and funny moments to make it bearable. It is a worthy addition to the William Gay canon, but I can't help wondering how it might have been different if he had lived to finish it himself.
Edward Journey, a retired educator and theatre artist, is on the editorial board of Southern Theatre magazine, regularly shares his essays in the online journal "Professional Southerner" (www.professionalsoutherner.com), and has most recently published reviews, papers, and articles in Alabama Writers' Forum, Arkansas Review, Southern Theatre, and Theatre Symposium.