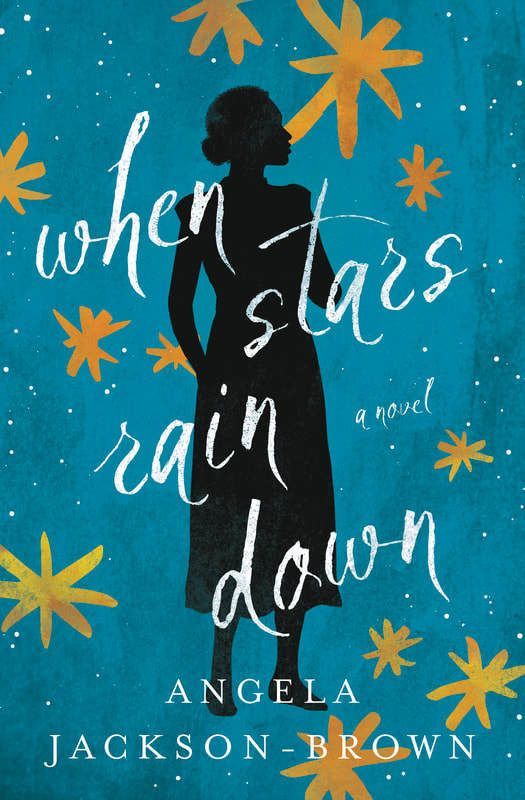 When Stars Rain Down
by Angela Jackson-Brown
Thomas Nelson, 2021
Paperback: $17.99
Genre: Fiction; Novel
Review by Kwoya Fagin Maples

Though I was intrigued by the synopsis of the novel, I began reading it skeptically. When Stars Rain Down is set in the summer of 1936 in Parsons, Georgia. The main character is Opal, a seventeen-year-old who longs to be a "typical" carefree teenager. Abandoned by her mother, Opal is raised by her Granny within the protective embrace of her family and community. Both Opal and her grandmother cook and clean for a white widow named Miss Peggy and her mentally ill daughter, Miss Corinne. This novel would offer the first time I'd seen a story told from Opal's unique point of view: a teenage domestic worker.
When considering the stories written about Black domestic workers, several tropes come to mind. Movies like The Help have established a problematic "view" of what it means to be a person of color who performs domestic work. (The Help features black characters who passively & aggressively assert their anger at their employers but ultimately partner with the white woman "savior" they are associated with.) The major criticism of The Help is that it is told by white storytellers and focuses on the perspective of a white main character, "Skeeter," a writer who wants to capture the experiences of the domestic workers from her small town in a book. Angela Jackson-Brown's novel is the antithesis of that story, and further, deserves to be considered in isolation from such books. The work here is tender, wise, and well-constructed. Jackson-Brown's rendering of Opal validates the art, importance and humanity of her character's work, while illuminating the complex effects of racism and white domestic terrorism on individuals of color, their family systems, and communities.
From the outset of the novel, the work is quick-paced and sharp. This energy soon shifts to a slow building tension. I found myself impatient initially, but as I read on, it dawned on me how easily I'd been transported. Without my realizing it, Jackson-Brown had already constructed the world of these characters in my mind. It was at this pace that the tree-lined hot red road between "Colored Town" and Ms. Peggy's house came into view. When I arrived home with Opal, I took a good look at her and acknowledged that she was a unique and vulnerable young person: coming of age, falling in love, and realizing truths about herself and the world around her. I recognized her neighbors and family members that recalled the faces and lives of my own.
Though I am aware of the complexities of the relationships between domestic workers and their employers, (my own grandmother cleaned house) I was unsettled by what I assumed would be Opal's view of the world. In the second chapter she says of her work, "I liked that I could clean house better than anybody I knew…I loved that I could take scraps of material and, before you knew it, I would have a dress or pair of pants or quilt made." Here, the reader could quickly assume that Opal is dispossessed and unenlightened. What the reader comes to find is that there is a clear separation between Opal's enjoyment of her work and her perception of her employers. Further, Opal is adept at recognizing racism and white privilege throughout the novel. After a violent encounter, a series of events culminate in devastation. By the end of her emotional arc, Opal leaves her employers on principle.
I began by saying I was skeptical of this story, and the truth is, I wasn't hopeful. Forgive me. I am a poet, primarily, but an avid fiction reader. I didn't expect to be exceptionally captivated by the work. At the heart of this skepticism was worry. I have a stake in this story as a Southern Black woman.  As I mentioned previously, my own grandmother was a domestic worker. I kept wondering, does the writer know people who were domestic workers?  I'd never read work by Angela Jackson-Brown. I was worried this novel would over-simplify characters or present a palatable depiction of relations between "good white people" and people of color the way I'd seen in the past. I was utterly wrong. These characters are painfully real. Uncle Myron is my Uncle Marvin. Uncle Little Bud, my Cousin Rodney. Opals Granny, my grandmother. Angela Jackson-Brown is masterful with characterization, displaying and managing an array of characters that are fully human and at once recognizable.
When Stars Rain Down resists the conventions of stories of the Deep South. For instance, Opal and her grandmother attend church, but the scenes focus intently on dialogue rather than emotionally rapt congregants lost in shouting and singing. Opal questions her devotion to God when her church leaders choose non-action in response to terrorism. Through the character of Miss Lovenia, Jackson-Brown introduces hoodoo, and Opal's spiritual understanding is broadened beyond the practice of Christianity. Overall, I'm startled by Opal's character arc as the book progresses. In contrast to relying on the intervention of a white savior like "Skeeter" of The Help, Opal's progression is reliant on her own self-actualization and close relationships within the black community. Miss Lovenia is certainly a hero, as is Cedric, Opal's volatile love interest, who she desperately wants to protect. As an aside, Jackson-Brown also has a "Skeeter" in her novel, too. He is the violent epitome of white terrorism and the primary antagonist in the novel. (But that's a whole 'nother can of worms when I'm trying to wind this thing down.) Suffice it to say, this novel is smart and effective in its intertextual and social critique.
Angela Jackson-Brown's When Stars Rain Down is a companion that manages to convey grief, persistence, and hope in ways that leaves me breathless. It is at once poignant, life-affirming, healing, and heart-rending. Don't the best kind of books assure us that we are not alone?
Kwoya Fagin Maples is a writer from Charleston, S.C. She is the author of Mend, (University Press of Kentucky, 2018) a finalist for the Hurston/Wright Legacy Award for Poetry. She teaches creative writing in the MFA program at the University of Alabama, home of the Black Warrior Review.