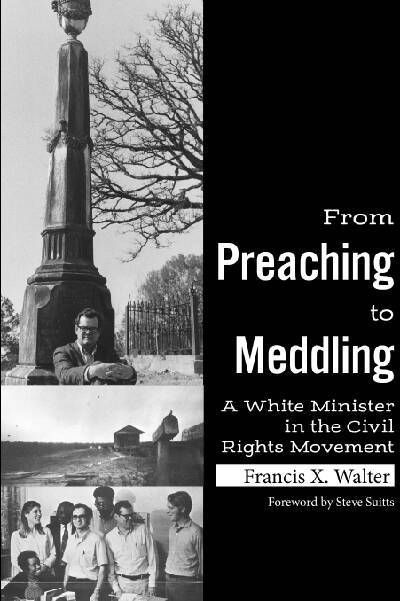 From Preaching to Meddling: A White Minister in the Civil Rights Movement
By Francis X. Walter
NewSouth Books, 2021
Hardcover: $28.95
Genre: Nonfiction; Memoir
Reviewed by Edward Journey
When asked to review Francis X. Walter's new book about his role as a pastor and activist in the Civil Rights Movement, I hesitated, knowing that Black civil rights activists are justifiably resistant to the narrative of the "white savior." I needn't have worried. The humility that permeates Francis X. Walter's book, From Preaching to Meddling: A White Minister in the Civil Rights Movement, makes any apologia unnecessary. Walter is a modest, Mobile-born, Jesuit-educated Episcopal priest analyzing his role in addressing the wrongs of his predecessors and contemporaries. The memoir is about one man's path through life and the many epiphanies he encounters along the way as he hones a fervent belief in equal justice and racial equity.
Now approaching 90, Walter has stories to tell and opinions to express. His book includes rich anecdotal personal experiences about growing up in Mobile in the 1930s and 1940s. He gives insight into what made him the man he became and his family's role in the process. Stating that "We shed memory and things the way we shed dead skin cells as we walk through life," he frequently calls on his muse, "Memoria," to assist him in getting his stories straight; "You know the small white-man part I played in the movement of thousands," he says, invoking Memoria's assistance. He also has the evidence of extensive notes and journals, letters and articles, and the testimony of friends, colleagues, and eyewitnesses to help him along the way.
Walter's activism is enormously influenced and inspired by the murder of Episcopal seminarian Jonathan Daniels in 1965, who died while shielding a young Black woman from the shotgun blast of an Alabama deputy; Daniels's spirit is a recurring presence throughout the book. Walter is unflinching when chronicling the sordid racial history of the United States, citing "the complicity of our entire nation, particularly Rhode Island and the New England states, in the introduction of captured, enslaved Africans to the United States." He adds, "All whites in this country share with all citizens our history of one of the most cruel forms of human bondage. Most whites do what they can to forget that." Shifting his focus to the South, he writes that when race-based slavery "died in blood, those same people created race-based debt peonage, disenfranchisement, Jim Crow, and both legal and illegal violence to keep their former bondsmen as close to slavery as possible."
In a message to one of his conservative Alabama congregations, arguing that the church has no right to exclusion, he writes, "And so, dear brethren, we live in fearsome tension as the White Southerner in us tangles with the Christian in us." Anyone struggling to understand the ramifications of "white privilege" might benefit from Walter's clear-eyed view. As passionate as he is, however, he is rarely didactic and leavens his insights with candor, wit, and self-reflection.
Walter's leadership of the Selma Inter-Religious Project (SIP) from 1965 to 1972, his most visible contribution to the Civil Rights Movement, occupies a relatively small portion of the memoir, starting more than two hundred pages into the text. During Walter's tenure, much of SIP's focus was on activities of the Freedom Quilting Bee in Wilcox County. The documentation takes the form of newsletters and profiles of individuals who were pertinent to SIP. The majority of the SIP staff was white. Regarding SIP's role in the movement, Walter acknowledges that "it was a gruesome mixed message for white folks to be freeing black folks from white oppression. I … worked hard to keep the Selma Inter-Religious Project (SIP) ancillary to the black movement."
In the SIP section of the memoir, Walter profiles Johnny Greene, a talented and troubled journalist and writer from Marengo County, who attended Columbia School of Journalism. Walter excerpts Greene's coverage of the funeral of Margaret Knott, a teenager killed during a Civil Rights protest in Choctaw County. Johnny Greene died, a casualty of AIDS, in 1990, and I have often wondered if his ground-breaking journalism is remembered. Francis X. Walter remembers. It's that kind of book; the reader never knows whom or what you might encounter in its pages.
Walter recounts life under Jim Crow with the eye-opening perspective of a white man growing up in the segregated South. He tells of threats made to his father's business ventures if Fr. Walter accepts a call to be the priest to Good Shepherd, a Black Episcopal congregation in Mobile. This results in Walter not accepting a call that he passionately wants. We learn of a controversy with a church organist in Eufaula, Alabama, over including the hymn "In Christ There Is No East or West" in a service; the musician is less concerned about the progressive lyrics than about the fact that the tune is labeled as a "Negro Melody." He tells of being thwarted, because of his Civil Rights affiliations, when he and his wife try to adopt a child in Tuscaloosa County. Navigating the bureaucratic pitfalls, the adoption process takes four years. Over time, the couple is allowed to adopt two children.
In summer 1963, as chaplain for a church-sponsored intern program, Walter, other ministers, and some interns are arrested in Jersey City while participating in a protest action to persuade the city to clean up an abandoned parcel of land. The charge is littering. Walter is secretly pleased when the New Jersey judge refers to him and other leaders of the protest as "you OUTSIDE SOUTHERN AGITATORS!" His pleasure in the label diminishes when he realizes the fear of the local Black interns arrested with him.
Such second-guessing is typical of Walter's habit of constant self-reflection and questioning of his own motives and intentions. Early on he writes, "Have I made clear my assumption that I was from a privileged WASP nest and was to some degree flying around doing good without much comprehension of the deepest needs of the people to whom I was assigned?"
Walter's memories are more anecdotal than chronological and it's a challenge, at times, to keep track of when, where, and in what order, things occur. An entire chapter is a list and description of "Books to Edify the White Southern Child." He refers to the chapter as "an excursus," which he translates as "getting off the track." Other detours treat the reader to a recipe for "Smothered Poule D'Eau" (a Creole bird stew) and describe toys and gadgets Walter's father made. The narrative is jumbled, but its segues and tangents can often be as informative, revealing, and entertaining as the primary topic.
"Lord have mercy! Here comes my first computer metaphor," is an example of the casually conversational tone Walter establishes throughout From Preaching to Meddling. He likes to dish, describing an intoxicated Tallulah Bankhead performing in Noel Coward's Private Lives in Mobile and a sighting of Eleanor Roosevelt at a speech by Birmingham's Rev. Fred Shuttlesworth. While serving as a priest in Eufaula, he debates entering the state ABC store through the entrance reserved for Black people, but thinks better of it: "However!" he writes. "Thank God for my being open to However! I did not want to die in the State Store." That last comment reminds me of Alabama's Renaissance man, author Eugene Walter, who happens to be Francis X. Walter's cousin.
Francis X. Walter is a born raconteur who possesses what his cousin Eugene referred to as "the gift of the parenthesis." From Preaching to Meddling is that rare book in which the insightful appendices demand as much attention as the main text. The memoir basically stops with Walter's departure from Selma Inter-Religious Project in 1972, leaving the reader with many unanswered questions about what came next. (What, for instance, happened to his first wife, Betty?) From Preaching to Meddling wanders and rambles, but ultimately, it ends all too soon.
 
Edward Journey, a retired educator and theatre artist, is on the editorial board of Southern Theatre magazine, regularly shares his essays in the online journal "Professional Southerner" (www.professionalsoutherner.com), and has most recently published reviews, papers, and articles in Alabama Writers' Forum, Arkansas Review, Southern Theatre, and Theatre Symposium.