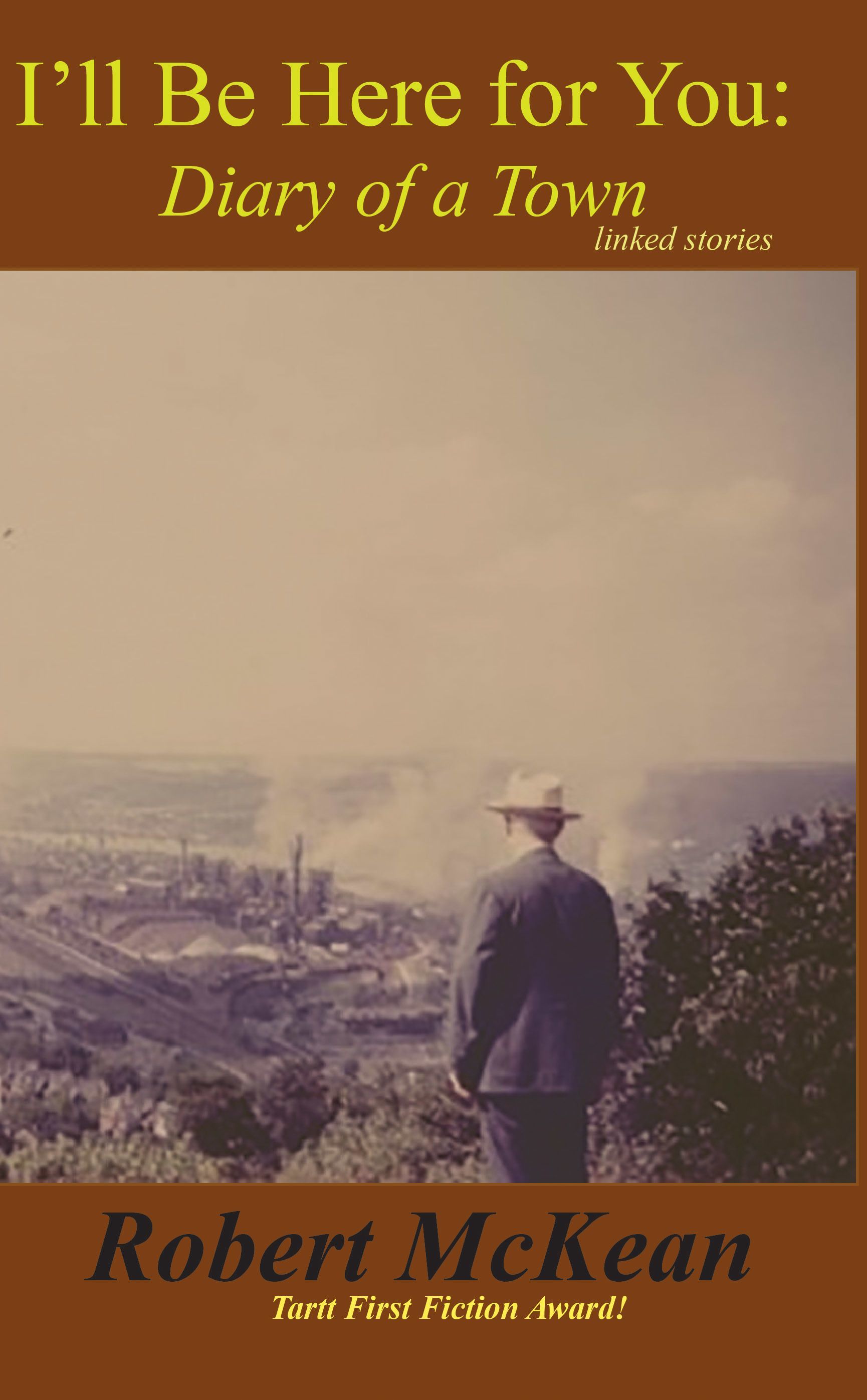 I'll Be Here for You: Diary of a Town
By Robert McKean
Livingston Press, 2020
Hardcover: $25.95; paperback: $18.95; e-book: $16.95
Genre: Short Fiction
Review by Edward Journey
The Appalachian foothill towns of western Pennsylvania were made mythic in Michael Cimino's 1978 film, The Deer Hunter. Robert McKean's collection of short stories, I'll Be Here for You: Diary of a Town, brings the mythic down to earth again with intertwined stories of the more prosaic lives of Ganaego, Pennsylvania, his fictional and fading former steel town. I'll Be Here for You is the 2019 winner of the Tartt Fiction Award, awarded by Livingston Press for a first collection of short fiction.
The fictional Ganaego was also the setting for McKean's 2017 prize-winning debut novel, The Catalog of Crooked Thoughts. The town itself becomes a significant player in I'll Be Here for You. In the twelve "linked stories," spanning from 1971 to 2015, that make up the collection, Ganaego is described as "a doomed town – a town on the skids after its steelworks had closed." Much of the anguish of the town derives from matters related to the loss of the industry that built it.
Each of the book's somehow instantly familiar characters seems to have a direct tie to the doomed steel mills. Store owners lose business in the town's faltering economy. A dance teacher, facing cancellation of her students' annual performance of an abridged Swan Lake at the whim of a "very progressive" school administrator, must consider closing her dance school. Wives take unsatisfactory jobs to compensate for income lost when their husbands are "furloughed" from the mills, knowing that those furloughs will never end.
McKean's stories often end indecisively for his characters. They might reappear, though, a year or decades earlier or later in another story. The reader is often pleased to find a character still alive or still married or still pulling through despite the quiet desperation engulfing the community. Other times, a character might not wake up after routine surgery. We hear of the death of Tody Wolding, a cross-dressing small-town theatre director, before we meet him, thirty years earlier, at his mischievous peak in the story, "Mrs. Kattlove's Clerk."
The reader should pay attention to the detail of last names if one is interested in following the trajectories of these characters and their families. Many of the surnames carry the hint of Eastern European ancestry and provide insight into the immigration that populated the community at its industrial peak. The deaf mother of a boy in one story is casually revealed to be the daughter of a deaf character introduced in an earlier narrative. The 49-year-old bagger and shelf stocker at a local grocery store has a son with Down Syndrome; we eventually learn that a character with Down Syndrome in an earlier story was his uncle. Such connections and coincidences further enhance the sense of community and truth that McKean seeks to convey. Harvey Silverstein, a town attorney, is tactfully making arrangements for a dying woman in "Invisible Weaving"; he was introduced earlier as the secret lover of a woman in another story.
In one of the more lyrical passages of "A Question of the Minister's Wife," choir director Maurice Begley teaches Paulette Schumacher, the deaf wife of the church minister, to hear music without the benefit of hearing: "… as he played, she would spread her arms across the top of the piano and lay the side of her head flat to the wood. With the dark tresses of her hair scattered to either side, she'd close her eyes in intense concentration." I was reminded of that soaring moment in Raymond Carver's "Cathedral" in which a seeing man tries to teach a blind man what a cathedral is like by letting his hand follow as he draws the bold spires. Details like the tattered vinyl roof of a Thunderbird Landau or a husband's "invariably bought" birthday gift of Russell Stover cherry cordials are touches that bring depth and veracity to McKean's stories.
In the collection's best story, "Death in the 5 and 10," Darlene Paczkowski, an assistant head librarian, is described as "a smart girl who had dreamed the wrong dreams, met the wrong men, placed her bets on the wrong horses." When the town's abandoned G.C. Murphy store burns down, Darlene learns that a victim of the fire is the son of squatters – a boy who came, sat silently, and listened attentively to her Saturday morning story hour. The tragedy also evokes pleasant memories of the glory days of G.C. Murphy, and Ganaego, when Darlene and her mother, "in their hats and white cotton gloves would not deign to sit at the counter." She re-imagines the sights and sounds and smells of a bustling mid-century dime store and its lunch counter in vivid detail.
It is this authenticity and Chekhovian precision that brings life to the denizens of Ganaego. "Sometimes," as a character remembers gazing at the steel works, "a window would burst into dazzling light, and within would be bulky silhouettes outlined against ruby flames moving purposefully about." "Businesses in small towns," McKean writes, "rise and fall with a certain periodicity. A sudden death, a rash financial decision, perhaps nothing more than a years-long toll of exhaustion, but one day what has seemed like a permanent fixture presents to the world a bolted door, a drawn blind, a scribbled sign scotch-taped to a window." An aging man looks at his ailing wife, remembering long-ago times when they "had laughed in bed: Was there any god in any heaven who had not envied them?"
In a moving Author's Afterword, McKean describes the reality of the actual Ganaegos of the world in his effort "to find truth in fiction" in the stories of this collection. As compelling as that phrasing sounds, isn't finding "truth in fiction" the goal of most writers of fiction? McKean is extremely successful at it, creating characters, families, and settings with a pathos and humor that will be familiar to anyone who has spent time in a community that has lost its purpose and struggles to find a focus.
Edward Journey, a retired educator and theatre artist, serves on the editorial board of Southern Theatre magazine, shares his essays in the online journal "Professional Southerner" (www.professionalsoutherner.com), and has published reviews, papers, and articles in Alabama Writers' Forum, Arkansas Review, Southern Theatre, and Theatre Symposium.