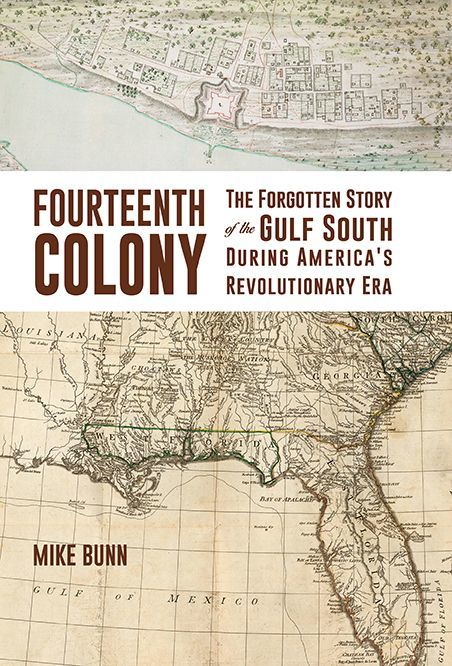 Fourteenth Colony: The Forgotten Story of the Gulf South During America's Revolutionary Era
By Mike Bunn
NewSouth Books, 2020
Hardcover: $28.95
Genre: History; Nonfiction
Review by Edward Journey
"Of the more than two dozen British colonies in North America and the Caribbean in 1775, only thirteen rebelled and took part in the war which resulted in the independence of a new nation." Mike Bunn's Fourteenth Colony: The Forgotten Story of the Gulf South During America's Revolutionary Era is full of such facts that are rarely discussed in the history books. Bunn is a historian, author of several books on Southern history, and director of Historic Blakeley State Park in Spanish Fort, Alabama. Fourteenth Colony is a well-documented and researched exploration of British West Florida and its significance during the American Revolution. Bunn acknowledges in the Preface that "there are technically multiple competitors for the title of Britain's fourteenth American colony, ranging from neighboring East Florida to several concurrent holdings in Canada." His choice of West Florida, however, emphasizes the strategic value of the region and the many missteps the British made when they controlled the colony from 1763 to 1783.
Fourteenth Colony is methodically organized, beginning with Spain ceding the territory to Britain as part of the 1763 Treaty of Paris. Subsequent chapters detail the British governance of the colony, the importance of trade with the Native American population, and the intricacies and hardships of daily life in the wilderness settlement. What comes through most clearly in the early chapters is the British negligence of a colony which contained portions of present-day Florida, Alabama, Mississippi, and Louisiana. A cavalcade of governors cycles through the colonial capital of Pensacola amid constant scandal, incompetence, intrigue, and disruption, including internal mistrust, suicide, and at least one attempted homicide.
The settlers were initially drawn to a land that the British touted as "a wonderland of fertile soil, mild climate, and abundant rivers." They arrived unprepared for the mosquitoes, disease, "intolerable" heat, hurricanes, tornadoes, and flooding which awaited. Bunn notes that "West Florida acquired a reputation as 'a grave-yard for Britons'." The colonial leadership tended to be contemptuous of its subjects. One governor, Elias Durnford, lamented the "ungovernable spirit of these new settlers … without education, without religion or principles fit for the bond of society." Another, George Johnstone, wrote of the settlers as "the refuse of the Jails of great Citys and the overflowing Scum of the Empire."
Bunn asserts that day-to-day survival and earning a living were the main concerns of most colonists, leaving little opportunity for more refined pursuits. The Church of England was the official religion; the colonists had little time for organized religion and no Anglican church was ever constructed there under British rule. "In fact," Bunn writes, "the only actual church standing in all of West Florida in the 1760s was the Catholic one in Mobile." The fact that West Florida officials made little, if any, effort to enforce the practice of the Anglican religion gave the colony a reputation for religious tolerance, in contrast to the more strict enforcement of many eastern colonies. In truth, this lax enforcement had less to do with theological principle than with a desperate need to attract and keep colonists.
Early under British authority, the entire colonial population of West Florida was less than 3,000. That number included the most populous settlements of Mobile and Pensacola and the troops garrisoned to protect them. At the same time, the Creek, Choctaw, and Chickasaw populations outnumbered the colonists more than tenfold. A native of the Creek nation observed of the European settlers, "We did not know before they came amongst us that mankind could become so base, and fall so below the dignity of their nature."
Trade and the maintenance of good relations with the native populations were essential to the colony's survival. It altered the landscape and Native American society: "The introduction of metal tools and cooking wares wrought a slow but steady abandonment of the manufacture of traditional hand-crafted pottery and other items; European textiles replaced traditional clothing; guns superseded bows and arrows." Leather trade with Europe decimated the deer population. As many as 400,000 deer were killed each year, with the result of "effectively destroying the resource which made the trade possible."
Memorable and admirable characters make appearances throughout Fourteenth Colony, such as Pennsylvania-born author and naturalist William Bartram, whose exhaustive research and travel by caravan throughout East and West Florida yielded exalted descriptions of the region's diversity, flora, and fauna. Bartram frequently visited the villages of the native cultures and contrasted their hospitality and vibrance with the distress and despair he observed among the colonists. Bartram's book, Travels, chronicles his travels and discoveries in the colonies; Bunn calls it "a landmark in the natural and cultural history of the Gulf Coast."
Distress and despair certainly describe the story of Matthew Phelps, who traveled from Connecticut and bought a parcel of land near the Big Black River in modern-day Mississippi. While moving his family from Connecticut, Phelps's wife and two of his children died in rapid succession of an "exceedingly severe" fever and his two remaining children drowned in a whirlpool on the Mississippi River. When Phelps reached his land, alone, his title had been forfeited and the land was occupied by another family. "His story," Bunn writes, "is a poignant reminder that immigration was much more complicated than a simple change of address."

Matthew Phelps, like most of the West Florida colonists, had migrated from colonies on the east coast. However, most of those colonists tended to view the American Revolution "as a foreign affair which they had no intention to participate in." In 1775, the Earl of Dartmouth pronounced West Florida as a "secure asylum" for British loyalists. By 1779, the colonial population of West Florida had doubled to about 6,000. Within a year of the signing of the Declaration of Independence, however, there was discussion among American revolutionaries of possible attacks on British interests in West Florida, sanctioned by notable revolutionaries including Sam Adams, Patrick Henry, Charles Lee, and Benedict Arnold.
James Willing, a Philadelphian, proposed a scheme to the Continental Congress to raid West Florida, securing the colony's neutrality while opening a supply line with New Orleans. Willing had been a failed businessman in Natchez, where he was remembered by locals as a freeloader and a drunk. With a naval commission obtained and his plan approved by a congressional committee, Willing dubbed himself "Captain in the service of the United Independent States of America," exploiting the occasion to take free rein over a vandalizing squad of plunderers who robbed and burned houses, stole property, and killed livestock along their path to and through the region. Willing's Raid, it is suggested, was merely Willing's pretext to exact vengeance on his former enemies from his time in Natchez and beyond.
Willing's Raid was a wake-up call for the West Florida colonists and neighboring Spanish Louisiana that the war was their concern. In 1779, when Spain and France declared war on Britain, the dashing and charismatic young Bernardo de Galvez, governor of Spanish Louisiana, arrives in the book. Galvez was in West Florida when he learned of Willing's Raid and of a letter from London ordering West Florida officials to stage an attack on New Orleans if Spain entered the war. Galvez's heroic escapades, military strategizing, and charming demeanor are highlighted as he leads a methodical assault on the colony, triumphing in battle after battle.
Bunn follows Galvez's conquests from west to east in the colony, beginning with his attack on Fort Bute at Manchac, northwest of New Orleans. By the time Galvez's army reaches Manchac, he is in command of 1,400 men, having been joined en route by German settlers, Acadians, and more than 150 Native warriors. A victory in Baton Rouge yields the bloodless surrender of Natchez, upriver, without a shot being fired. "The people of Natchez," Bunn writes, "could scarcely believe their luck." After the merciless plunder of Willing's American marauders, the town had been captured by foreign troops "after a battle downriver they had known nothing about." In a letter, dripping with sarcasm and signed by Natchez townspeople, the British authority in Baton Rouge was thanked "for your generous and disinterested attention to our welfare."
Bunn's descriptions of a series of Spanish attacks on British territory, and the inability of the British to protect their West Florida colony, makes for a galvanizing narrative. The capture of Fort Charlotte in Mobile provides insight into the intricacies of Eighteenth Century warfare. During the ten days of the Mobile siege, Galvez and Elias Durnford, the British officer in charge of Fort Charlotte "opened a friendly exchange of gifts and conversation" that included bottles of wine, chickens and a lamb, bread, a case of fine Bordeaux, boxes of oranges and tea biscuits, corn cakes, and Havana cigars.
Galvez has his most spectacular victory as he defies orders and takes his fleet up Pensacola Bay. "It was the stuff of legend," Bunn writes, "and would make Galvez an international hero." After a spectacular defeat of the English in Pensacola, and again putting down a skirmish in Natchez without a shot being fired, Galvez and his troops secure West Florida for the Spanish.
Bunn's accomplishment with Fourteenth Colony is an impressive one. Accessible and captivating colonial history and wartime exploits are presented with a striking human dimension. Bunn illuminates obscure history in a palatable and compulsively readable way. I learned something on every page of Fourteenth Colony, developing an enhanced perspective on the history of a region I thought I knew well.

 
Edward Journey, a retired educator and theatre artist, serves on the editorial board of Southern Theatre magazine, shares his essays in the online journal "Professional Southerner" (www.professionalsoutherner.com), and has published reviews, papers, and articles in Alabama Writers' Forum, Arkansas Review, Encyclopedia of Alabama, Southern Theatre, and Theatre Symposium.