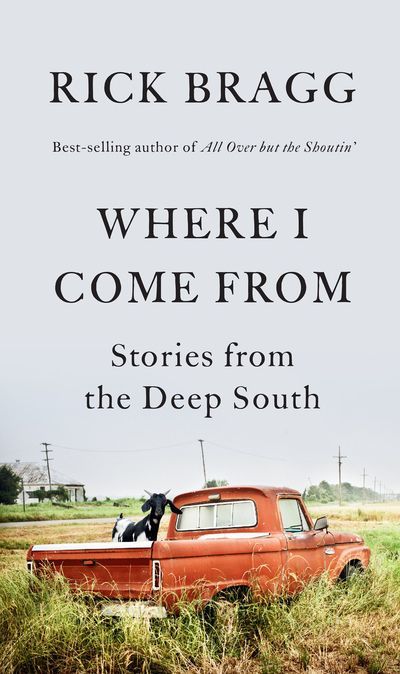 Where I Come From: Stories from the Deep South
By Rick Bragg
Alfred A. Knopf, New York; 2020
Hardcover: $26.95; paperback: $17.00
Genre: Personal Essays
Reviewed by Edward Journey
Not long ago, a food writer friend from "Up North," who now lives in Atlanta, told me that, thanks to my online journal and Rick Bragg, she feels "less a Northern fish out of water." I was flattered to be included in the company of Mr. Bragg, but felt unworthy. I also feared that Bragg, if he ever came across my journal, might scoff that I was one of "the posers, talkin' about Roy Acuff with gelato on their breath."
That quote, from Bragg's essay, "Let's Eat Pig's Feet," is included in his recent volume of collected essays, Where I Come From: Stories from the Deep South. Rick Bragg is the Pulitzer Prize-winning journalist and author of All Over but the Shoutin', Ava's Man, Jerry Lee Lewis: His Own Story, and many other books. Where I Come From is a collection of Bragg's previously published stories, columns, and essays for Southern Living and Garden & Gun magazine, among other publications. The oldest essay in the compilation was originally published in 2009 but most are more recent, published within the past five years.
At his best, Bragg is a brilliant and empathetic writer with a sardonic wit, able to bring out the poetry and humanity of the most prosaic scenarios and situations. His subject matter might occasionally seem to border on stereotype, but his authentic voice lends originality and credibility to whatever topic he tackles. Bragg's most heartfelt essays are often recollections of his family and of a hardscrabble boyhood in the Appalachian foothills of east Alabama. His story, "The Dancing Skinny," originally published in Garden & Gun, is perhaps the finest of many fine "Good Dog" stories by various writers to appear in that magazine over the years. It is included in this newest collection.
Readers of a certain age who grew up in the American South will have memories stirred while reading these essays. One example: I had forgotten about the "Goat Man," a grizzled man who traveled Southern byways alongside a rattling wagon drawn by a dozen goats, with another dozen or so goats trailing behind. I saw the Goat Man once when I was a child, stopped along Highway 78 near Oxford, Alabama. Cars were parked along the highway so that children and adults alike might talk to the Goat Man and interact with the goats. My mother remembers seeing the Goat Man when she was a child, as do Rick Bragg and his mother. Until I read Bragg's essay, "Return of the Goat Man," I never knew the Goat Man's real name; he was Ches McCartney from Iowa, who set off down American highways with his goats after losing his farm in the Depression.
For those of any age who are not familiar with Rick Bragg's writing, Where I Come From serves as an effective primer to his prose and wry observations. He often sheds light on a forgotten South and marginalized people – farmers, factory workers, the poor – with a dignity and respect that they have earned but rarely receive in popular writing.   
Bragg's lyrical moments are as memorable as his humor. He evokes New Orleans with a familiarity and affection that will please anyone who knows that singular place. Twice in Where I Come From, the reader is treated to descriptions of Bragg's "perfect New Orleans moment," having drinks with friends on the balcony of The Columns hotel on St. Charles, watching the streetcar pass and contemplating the Mardi Gras beads hung in the live oaks of the neutral ground. It makes you want to drop everything and go down there right now.
Bragg asserts that "the world loses much of its wonder about the time you pay your first water bill," but he maintains his own sense of wonder as he describes life as a sixty-something-year-old with the same spirit of adventure he applies to his many childhood memories. He gives the same respect and attention to local characters and colorful family members that he gives to the famous. Pat Conroy, Billy Graham, Harper Lee, and Jerry Lee Lewis are among the well-known characters who merit a Bragg essay in this collection. Paeans to po'boys and Tupperware (Bragg's mother thinks using Tupperware is "showing off") are among numerous memorable essays. Bragg's take on Nashville hot chicken is a challenge to anyone who's ever raved about the stuff, and hilarious to boot.
Rick Bragg can make you shudder with recognition and raw emotion one minute and make you laugh out loud immediately after. I don't know about you, but that's exactly what I need right now.


Edward Journey, a retired educator and theatre artist, is on the editorial board of Southern Theatre magazine, regularly shares his essays in the online journal "Professional Southerner" (www.professionalsoutherner.com), and has most recently published reviews, papers, and articles in Alabama Writers' Forum, Arkansas Review, Southern Theatre, and Theatre Symposium.