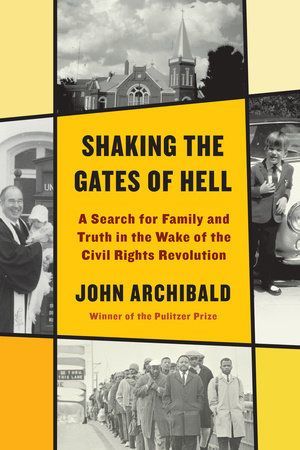 Shaking the Gates of Hell: A Search for Family and Truth in the Wake of the Civil Rights Revolution
By John Archibald
Alfred A. Knopf, 2021
Hardcover: $28.00
Genre: Biographical Memoir
Reviewed by Edward Journey
"Are we going to play around with our own little pettiness, prejudice and pride until it is too late to understand the significant things that are happening in the world?" Rev. Robert L. Archibald Jr. grappled with that question from the pulpit of Monte Sano Methodist Church in Huntsville, Alabama, in a sermon entitled "Too Late," on the morning of September 15, 1963. Rev. Archibald would not have known that, as he was speaking those words, Birmingham's Sixteenth Street Baptist Church was reeling in the aftermath of a bombing by members of the Ku Klux Klan. That bombing killed four young girls, injured twenty-two other churchgoers, and forever altered the narrative trajectory of the Civil Rights Movement.   
"Grappling" is the word that keeps coming to mind while reading John Archibald's Shaking the Gates of Hell: A Search for Family and Truth in the Wake of the Civil Rights Revolution. It is not a word I tend to use, and I never recall its use in the book, but it's a word that is suggested on every page.
John Archibald is a Birmingham native and Pulitzer Prize-winning columnist for the AL.com-affiliated newspapers The Birmingham News, The Huntsville Times, and the Mobile Press-Register. His wry humor and enlightened perspective bring a refreshing point of view to the draconian world of Alabama politics. When a new scandal or inept politician emerges, my mother has been heard to say, "Can't wait to see what Archibald says about this one." John Archibald suffers fools neither gladly nor kindly, so the often-lamentable state of Alabama politics and politicians provides ample fodder for his prize-winning commentary.
Archibald is the son of the previously quoted Rev. Robert L. Archibald Jr., as well as the grandson and great-grandson of Methodist preachers. Much of Shaking the Gates of Hell examines that family history in the context of the Civil Rights Movement. That examination is inspired by Martin Luther King, Jr.'s "Letter from a Birmingham Jail," an excoriation of well-meaning but cautious white Southern moderates – including clergy – who urged restraint in the fight for equality. King wrote, "Shallow understanding from people of good will is more frustrating than absolute misunderstanding from people of ill will." Archibald writes, almost sixty years later, that King's letter was addressed to people "Like the members of my family, who thought they understood. It was to people just like mine, who tried to live like Jesus but turned the other cheek only to look away."
John Archibald, who was born in 1963, relies on family history, his own memories, and transcripts of his father's sermons and other writings to craft a heartfelt personal narrative of the struggles for social justice. Those insights and discoveries are coupled with fond memories of the close-knit Archibald family and growing up as a "preacher's kid," moving from manse to manse, as Rev. Archibald is frequently given new pastoral assignments throughout north Alabama.  
Shaking the Gates of Hell is divided into two sections, "The 'Race Question'" and "The Prodigal's Ring."  Each of its twenty-six chapters begins with a quote from the sermons of Rev. Robert L. Archibald Jr., who pastored Methodist churches throughout north Alabama during a distinguished career that spanned the social and political upheavals of the mid to late-20th Century.
It seems, in the third decade of the third millennium, that we are all grappling with our pasts and dealing with questions of our intentional and unintentional responses to the challenges of the present. The question of "Is it enough?" haunts those of us who endeavor to be on "the right side of history."
Archibald takes the question further as he reviews the sermons of his father during the Civil Rights Movement and beyond. Rev. Robert Archibald Jr. would have seemed quite progressive for his era, but his son wonders if it was "enough." In retrospect, he often finds his father's restrained and sometimes evasive response to be lacking in urgency. Archibald struggles with what he finds in his father's archives, despite assurances from others that his father made a positive difference in dealing with the issues of his time. He talks with a nonagenarian who recounts how Rev. Archibald saved her job as a Methodist conference youth director when she had the audacity to invite a popular Black minister to speak at a youth camp in the 1950s. He speaks with Black ministers who assure him that his father was on "the right side" in the important social struggles. Yet, Archibald still harbors doubts.
Civil Rights, human rights, and denominational doctrine are closely examined by Archibald as he follows the history of the Methodist church and his own family's responses to social issues. He considers the "Calling" of his many forebearers to the ministry and remembers, "I thought I got that call once, but it was the wrong number. I determined it was just the DNA talking, the faith of my fathers trickling from the spring of my gene pool."
As the Civil Rights movement moves forward, Archibald grapples with other issues and the dictates of the United Methodist authorities. There is occasional focus, too, on John Archibald's gay brother, Murray. The Archibald family's acceptance of Murray and his partner, Steve, is contrasted with the Methodist church's increasingly intransigent policies on LGBTIQ issues.
Indeed, Shaking the Gates of Hell is John Archibald's reckoning with his family history, questioning the church in which he was raised, and, indeed, grappling with the harshest realities of the history of the state that molded him. Even as he provides sharp and occasionally unforgiving observations of Alabama, a clear love and affection for the place and its people come through on every page. This attitude of criticism tempered with affection is a common attribute among so many Alabamians who love the place despite its flaws. In this, it's like family.
 
Edward Journey, a retired educator and theatre artist, is on the editorial board of Southern Theatre magazine, regularly shares his essays in the online journal "Professional Southerner" (www.professionalsoutherner.com), and has most recently published reviews, papers, and articles in Alabama Writers' Forum, Arkansas Review, Southern Theatre, and Theatre Symposium.