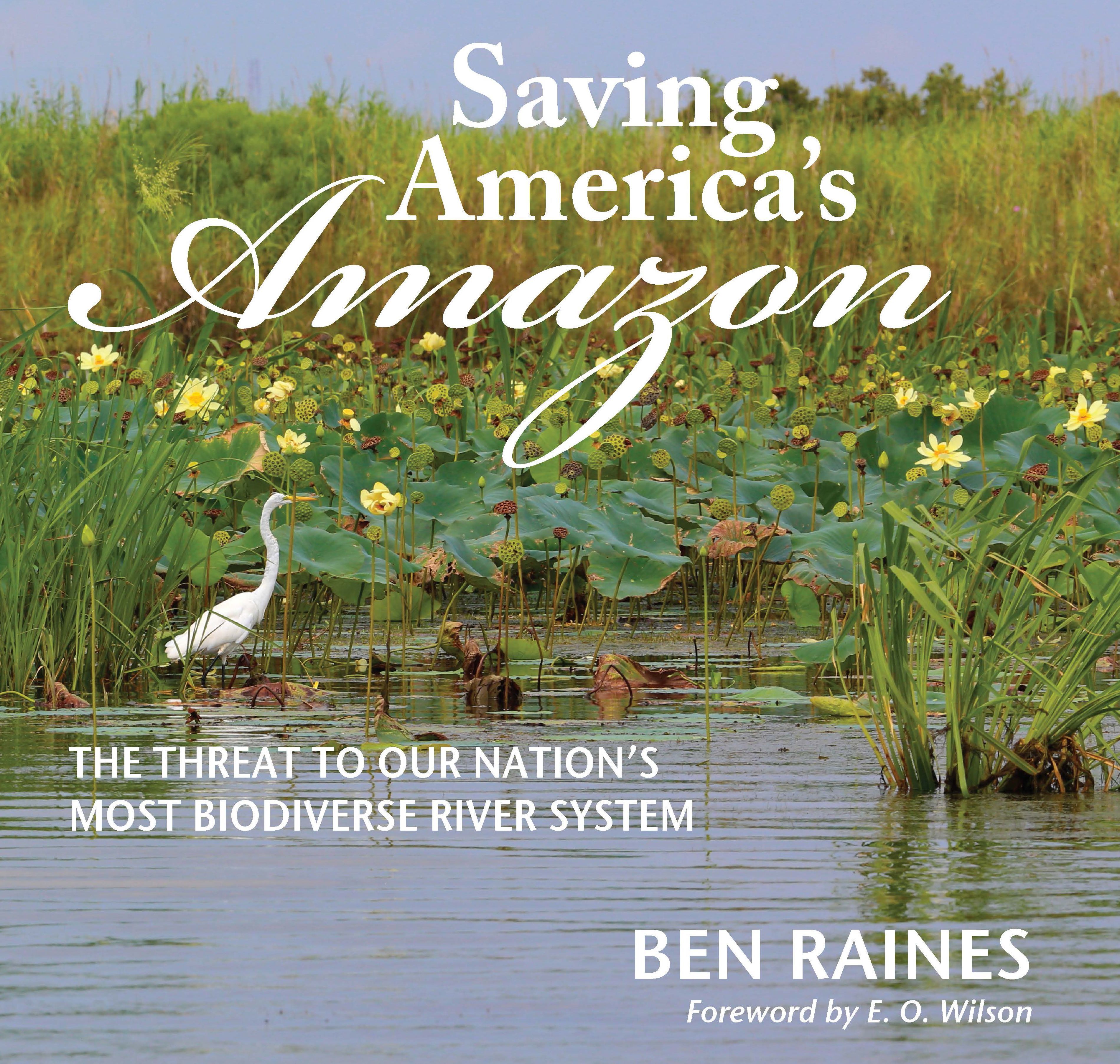 Saving America's Amazon: The Threat to Our Nation's Most Biodiverse River System
By Ben Raines
Foreword by E.O. Wilson
NewSouth Books, 2020
Hardcover: $35.00
Genre: Nonfiction; Nature
Reviewed by H. M. Cotton
Anyone who has spent any considerable amount of time in Alabama can attest to its breath-taking natural beauty. Those of us blessed enough to live here know that just a few steps from the front door, a scrawling wilderness of landscape and waterways teems with life. But what Ben Raines captures in Saving America's Amazon: The Threat to Our Nation's Most Biodiverse River System is the undervalued gem that is Alabama's biodiversity and how close we are to losing this treasure.
As someone who was raised in central Alabama and spends several hours each week wandering around in nature, I was excited to recline in the warmth of Alabama's springtime sunshine with Raines' book. Ecologically, the lower half of the state is largely a mystery to me even though some of my earliest memories originate from my great aunt's place on Perdido Bay. I expected to learn something about our waterways; what I got was a fascinating deep-dive into the geological, geographical, and ecological history of our state. Raines immerses us in the landscape and acts as a tour guide to readers of all kinds from the coffee table page-flippers to experienced outdoors people.
The book itself is gorgeous: hardback and filled with beautiful, full-page color photography showcasing the beauty and complexity of Alabama's natural species. It opens with a forward from renown biologist and Alabama native E. O. Wilson. Wilson, a two-time Pulitzer Prize winner, sets the tone of the book with his personal experience exploring Alabama's outdoors. In the preface, Ben Raines—an award winning journalist who has spent the last two decades covering the environmental impact of Alabama— tells us of his storied career going toe-to-toe with large corporations intent on pushing through harmful developments along Mobile Bay. His journalism has done much to protect and preserve the waterways of Alabama, and he continues the good work in Saving America's Amazon.
Feeling as fresh as any Planet Earth documentary, Raines' narrative presence blends into the backdrop of Alabama. His prose at times turning even poetic as he names darter fish species or when he dissolves into pure description of the natural landscape:
At the water's edge in our acre, long slender fingers of golden club, which have been flowering in the American swamps for more than one hundred million years, lend a primeval flavor, while saw palmetto and beautyberries ripen beneath head-high sumac. Passionflowers and potato beans twist their vines up tree trunks and over fallen logs. Buttonbush and red bays fight for real estate in the thick black goo left by vanishing floodwaters.
I was mesmerized by every chapter and those around me have had to listen for weeks to my newfound facts about Alabama's diversity such as how it has more than five dozen distinct habitats, triple the amount of species of crawdads as Louisiana (we have 97, Louisiana has 32), more turtle species than any other river system in the world, and 450 species of fish which represents one-third of the nation's total.
My favorite encounter from the book, though, has to be learning about the Red Hills Salamander. Completely unique to a small enclave of the North hills of Alabama, the Red Hills Salamander is so rare you're required to have a special permit to catch it. And even then, to do so requires that you find the correct valley, at a certain time of day, locate the correct sort of hole among the leaf litter, and then lure the salamander out with a live cricket on a line. As a species they were not discovered until the 1960s though they've existed for so many millennia they don't have any close relatives. They're what's known as "a living fossil."
So much about Alabama is rich and ancient, having survived the hard freeze of the last ice age. This area remained a temperate climate due to our lower latitude creation of a "biological oasis."  Surveys of the coal fields around Birmingham in the 1800s contributed to the studies of the father of modern geology: Sir Charles Lyell. Lyell's observations then influenced Charles Darwin and served as one of the building blocks of the Origin of Species. Alabama is a marvel, and yet part of why our biological diversity has persisted this long is also why it's currently disappearing at a rapid rate: disinterest. We don't know how many species we have because we've not been bothered to catalogue them. We make new discoveries on a daily basis but we're losing them as fast as we're finding them as "the rate of extinctions in Alabama is roughly double that seen elsewhere in the continental United States." Our industry and development wreak havoc on our natural environments and the outlook for changing this is bleak. 
Raines puts into perspective how the natural world around us works as a system, calling it a "giant biological machine" fueled by copious amounts of rain and sun. And yet, we've severely damaged the natural cycle of energy in this system with a network of 30 dams across Alabama's waterways. The mountains of north Alabama to the sea used to serve as a "two-way highway" with great masses of fish migration bringing energy and life back upstream. These dams have been called the most damaging dams on the planet and Raines cautions that "Alabama stands at a defining moment. We still have the most incredible river system in North America. We are still home to more species than any other place on the continent. But the clock is ticking."
Every cool and stunning species Raines offers for us to ooo and ahh at is accompanied by a sobering statistic on how we're erasing its presence. He says, "We cannot fully understand what has been—or will be—lost because we haven't fully identified everything that lives in the state." We're reaching a "tipping point." We have more to lose than any other state, and yet, we do the least in preserving what we have. Alabama has only protected 4% of its total lands. As a state we like to go on about the 77 thousand miles of rivers and streams we have. But we're not taking care of them.
Citing old timers who remember the delta in days-gone-by Raines details just how far we've fallen from the rich complexity of our diversity. His book stands as a warning that if we don't start turning our attention to these issues, there's no going back. And we have a lot to lose. If you care at all about the natural landscape of Alabama, you'll want to read this book. Moreover, you'll want to put it in the hands of those around you so they too can realize the unique treasure that is our own back yard. And then maybe, just maybe, we can start to reclaim and protect the Alabama we know and love. 
H. M. Cotton is a writer and teacher from Birmingham, Alabama.