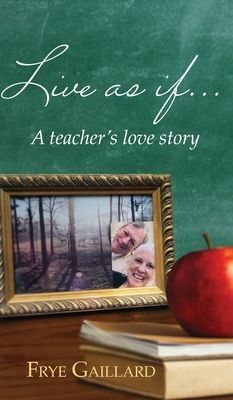 Live as if … A Teacher's Love Story
By Frye Gaillard
Negative Capability Press, 2020
Hardcover: $21.99; Paperback: $14.99
Genre: Biographical Memoir
Review by Edward Journey
My favorite passage in Frye Gaillard's book, Live as if … A Teacher's Love Story, sums up his wife Nancy Gaillard's fearless and inquisitive approach to life. Nancy and Frye are on a trip to the city of Baku (in what is now Azerbaijan), which is under Soviet control at the time. Nancy impulsively leads Frye into the headquarters of Muslim radicals plotting the overthrow of Soviet control of their homeland. "Maybe we can learn about what's going on," she says. After the two are delayed from leaving for several hours, Frye tells Nancy, hopefully, "This will be a great story if we survive."
That is one of many great stories Frye Gaillard shares in his touching tribute to his wife, Nancy, who died from leukemia in 2018. Live as if … is Gaillard's memoir of his wife, but it is also a touching and inspiring memorial in three sections to a life that was well and courageously lived.
Frye Gaillard, a journalist and the Writer in Residence at the University of South Alabama, is the award-winning author of dozens of books on topics including African American history, biography, the Civil Rights movement, the Civil War, music, NASCAR, religion, and more. Gaillard's wide-ranging writing is distinguished by his ability to connect with his subject and provide a personal viewpoint. Live as if … is deeply personal as Gaillard records a married couple's deep love and Nancy's ebullient and unfettered nature.
The book's title is inspired by Nancy's favorite quote from Gandhi: "Live as if you were to die tomorrow. Learn as if you were to live forever." She devoted her life to living fully, learning obsessively, and teaching untiringly.
After a brief Foreword and Prologue, Live as if … is divided into three parts. "Part I – The Story" is Gaillard's memoir of Nancy's life and achievements through chapters titled "The Teacher," "The Principal," "The Professor," "The Illness," and "The Legacy." Frye and Nancy met in Charlotte, North Carolina, where Frye was an education reporter for the Charlotte Observer and Nancy was an idealistic young elementary school teacher. Both were witnesses to and caught up in the tumult of Charlotte during the early period of court-ordered busing to facilitate the desegregation of public schools.  
Nancy's life as a teacher, a calling she loved and excelled at, enables her to practice the best of teaching while witnessing and battling the crippling challenges common to American education in the past decades. As a dedicated Southern progressive, Nancy faces the challenges head-on and does not flinch from fighting for and confronting underserved communities. She lives through the evolution from efforts to desegregate to the trend of resegregation and the further problems it entails.
Nancy goes from teacher to principal and, when the Galliards move to Mobile, she becomes an instructor at the University of South Alabama. "GREAT NEWS EVERYBODY, I'M HERE!" is her cheeky daily greeting as she arrives at her office at the university. At age 62, Nancy decides to commute to the University of Alabama to pursue her Ph.D. while still remaining a full-time faculty member at South Alabama. Once the degree is completed, she kiddingly informs Frye that it "would be nice" if he would call her "Dr. Nancy" – even when they are alone.
Not long after Nancy achieves her goal of a doctorate (which she describes as her "second marathon" – the first actual marathon having been run when she was thirty-five), she begins to suffer from exhaustion and anemia and is diagnosed with one of the most challenging forms of leukemia. This is no surprise to the reader; Gaillard has told us what to expect in page iii of the Prologue. It's the heroic journey to the inevitable conclusion that provides the satisfaction in this loving tribute.
Gaillard's memoir is followed by "Part II – Last Letters," a collection of Nancy and Frye's correspondence to family and friends detailing her treatment as they split their time among their beloved home on Mobile's brackish Fowl River, Mobile's Providence Hospital, and Houston's MD Anderson Cancer Center. "Part III – In Memoriam" includes the transcripts of Nancy's children's tributes at her memorial service followed by letters of tribute from others honoring a full and productive life.
Nancy Gaillard's fearlessness in the final chapter of her life is presaged by incidents throughout her life. In the 1990s, as the principal of a school in a sometimes dangerous neighborhood, Nancy walks home with a little girl who missed her bus. As she walks back to the school alone near dusk, she encounters the neighborhood drug dealers gathering on the street. "Hey, guys," she says, "I need you to help me take care of my school." After an awkward and threatening pause, one of the leading drug dealers replies, "Okay, ma'am, we'll try."
In our current time of grief and loss, Frye Gaillard's salute to Nancy provides a tonic and a balm to our current malaise. Frye's memory of Nancy is a challenge to face difficulties with grace and dignity, to overcome grief with resilience and strength.
It is a lesson from Nancy that is much needed in our current moment.
Edward Journey, a retired educator and theatre artist, is on the editorial board of Southern Theatre magazine, regularly shares his essays in the online journal "Professional Southerner" (www.professionalsoutherner.com), and has most recently published reviews, papers, and articles in Alabama Writers' Forum, Arkansas Review, Southern Theatre, and Theatre Symposium.