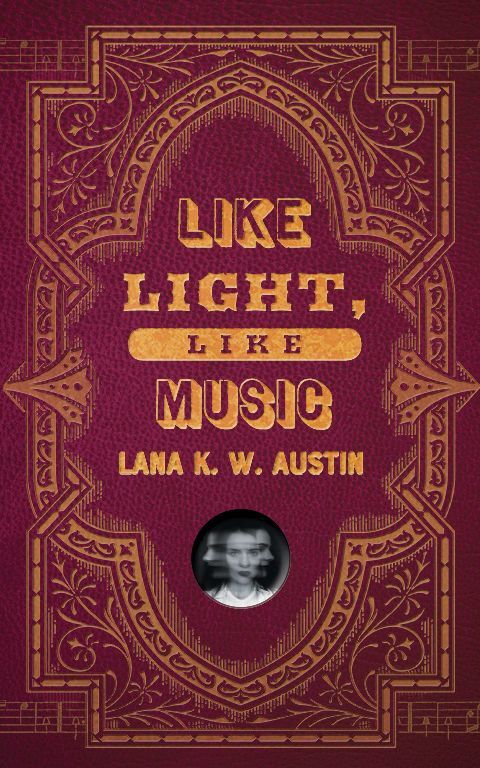 Like Light, Like Music
By Lana K.W. Austin
West Virginia University Press, 2020
Paperback: $21.99
Genre: Fiction, Novel
Review by Edward Journey


On the surface, Like Light, Like Music, the unique debut novel by Lana K.W. Austin, is a printed text, but within it runs its own evocative, suggested soundtrack. The story is a mystery, of sorts, but no concrete answers are discovered; the mysteries only compound as the narrative of this tightly spun novel, set in Kentucky in 1999, unfolds.  Austin draws from Kentucky and southern Appalachian folk traditions to create a strong sense of place and intrigue. The novel exhibits a prodigious knowledge of music from start to finish.
While many musical genres are evoked in Like Light, Like Music, Austin especially relies on the tradition of folk ballads, particularly the Child Ballads and murder ballads, brought over and adapted by settlers to the southern Appalachians from Ireland and Scotland. The siren call of those ballads lends a lyrical quality to the novel and enhances its sense of connectivity to the past amidst problems and concerns of the present.
Lana K.W. Austin, a Kentucky native, is a journalist and a widely published writer of poetry and short fiction. A poetry chapbook, In Search of the Wild Dulcimer, was published in 2016. Austin's first book of poetry, Blood Harmony, was published in 2018 by Iris Press. She currently teaches on the English faculty at the University of Alabama in Huntsville.
Emmeretta Finnegan McLean – whose given name is a fusion of Emmylou Harris and Loretta Lynn – works as a photojournalist in Washington, D.C. She is sent on assignment in Red River, Kentucky, her hometown, to investigate a troubling event that has struck close to her family. Her first cousin, Kelly, is in jail for having confessed to the murder of her abusive husband, Cy. On the night of Cy's death, dozens of women of the Red River community are struck by a hysteria in which they hallucinate. The women on that night are screaming and vomiting, "half mad and ranting about ghosts." By the time Emme arrives in Red River, days later, the "occurrence," as it is called, has not completely subsided; the Centers for Disease Control sends a team to determine an explainable cause without results.
Red River is described as "a town that many thought was haunted by ghosts." Upon returning to a place where many of the residents strongly feel the presence of banshees, broonies, haints, and the Ball Witch – a local spirit of a spurned and vengeful lover, Emme feels the return of the old visions and urges which partially fueled her decision to leave Red River. Her people in Kentucky refer to it as the mountain "gift," shared by many of the Scots/Irish residents of the area, but Emme has tried to explain it away as an extreme form of synesthesia. To review Like Light, Like Music is a tricky proposition since much of the plot depends on the "gift" and surprise. Suffice it to say that whenever Emme has a vision, the reader should pay close attention. These visions are often prophecies and the exact same visions are often shared among her relatives. Characters who appear in visions may just show up, later, in the flesh.
In Red River, Emme reunites with her support system of strong relatives – her colorful grandmother, Deirdre, and her aunt Fiona ("Fi"), the mother of Kelly, who is in jail, accused of the murder of her husband. It is immediately clear that Kelly could not have committed the murder of Cy; some details of the murder take on a supernatural aspect. Emme launches into action to free her cousin and those activities occupy a significant portion of the story.
As she tries to clear her cousin's name, Emme encounters her Red River past and laments the social inequities and systemic racism of her town. The people she encounters, however, seem to be uniformly loyal, salt of the earth types. The only truly "bad guys" are Cy, who's dead, and perhaps some of the "haints," who are supernatural.
Among Emme's many "ghosts" are reminders of Evan, her first love, an African American friend who was in a home-grown rock'n'roll band with Emme and a few other town boys, and Aidan, whom she met once at a wedding as a child and who has grown up with her and been a steadfast imaginary companion ever since. Both of these boys re-emerge in Emme's real-life present in life-changing ways.
Although Austin sets her novel in 1999 (there's a pay phone on the first page!), her story has an up-to-the-minute current consciousness with concerns about the environment, strip mining, and ingrained racism all having their moment. Her most urgent message, however, seems to derive from the recent #MeToo movement and the need to believe women when they say something is wrong. The word "believe" is a recurring motif: "believe the women," "believe Emme," "believe in Emme."
As Emme passionately voices her concerns and trepidations about the place of her birth to anyone who will listen, the novel occasionally becomes repetitious and melodramatic. She accuses her editors and colleagues in Washington of being unable to see beyond the Kentucky cliché, but many of her experiences can be interpreted as being part of the stereotype. She struggles with the complications of the good and bad to be found in Red River, while she only seems to encounter good and well-meaning people there; concurrently, she frequently cites the diversity and inclusion of Washington, D.C. as a contrast and one wonders what part of Washington she's found.
Like Light, Like Music is a compelling and adept first novel. Austin's sense of poetry breaks through her prose with striking descriptions of the landscape and the people. In the final couplets of "Blood Harmony," the title poem of Austin's recent collection, she writes of the fusion of voices singing: "we were rivulets divined / from a vast river. // Creek, brook or stream – water from the same source." Those lines might poetically sum up the connection and overwhelming urge to break into song as Emme McLean. moves ever closer to her homeplace and kin in Kentucky. She creates a sense of the "old talk" of her family matriarchs – evocative of their Appalachian roots – without condescension or stereotype. Her depictions of the home cooking of the region are strong and authentic. One senses that Austin has a lot to say in her writing and her first novel carries promise and many lyrical moments.
It becomes apparent that what truly haunts Emme – and Lana K.W. Austin – is Kentucky itself.
Edward Journey, a retired educator and theatre artist,  is on the editorial board of Southern Theatre magazine, regularly shares his essays in the online journal "Professional Southerner" (www.professionalsoutherner.com), and has most recently published reviews, papers, and articles in Alabama Writers' Forum, Arkansas Review, Southern Theatre, and Theatre Symposium.