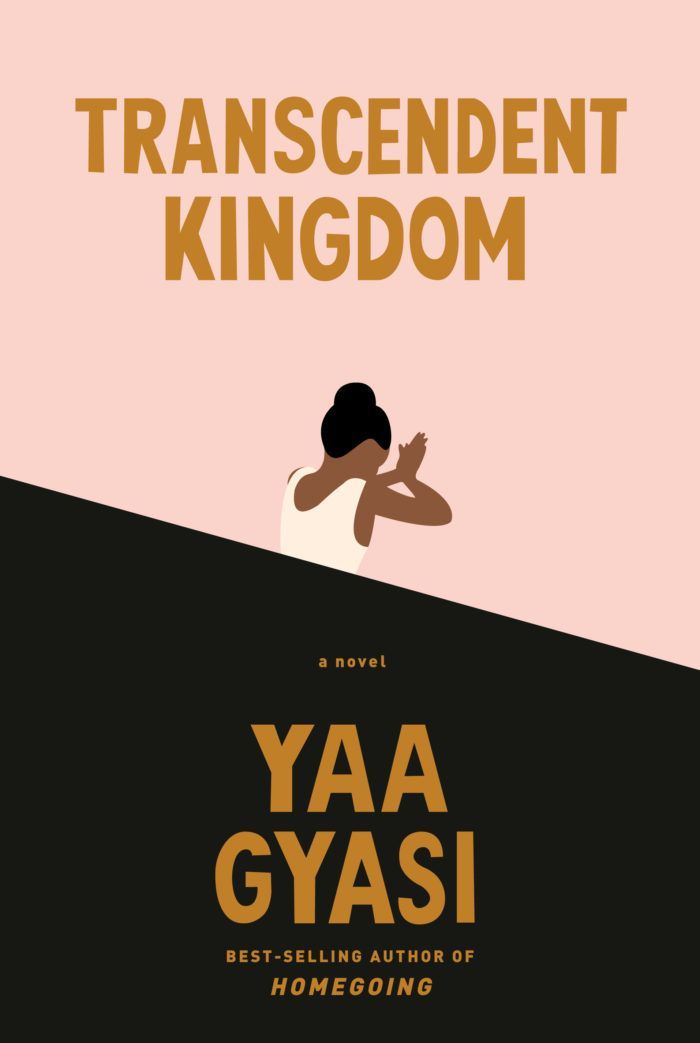 Transcendent Kingdom
By Yaa Gyasi
Knopf, 2020
Hardcover $27.95
Genre: Fiction, Novel
Review by Laura Lilly Cotten
 
During what now feels like the early days of the pandemic, I read an advance copy of Yaa Gyasi's Transcendent Kingdom. I hadn't been sleeping much and was in a reading rut, so my business partner handed me Transcendent Kingdom saying, "It reads like a prayer." She was right. Transcendent Kingdom is a novel-length meditation on not knowing.
By page thirty-five, I had quit underlining for fear that our copy of Transcendent Kingdom would end up looking like my college copies of The Bluest Eye and All Over But the Shoutin', both so underlined, their margins so full of stars and exclamation points, as to render them unreadable.
Transcendent Kingdom is Gifty's story. Gifty grew up in Huntsville, with her mother, older brother Nana, and for a time with her father, known to Gifty primarily as "The Chin Chin Man." After Nana's birth, Gifty's mother immigrated from Ghana to Alabama, choosing that "state she'd never heard of" because a cousin lived there, finishing up a PhD. Gifty's mother believed moving to America would allow her to provide Nana with a more abundant life; the Chin Chin Man eventually acquiesced. After a season of saving, he joined his wife in Huntsville. With exquisite bluntness and occasional humor, Gyasi's narrator describes the racism and isolation her parents experienced there. Shortly after moving to Huntsville, Gifty's mother found a sense of belonging at an all-white Pentecostal Church, The First Assemblies of God Church on Bridge Avenue. The Chin Chin Man, we learn, moved back to Ghana before Gifty entered kindergarten, and her brother died of a heroin overdose his senior year of high school.
After her son's death, Gifty's mother entered an all-consuming depression. The novel opens with a second depression. Gifty has her mother flown from Huntsville to San Francisco, where Gifty will care for her. They're both aware, Gifty tells us: "there used to be four of us, then three, two. When my mother goes, whether by choice or not, there will only be one."
As a PhD candidate at Stanford, Gifty studies the neuroscience of addiction. She performs brain surgery on mice, attempting to understand how changes to the prefrontal cortex might affect reward-seeking behavior. She remarks in wonder that even if she could know the workings of a mouse's brain, it wouldn't be enough to fully understand her own:
       And yet I had to try to understand, to extrapolate from that limited understanding in order to apply it to those of us
       who made up the species Homo sapiens, the most complex animal, the only animal who believed he had transcended
       his Kingdom […] I had traded the Pentecostalism of my childhood for this new religion, this new quest, knowing
       that I would never fully know.
Transcendent Kingdom as much documents the breakdown of Gifty's faith as it does the breakdown of her family. Throughout the novel, Gifty quotes excerpts from her childhood prayer journal, a relic she keeps in her desk drawer for days when she's "frustrated with [her] work" or "feeling low and lonely and useless and hopeless." Some entries are precocious, introspective, existential:
       Dear God,
       I've been wondering where you are. I mean, I know
       you're here, with me, but where are you exactly? In
       space?
while others are documentarian:
       Dear God,
       At the rec center today, none of the other kids wanted to
       be my partner for the three-legged race because they said I
       was too little, but then Buzz came over and he said that
       he would do it! And guess what? We won and I got a
       trophy.
Hers was a faith stronger perhaps in its questions than its convictions. A faith that encouraged some innate belief that questions must be directed at someone or something. Perhaps in science, the research question is not unlike prayer—a release of wonder in search of answers to questions too big to answer. If we can better understand the prefrontal cortex's neural circuitry, can we better understand why dangerous addictive behavior persists? Is Gifty's early faith a form of reward-seeking behavior, born out of a region in which addiction-like faith is as ubiquitous as a legacy of slavery? She is certain only that she will likely never be certain; her daily task is to break down these big questions into smaller and smaller questions, questions she might eventually be able to answer.
The questions driving Transcendent Kingdom's plot are: will Gifty find fulfilling relationships and a sense of belonging with any peers? Will she regain her childhood faith, or find a new one? Will her mother get out of bed? Gifty is chronically different, chronically exceptional, and chronically isolated. During this time of necessary isolation, I found her expertise especially comforting. This novel moves slowly and circles and circles and circles. With quiet boldness, Transcendent Kingdom lives up to its ambitious title, one as audacious as belief, as bold as the decision to leave behind the faith of one's childhood.
Laura Lilly Cotten is an owner and founder of Thank You Books, a new independent bookstore in Birmingham.