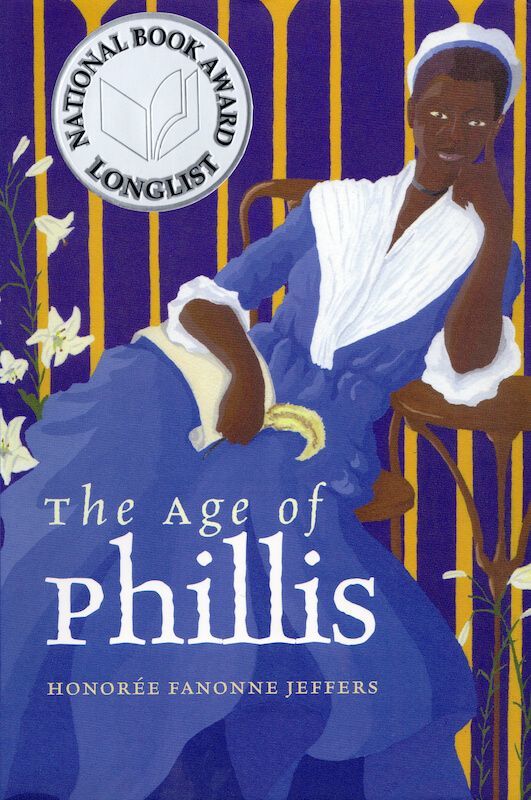 The Age of Phillis
By Honorée Fanonne Jeffers
Wesleyan, 2020
Hardcover $26.95
Genre: Poetry
Review by Jacqueline Allen Trimble
 
Phillis Wheatley Peters (aka Phillis Wheatley) is an iconic 18th century American poet, often lauded for her genius which challenged notions of black and female inferiority, sometimes dismissed for her alleged assimilationist bent.  Much of what is known about her comes from two sources that may not be as reliable as previously thought, or so argues Honorée Fanonne Jeffers in The Age of Phillis, a beautifully rendered collection of poems which rescues Peters from the mythologies that have shaped our notions about her.  In this volume, which is also a meticulously documented historical biography, Jeffers reclaims Peters's name (no one refers to her by her married name, Peters, which Jeffers sees as an erasure of her husband, John Peters), her history (imagining her childhood in Gambia and life as an enslaved child and married woman in America), and her reputation (revisiting her work through the lens of a black woman). 
Honorée Fanonne Jeffers conducted fifteen years of painstaking research on Phillis Wheatley Peters which she has translated into a brilliant collection of poems exploring every facet of Peters's life.  Jeffers's research, so impeccable it got her elected to the American Antiquarian Society, is surpassed only by the beauty and intelligence of her poetry.  The book begins with "Prologue: Mother/Muse," wherein Jeffers quotes Langston Hughes: "This is a song for the genius child. / Sing it softly, for the song is wild," an observation which encapsulates the whole of the book, for The Age of Phillis is indeed a long overdue "song for the genius child."
 "On Being Brought from Africa to America," arguably Peters's most famous poem, has long been taught as an example of the young woman's Christian indoctrination and her gratitude, allegedly, toward those who enslaved her, as evidenced in the line "T'was Mercy brought me from my Pagan land."  The first poem of the collection, "An Issue of Mercy #1," announces quite clearly that this book will approach Peters's biography from a different perspective than that of acquiescent or grateful slave child.  Jeffers rethinks the poet's use of "mercy," arguing that her thankfulness was not for her deliverance from Africa, but for God's grace in her survival of the middle passage and the horrors it engendered:
                                               Mercy: what the child called Phillis
                                               Would claim after that sea journey.
                                               Journey.
                                               Let's call it that.
                                               Let's lie to each other.
Jeffers doubles down on rejecting previously accepted ideas of Peters's great fortune in being a slave child of the Wheatley's by reconstructing her life in Africa in the first section of the collection, "Book: Before," demonstrating unequivocally that she comes from a place of consequence where she was loved and cherished, and not simply a "Pagan land."  Jeffers reconstructs an Africa where are parents who long for her, and as a land which nurtured her.  Beginning here contextualizes Peters's short life as something more than an anomaly nurtured by the Wheatley's, but one that was truncated by enslavement.  She invites us to think of the mother and father who remember with longing and pain the stolen daughter, and the daughter who suffers the journey away from all she has known.  Sandwiched between "Prologue: Mother/Muse" and the "Epilogue: Daughter/Muse' are ten expertly rendered sections which follow Peters's life from Africa, through enslavement, freedom, marriage, heartache, and death. 
In the telling of this remarkable poet's life, Jeffers also renders a fascinating portrait of the birth of a country embroiled in a tenacious fight for freedom while denying that freedom to others, often by writing about this disconnect in a way that Peters could not.  For example, in "To His Excellency General Washington," a panegyric Peters wrote on the occasion of George Washington's being named generalissimo of the continental armies, the poet spent far more time arguing for freedom than praising.  Jeffers uses this poem as the basis for "General George Washington Rereads a Poem and Letter He Received from Phillis Wheatley, and Agonizes Over His Response" and in the voice of Washington writes,
                                    An African, a girl who wrote this poem,
                                                  the hand graceful, the verse so stoked with praise
                                    that I am consumed by clattering omen—
                                                  bold, she wrote to me, none of my house slaves
                                    would dare
The book is full of these moments wherein Jeffers reimagines Peters's authority, telling the story of a powerful and in many ways, subversive, poet at work, rather than that of a grateful, assimilated mimic.  The poems end in the section "Epilogue: Daughter/Muse," with "Homegoing, or, the Crossing Over of Goonay, Lately Known as Phillis Peters," a poem in which Peters's persona recalls the journey of her life,  offering an entreaty, "Come to the doorway / and call a prayer / to me."  This poem, like this book, seeks to reclaim a true identity for the little slave girl, so often maligned and misunderstood, just as the speaker in this poem reclaims her name, her true identity, and her tie to her place of origin.
If I could will every person in this country to read this book, I would.  The poetry is magnificent.  Jeffers, author of four other poetry books, winner of The Harper Lee Award for Alabama's Most Distinguished Writer and recent inductee into the Alabama Writer's Hall of Fame, is a poet who has clearly mastered her craft.  Each of the ninety-eight poems in this volume—this is no slim book of verse—is expertly written by a woman in full command of a wide range of skills.  Jeffers has come into her own as a poet.  There is not one misstep, not one misapplied conceit, not one word out of place.  The Age of Phillis, longlisted for the National Book Award, is a masterclass in persona poetry and in poetics in general.  But it is far more than that.  It is the chronicle of an important era in the country's history, an examination of questions of identity and marginalization with which we continue to grapple.  The engagement of these questions and the careful, necessary scholarship undergirding every poem make this book one that people will be reading one hundred years from now.
At the end of the book the essay, "Looking for Miss Phillis," chronicles Jeffers's journey to find a version of Phillis Wheatley Peters as a poet and a woman who had been obfuscated by misunderstanding and misreading.  To do so, she had to wade through texts often steeped in preconceived notions and shaped by racial bias.  Jeffers's persistence is a testament to the kinship she feels for her subject.  It is a gift.  The Age of Phillis is a journey well-worth undertaking for us all.