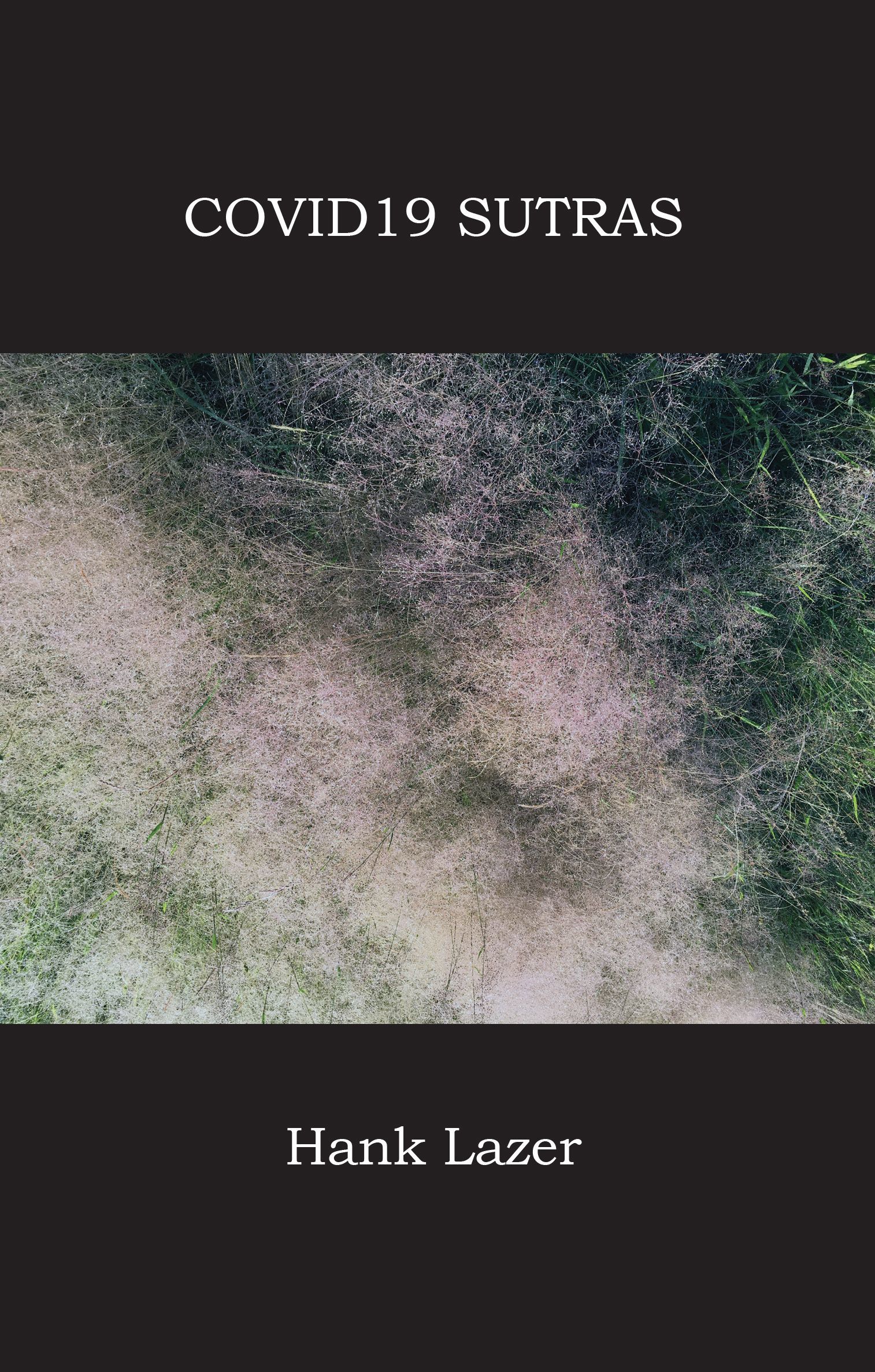 COVID19 SUTRAS
By Hank Lazer
Lavender Ink, 2020
Paperback: $18.95
Genre: Poetry
Review by Edward Journey
 
       In this autumn of the 2020 pandemic, one would be hard-pressed to find a more "of the moment" volume of poetry than Hank Lazer's COVID19 SUTRAS. Comprised of sutras composed between March 1 and June 13 of 2020, Lazer's poems provide contemplative meditation and real-life scenarios in a frequently startling and vibrant book of images from a most exceptional year in each of our lives. The classic sutras of Hinduism and Buddhism are collections of phrases leading to enlightenment; Lazer adapts the format for our specific time by providing glimpses of nature, compassion, and "normal" life amidst the despair and confusion of global disease and unrest.
       During an impressive career, poet Hank Lazer has written for jazz improvisation, for choreography, for film, and for poems as "shapewriting" visual art in earlier books, such as Evidence of Being Here: Beginning in Havana (N27) (2018) and Slowly Becoming Awake (2019). A retired administrator and English professor at the University of Alabama, Lazer was the 2015 recipient of the Harper Lee Award, Alabama's preeminent award for lifetime achievement in literature. COVID19 SUTRAS, Lazer's current collection of  poems about the pandemic, provides insights of reflection and sanity in our perilous global moment.
       These sutras reflect the isolation of months in quarantine; nature – the flora and fauna of changing seasons – is a presence throughout. "COVID19 SUTRA 1 (early days)" begins
                           books & blossoms
                           spring & all
                           cold morning no
                           wind cloud bank
                                       over the mountain
                                       ridge city & its
                                       tower in the distance
                                       last night two curious
                                                   foxes   young ones
                                                   came by for the wild
                                                   salmon cooking on
                                                   the gas grill 
The moody, pastoral tally of the cardinals at the bird feeder and the red azaleas along the fence takes on a chilly aspect with the lines  "all this before / you check the daily /death count".
       In COVID19 SUTRAS, Lazer writes with compassion and wisdom, to come to terms and make sense of a complex and senseless inundation of events. He evokes the reality of an elderly parent – suffering, fever spiking, alone. He thinks "with love of two poets & their cat Whitman holed up in a small apartment in Oakland" and of a "recently discovered" brother near Miami "traveling / the Way / hidden in / a small apartment // … viviendo y escribiendo / la verdad de la casa" (living and writing / the truth of the house).  
       The book is marked by the recurring appearance of the "Liar" – "the parasite / arrived before the virus" – who makes his first appearance eight pages into the sutras. With the appearance of the Liar, who keeps "naming others to blame for it all," the book's meditative, contemplative tone gives way occasionally to anger, frustration, and a brief moment of unfiltered profanity. "Of course he won't wear a mask: it would be redundant," says "COVID19 SUTRA 5 ('I can't breathe')."
       Each sutra is assigned a parenthetical subtitle which guides the reader through the early phases of the pandemic. They are 1: (early days); 2: (flattening the curve); 3: (phased reopening); 4: (we're back?); and 5: ("I can't breathe"). In his book Portions, in 2009, Lazer wrote in an "invented fifty-four word form" of three words per line, three lines per stanza, and six stanzas total. Since Portions, his formatting has shifted dramatically, but COVID19 SUTRAS evokes that form with four, rather than three, lines per stanza. 
       Longer phrases begin to interrupt the spare passages of "COVID19 SUTRA 3 (phased reopening)." "COVID19 SUTRA 4 (we're back)" periodically leaves the stanzas behind, ending with quotes from COVID reporting by the St. Louis Post-Dispatch, Vanity Fair, and the Associated Press. For example, a May 25, 2020, St. Louis Post-Dispatch article, is quoted in which the current administration's preparedness for a pandemic is compared, unfavorably, with that of the preceding administration: "Trump can lie," says the article at one point, "but the numbers cannot." 
       As reflected in the subtitle of Sutra 5, ("I can't breathe"), Lazer's work encompasses the twin plagues of COVID and systemic racism. Despite the dismal subject matter, Lazer brings a sense of stoic hope to these pages, especially as he evokes Jewish ritual and the Buddhist Avalokiteshvara – the ideal of compassion and a willingness to bear worldly pain.
       In a passage about preparing the Passover meal, Lazer writes " … instead of / lamb's blood we mark our doors / with numbers & distance / given us by our sciences". Evoking Avalokiteshvara, the poet wonders "will we listen to this / moment   & change" and, later,  "…  if / this pandemic is not / our clear call to change / then surely all is lost". Lazer implores his reader to "Rest in the openness of mind. // so that the words / equality justice democracy / mark something other / than our shame".
       As I was reading COVID19 SUTRAS, I was awakened to the news that American poet Louise Glück was awarded the 2020 Nobel Prize for Literature. In Peter Campion's 2014 New York Times Book Review piece on Glück's Faithful and Virtuous Night, he calls Glück a poet of "renewal," asserting that "This is not a matter of optimism or 'recovery' in the conventional sense … There's not a hint of easy consolation, much less any 'triumph of the human spirit' in this book. But neither does the abiding darkness entail despair."
       I find Campion's words readily applicable to what Hank Lazer achieves in COVID19 SUTRAS, a thoughtfully coherent document of the current moment. These powerful poems entice the reader to be present; be conscious.
Lazer writes: 
                                                    i love this world
                                                    more
                                                    than i had thought
Edward Journey who is on the editorial board of Southern Theatre magazine, regularly shares his essays in the online journal "Professional Southerner" (www.professionalsoutherner.com), and has most recently published reviews, papers, and articles in Arkansas Review, Southern Theatre, and Theatre Symposium.