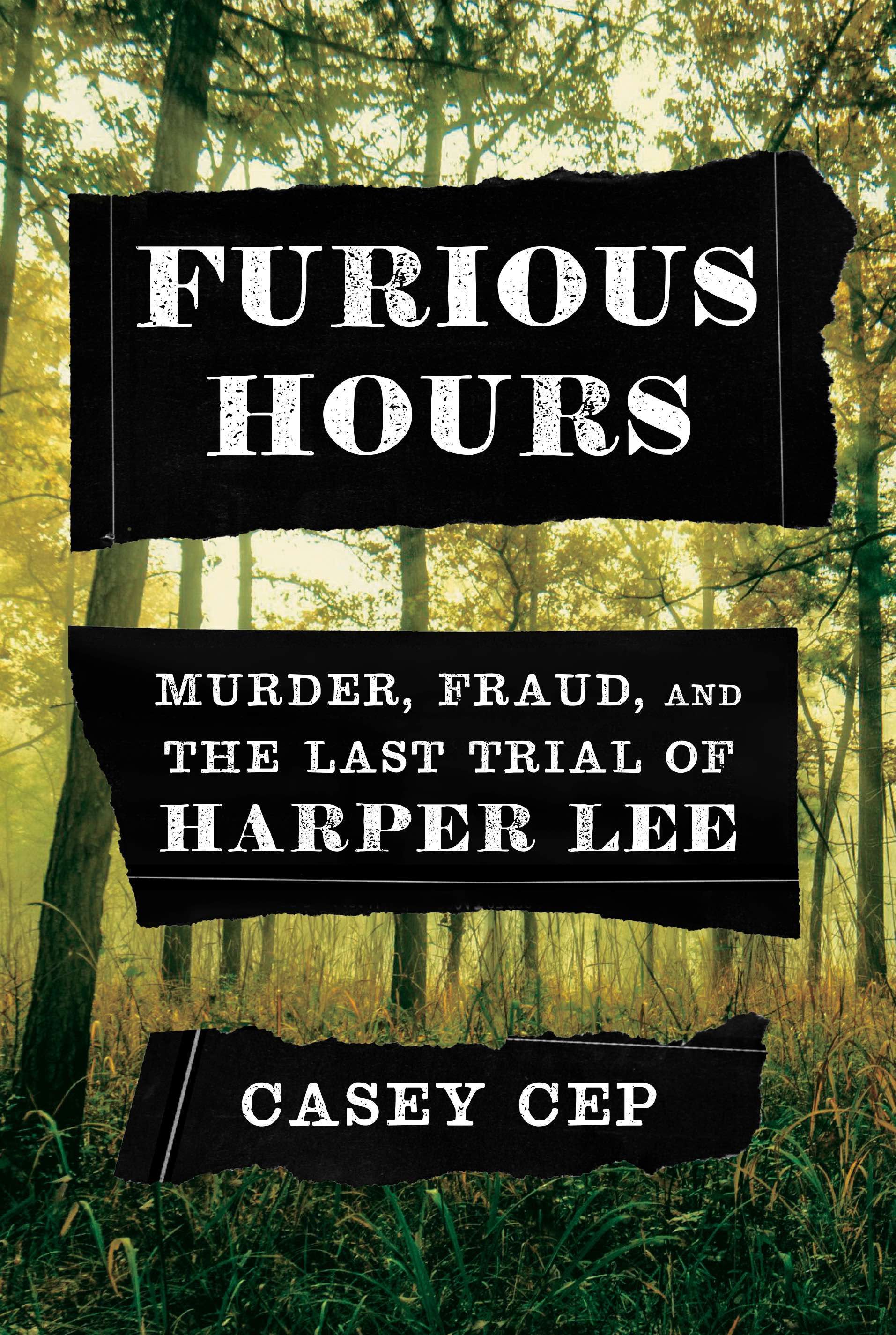 Furious Hours: Murder, Fraud, and the Last Trial of Harper Lee
By Casey Cep
Knopf, 2019
Hardcover: $26.95
Genre: Nonfiction
Review by Katie Lamar Jackson
Sometimes it takes an outsider to help us understand our own history, which is just what Casey Cep did for me, and I suspect many of my fellow Alabamians, in the pages of her first (and I suspect, not her last) best-selling book, Furious Hours: Murder, Fraud, and the Last Trial of Harper Lee.
Furious Hours is a book about another unwritten—or at least unpublished—book entitled The Reverend, which Harper Lee began work on in the late 1970s. The Reverend was to tell the story behind the 1977 murder of an allegedly murderous Coosa County, Alabama, preacher named Willie Maxwell. Maxwell's story not only had all the makings of a page-turning true-crime bestseller, it held the promise of being Lee's long-awaited follow-up to her phenomenally successful novel To Kill a Mockingbird. Lee, however, never published The Reverend, nor did anyone else ever write a book about the crimes or fully explain why Lee abandoned the story. Until now. In the pages of Furious Hours, Cep does both—and so much more.
Furious Hours blends true crime with biography (a format Cep herself calls "a little promiscuous in terms of genre") to explore how a series of stranger-than-fiction deaths brought together three disparate lives. Not every writer could pull this off, but Cep does it masterfully. And she tells a story that, while appealing to readers anywhere, should be particularly engaging to us long-time Alabamians who have personal connections to that era of Alabama history, and sometimes to the people in the pages of this book.
Written in three parts ("The Reverend," "The Lawyer," and "The Writer"), Cep first explores the life and deeds of Maxwell, an ordained minister who served churches in and around the Lake Martin region of east-central Alabama, an area that includes Coosa, Elmore, and Tallapoosa counties. Though preaching was his calling, Maxwell was what's known in the clerical world as "bi-vocational." He made some money preaching on Sundays, but made a living the rest of his week by snaking logs out of the woods and blasting rocks out of a local quarry. While Maxwell was quite accomplished at each of these vocations, his most lucrative enterprise appeared to be buying life insurance on kinfolk who were destined for early and untimely ends.
Over a seven-year period, beginning in 1970 when his first wife was found beaten to death on a rural Coosa County road, five members of Maxwell's family died suddenly under suspicious circumstances. With each loss, Maxwell gained what today would amount to a half million dollars in insurance claims. But as his bank account grew, so did Maxwell's checkered reputation. To some in his community, Maxwell was an adored man of God. To others, he was a feared voodoo sorcerer. To many in law enforcement, however, Maxwell was a criminal. Yet, despite being charged with one murder and investigated numerous times for insurance fraud, Maxwell was never convicted of a crime thanks to the efforts of Tom Radney, "The Lawyer" in part two of Furious Hours.
In this section, Cep introduces us to Radney, an Alex City defense attorney and politician who garnered fame—and infamy—as Maxwell's lawyer. The shooter was Robert Burns, Ellington's step uncle who, sure that Shirley Ann was yet another of Maxwell's victims, took a pistol—and justice—into his own hands. That's also the day that Radney lost one client, but soon gained another. He took on Burns' case and, a year later, was defending him in an Alex City courtroom in front of a packed room of curious onlookers and reporters from across the U.S. Among them was "The Writer" in part three of Furious Hours—Harper Lee.
In "The Writer" section, Cep takes a deep dive into Lee's writing life, both before and after she worked on The Reverend. Though some of my fellow Alabamians who read Furious Hours chaffed at the length of this section (one even said, "There's too much about Lee. I wanted to know more about Maxwell!"), I disagree. Furious Hours isn't just about the inscrutable Willie Maxwell. It's about the mystery of Lee's never-published The Reverend, which Cep explores through Lee's writing life. I particularly enjoyed Cep's dive into Lee's roots in journalism, where Lee could flex her researching and observational talents.
Lee was likely using those very skills as she sat in on Burns' trial and then stayed on in the Alex City area for several months to work on The Reverend, during which time Radney eagerly shared his story and his personal papers with her. Though Lee continued working on The Reverend for several years after her Lake Martin-area sojourn, she eventually set the idea aside. Why Lee abandoned the story, and what happened to the manuscript is a mystery, one Cep began investigating a bit by accident. 
A native of Maryland's Eastern Shore, Cep grew up infatuated with To Kill a Mockingbird, in part because, during her youth, Cep resembled Mary Badham, the actress who played Scout in the 1962 movie. It was not, however, until 2015 that the adult Cep, by then a writer working with such national publications as The New Yorker and the New York Times, got to visit Monroeville, Alabama, the place upon which Mockingbird's fictional town of Maycomb was based. Cep arrived there that spring to report on the release of Lee's long-awaited second book, which many hoped would be The Reverend but turned out to be Go Set a Watchman. While there, Cep met members of the Radney family who were trying to retrieve personal papers the late Big Tom, who died in 2011, loaned to Lee back in 1978. Shortly thereafter, Cep published a New Yorker story about the family's search for these missing papers, ending it with: "The Radney family remains sanguine that someone will write the book that Harper Lee never did, or that if there are more manuscript chapters of The Reverend they, like Go Set a Watchman, might see the light of day and the ink of a printing press." According to Cep, as she wrote that final sentence she thought, "Why am I encouraging someone else to write this tremendously interesting book when maybe I can do it?"
So, like Lee, Cep began to dig into the Maxwell story, spending the next four years researching and writing her own "tremendously interesting" book. And interesting it is, not just because Cep provides a fascinating look at three intriguing people, but also because she, like Lee, uses telling details and exceptional fact-finding to bring them to life.
As an Alabama native who well remembers the Maxwell story (I was a year out of high school when he was murdered), I started reading the book with a small dose of skepticism. Could Cep get this Alabama story right? Yes, she could, and does. Not only is Furious Hours filled with the names of people I know (Wayne Flint, Rheta Grimsley Johnson, Madison Jones and Alvin Benn among them), it is filled with history I should know, from the origins of life insurance, mystic religions, and forensic sciences to the back-stories of long-familiar places. 
According to Cep, when she took this book project on, many cautioned that she, like the great Harper Lee, might never be able to finish it. Almost immediately upon its publication, Cep said "the fear and concern on my behalf turned to would I ever write another, or would I be like Harper Lee and take 50 years to do it?" I hope Cep writes another, and another, and another. And I hope she doesn't wait 50 years to do so.