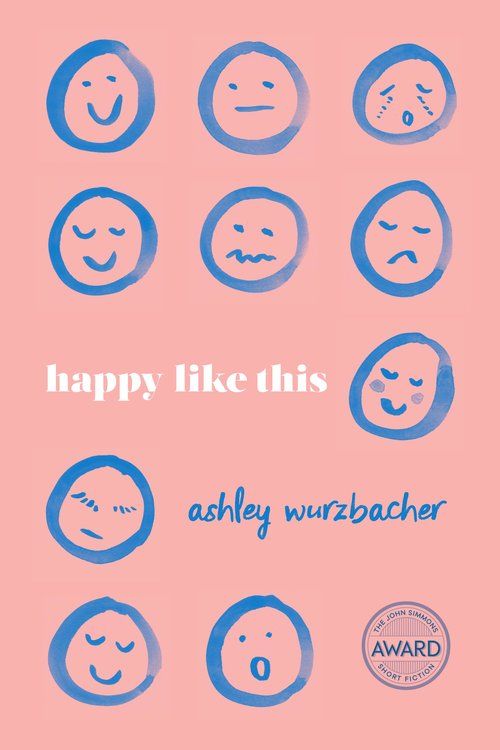 Happy Like This
By Ashley Wurzbacher
University of Iowa Press, 2019
Paperback: $17.00
Genre: Fiction, Short Fiction
Review by Laura Lilly Cotten

In Virginia Woolf's 1927 novel To the Lighthouse, Lily Briscoe is a minor character, a painter who almost never paints. Mrs. Ramsay, the novel's subject, is a mother and match-maker. She is such a force that even after she dies, Lily is pondering and reacting to advice she had given a decade earlier. Only after Mrs. Ramsay's death is Lily finally able to paint the portrait of her that Lily has imagined for a decade, to make Mrs. Ramsay into an object. Lily delights at the thought of informing Mrs. Ramsay that those she tried to influence haven't listened: "It has all gone against your wishes. They're happy like that; I'm happy like this."
The observer becomes the observed, the observed observer.
Happy Like This, Ashley Wurzbacher's John Simmons Award-winning debut, is divided into two sections. The first, entitled "Like That" reads almost like speculative fiction. "Sickness and Health" contains a character who drinks her own blood. "Ripped" is the story of a prospective law student who watches her identical twin sister shape-shift as she becomes a professional body-builder. In "What It's Like to Be Us," blackbirds rain down dead onto a neighborhood. But each time these stories tip toward the magical, Wurzbacher's characters—and readers—are reminded: what's truly strange is reality. The New York Times reports that on New Year's Eve 2011 5,000 blackbirds fell dead from the Arkansas sky.
The women in these stories respond to strangeness with strangeness, and in doing so they often put themselves on display. Like Lily Briscoe in the first half of To the Lighthouse, they become women advised and observed. The first section had me constantly questioning: What is real? How strange can realness get? How fake strangeness?
My favorite story from "Like That" is "Fake Mermaid," in which Luna has a gig role-playing for a child's birthday party in the suburbs. She dons a "twenty-five pound silicone tail" and "a copper clamshell bra with a string of fake pearls twisted through one strap." She entertains party-goers by tossing gemstones into a pool for them to fetch and affixing glitter tattoos to their slippery limbs. Out of the water, she must be carried by her fiancé, toward whom her feelings are lukewarm.
"'I just thought the mermaid was a little…morose,'" a client had once complained, forcing Luna to smile more at subsequent appearances. But "for her, mermaiding was about the swimming, about fantasy, about forgetting her body." Here, as in other stories in the first half of the collection, Wurzbacher's primary character is on display.
At a reading early this year, I discussed the collection with Wurzbacher, who teaches in the creative writing department at the University of Montevallo. She often finds, she said, the impetus for a story in bizarre but true news and family accounts. Wurzbacher sets her stories all across the US, in nearly as many locales as she has lived and written in, including central Alabama. In the story "Happy Like That," the main character wears heels and a skirt to go see the Cahaba lilies blooming and gets stuck in the squelchy bank.
Alabama and her native Pennsylvania, Wurzbacher pointed out, often remind her of one another. This similarity struck me most when reading "American Moon," the first story in the second section. In it, Anna, an Italian foreign exchange student visits rural Pennsylvania. The narrator takes Anna to see American ruins—a field full of rusting refinery tanks. Watching Anna's admiration of "the iron flakes they shed," the narrator recognizes that her home might be worthy of observation, might contain wonder: "[Anna] found beauty in our rust, girl from the land of gladiators." Throughout the second section, entitled "Like This," this localization of strangeness is common. The women in it are often introspective and always observing.
In the final story, "Happy Like This," two women become friends while working toward their PhDs in linguistics. One, the narrator, is an orphan living in the city alone; the other, Hope, has a baby with a pilot who is gone three days out of seven. The narrator takes Hope bottles of wine, the more ridiculously labeled the better: "Primal Roots," "Forbidden Pleasures," "Primal Urges"; they drink, daring each vintage to prove worthy of its name.
The women require precise language. The narrator refers to Hope's daughter only as "Little Girl." Hope's inability to finish her dissertation is "The Problem That Has No Name." They leave a wedding shower early when the bride opens a gift and exclaims that her groom "loves gravy."
The problem with naming something isn't that it makes it real or permanent—as I'd long believed—but that a word is a container, often for phenomena that shouldn't be contained. The narrator observes Little Girl and wonders: "To live outside language—outside E is for, F is for—is that a kind of prison or a kind of freedom? An impossible question, a paradox, as it requires language both to ask and to answer." Little Girl's first word is birdpoop.
Like the liberation Lily Briscoe feels from Mrs. Ramsay in To the Lighthouse, the women in "Happy Like This" finally experience happiness when they are freed from advice and labels. At the end of a collection of stories about women telling stories, we're left with two friends in the suburbs drinking mediocre wine, being honest with each other without quite speaking truth. This the narrator will name: "Love: two frightened women and a sleeping child who somehow, splendidly, have gotten one another through another smoggy day."
In the end, happiness isn't a judgment but an observation. When Hope asks what her friend would like to do other than sit together watching darkness through the window, the narrator answers, "'Nothing, I'm happy like this.'" And she is.
 
Laura Lilly Cotten is an owner and founder of Thank You Books, a new independent bookstore in Birmingham.