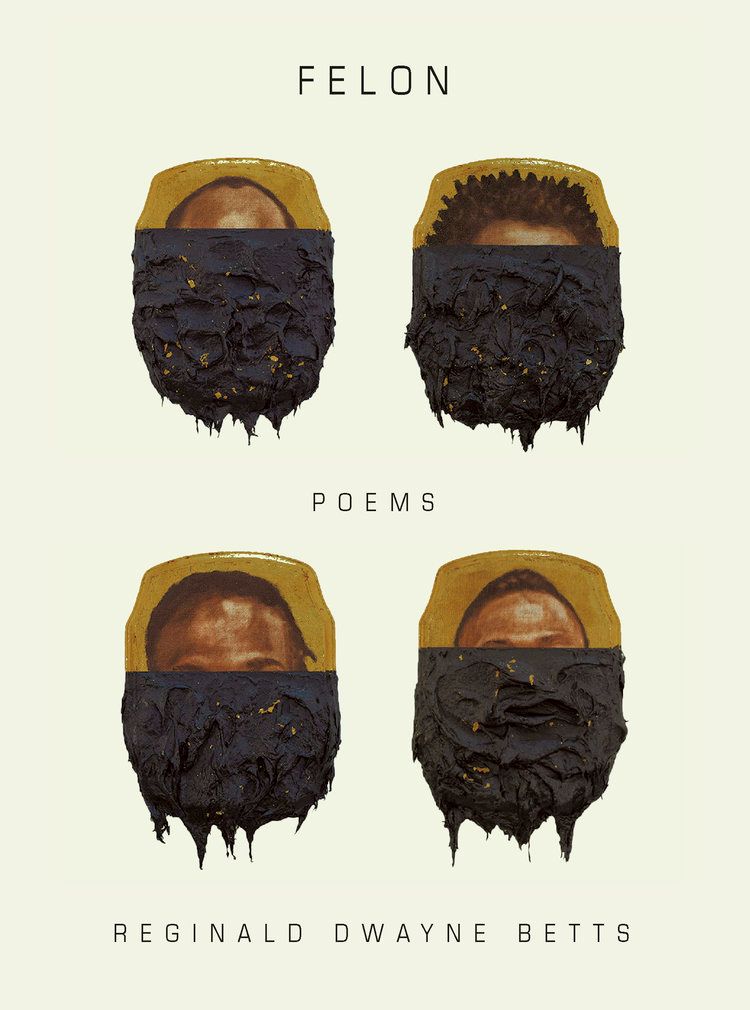 Felon
By Reginald Dwayne Betts
W.W. Norton, 2019
Hardover: $26.95; Paperback $16.95
Genre: Poetry
Review by James E. Cherry
Nigger. 
In the mouths of white Americans, the word drips with humiliation, degradation and death.  But when African Americans use it among themselves, however right or wrong, it's an attempt to lessen the pain of a century's old weapon and can even, as twisted as it may sound, become a term of endearment.
Reginald Dwayne Betts' latest collection of poetry, Felon, is an exercise in such reclamation.  Like the word "nigger," the word "felon" comes with its own set of social stigmas, labels and consequences, such as the revocation of voting rights and limited employment opportunities.  For some white Americans, as it relates to black men, both words have become interchangeable.  There are several poems in the collection titled "Essay on Reentry".  The following, dedicated to Nicholas Dawidoff, is a prime example of the poet coming to terms with the word:
You come home & become a parade
of confessions that leave you drowning,
lost recounting the disappeared years.
You say fuck this world where background checks,
like your fingerprints, announce the crime.
Where so much of who you are betrays
guilt older than you:  your pops, uncles,
a brother, two cousins, & enough
childhood friends for a game of throwback—
all learned absurdity from shackles.
Betts' story is well documented.  Sentenced to ten years in adult prison for a carjacking at age 16, he educated himself within the confines of those walls and upon release has graduated from numerous universities, including Yale Law School.  In page after page, poem after poem, Betts declares that yesterday does not cancel tomorrow, that you are more than the mistakes you've made and that you are who you ultimately want to be.  These are human beings whose accounts have been paid in full--somebody's aunt or father with dreams, hopes, aspirations and a desire for self-determination.  These felons are somebody's child made in the image of God.  But the book poses a question for the black community as well, which often views felons in the same light as the rest of the nation:  How to receive these men and women back into the community?
The idea of redemption is a theme running throughout Felon.  Betts neither makes excuses nor points the finger at anyone for his past behavior, although an indictment against the criminal justice system and its treatment of people of color is warranted.  But the mistakes are his and he acknowledges them as a first step to make amends with those he has injured and most importantly himself.  He has come to terms with how the prison industrial complex has impacted him and his relationship with his victims, his woman and children, friends and parents.  He has unflinchingly and courageously looked himself in the eye and if society refuses to forgive him for his sins, he will simply save himself.  Betts works as an attorney to reach back and help others navigate the criminal justice system is also another aspect of redemption.  From the poem "For a Bail Denied:"
Black lives, when all he said of Black
boys was that they kill?—the child beside
his mother & his mother beside me &
I am not his father, just a public
defender, near starving, here, where the
state turns men, women, children into
numbers, seeking something more useful
than a guilty pleas & this boy beside
me's withering, on the brink of life &
But don't be mistaken. Felon, is no sociological treatise.  It is a work of art, art of the highest literary quality.  The poems in this book leave you hanging on each word, anticipating the next image until you have to catch your breath before turning the page.  And there are poems that will haunt your consciousness and beckon you to reread them again:  "Essay on Reentry" (all four), "Night", "On Voting for Barack Obama in a Nat turner T-Shirt", "Exile", "Parking Lot2", "Confession" and "November 5th, 1980".   The poem "Essay on Reentry" (Number One) runs counterintuitive to the narrative that black men are absentee fathers, don't know how to nurture their children:
So when he tells me, Daddy it's okay.  I know
what's happening is some straggling angel,
lost from his pack finding a way to full his
duty, lending words to this kid who crawls
into my arms, wanting, more than stories
of my prison, the sleep that he fought while
I held court at a bar with men who knew
that when the drinking was done,
the drinking wouldn't make the stories
we brought home any easier to tell.
In Felon, Betts uses legal court documents to stun the senses.  Through the process of redaction, he is able to shine a light onto the criminal justice system and how its injustices predominantly affect the poor and those of color.  The technique is nothing new, but under Betts' mastery he is able to extract humanity and dignity from documents that have relegated living souls to mere court dates, docket and prison uniform numbers.  What adds to the effectiveness of the poems is the form itself.  On the page, the redactions look like prison bars, allowing the words that are left to escape through them. 
Finally, Felon is a testament of how literature in general, and poetry specifically, can not only change your life, it can save a life.  Betts is one in a long list of poets and writers whom literature has given a sense of direction and purpose behind prison walls. From Ethridge Knight to Chester B. Himes to El Hajj Malik El Shabazz to those involved in PEN America's Prison Writing Program, Betts owes literature a debt of gratitude for its power to restore and resurrect.  The American literary canon, however, should be grateful for the gift of Felon and the insights into the human condition that it provides.  Felon is an incisive, provocative, poignant work of art, and as long as there is one black man living in America, it will be a necessary one.
James E Cherry is the author of three collections of poetry, two novels and a collection of short fiction.  His short story collection, Still A Man and Other Stories, and his novel, Edge of the Wind, have been re-released in 2020.  Cherry has an MFA in creative writing from the University of Texas at El Paso and is President of the Griot Collective of west Tennessee, a poetry workshop.  He resides in Tennessee where he is an adjunct professor of English at the University of Memphis-Lambuth.