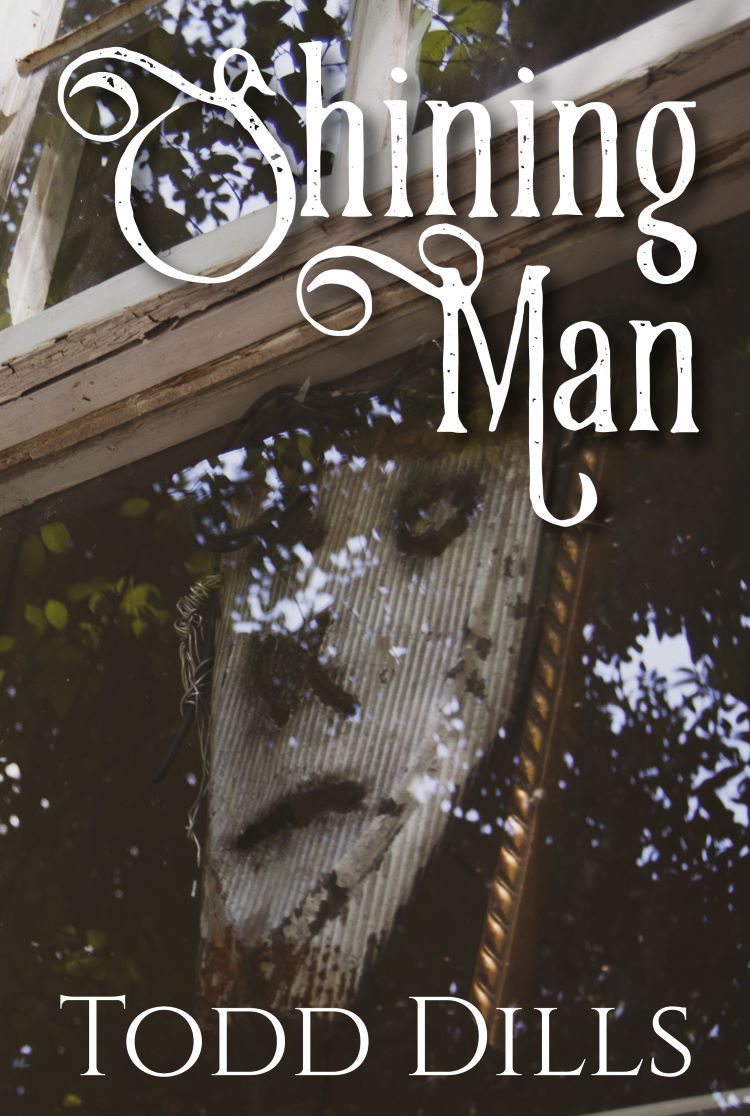 Shining Man
By Todd Dills
Livingston Press, 2019
Hardcover: $26.95; Trade Paperback or E-Book: $16.95
Genre: Contemporary Fiction
Review by Edward Journey
The new novel, Shining Man, by Todd Dills, begins with six pages of "Dramatis Personae" that include the names of actual characters in the novel along with about three pages of names of characters mentioned once, maybe twice, in the book. The "Dramatis Personae" is followed by a cryptic "Prologue." These preliminaries, however, become superfluous. By the time Chapter 1 and a rather ragged plot emerges on page 9, the reader has been plied with a great deal of information that does not necessarily encourage initial engagement.
What follows are the adventures and quests of Cash, a self-proclaimed "stupid man!" with a degree in English Language and Literature coupled with low expectations. Cash is the narrator of events taking place in post-Great Recession America with the Occupy and Tea Party movements in full swing. Cash travels from the Carolinas to Chicago, makes a significant foray into Birmingham, and ends up back in Charlotte and its environs. He does time as a fry cook, doorman at a dive bar, erstwhile performance artist, and tire carrier for a top-ranked driver in the professional stock car racing circuit (Dills never says "NASCAR," so neither shall I).
Shining Man is the second novel by Nashville-based writer Todd Dills. A South Carolina native, Dills published a short story collection, Triumph of the Ape, in 2012, and his first novel, Sons of the Rapture, in 2016. He was founding editor and publisher of the literary broadside, The2ndHand (2000-2013), and continues the occasional publication of books under The2ndHand brand. He is senior editor of a long-haul trucking trade magazine, Overdrive.  
Cash's travels and travails commence when he receives nebulous word that his ne'er do well father, Ralph Cash, is dead. Traveling to Chicago to try to discover any facts about his father's death and/or disappearance, Cash finds his father's apartment empty except for an orange recliner, television, old mattress, and multiple boxes of orange street and sanitation vests. He also finds a note, in Ralph's handwriting, stating that the boxes of vests might contain Cash's "ultimate salvation – or … nothing at all!" That one note might serve as a summary of both Cash's exploits and Dills's narrative.
Something compels Cash to strip the reflective tape off the vests and craft a reflective suit which he wears in traffic at night. Cash isn't sure why he does this and neither is the reader, but there are a number of stabs at interpretation and the "Shining Man" escapades eventually become the inspiration for an art installation and performance art. Throughout his travels, Cash dons the "Shining Man" suit, providing the motivational jump-start to Cash's periods of soul-searching and aimlessness. The "Shining Man" persona becomes the inexplicable impetus for every transformation that Cash encounters and every crucial plot point that contributes to his quest for something that he doesn't quite understand; the search for the answer to his father's disappearance quickly becomes secondary to the quest – as well as the plot.
All of these strands comprise the foundation for the alcohol and tobacco-fueled prose of Dills's novel. These cats smoke like it's 1961. Dills effectively captures the angst and anxiety of a very intelligent man living an aimless and unfocused life. Cash is a character who probably thinks too much, letting his deep thoughts and constant search for meaning impede his efforts to achieve.     
Dills assembles a colorful cast of misfits, bar flies, hipsters, artists, suits, and stock car enthusiasts with an occasional anarchist thrown into the mix. Cash's stabs at romance seem as random and doomed as his slacker life.  At one point, Cash is chased down by a "bicycling enviro-thug protester" who attacks him with a stick of incense – a nice touch. As a proper English major, Cash tries in vain to analyze his actions and those of the world around him without much success. Darwin, Kierkegaard, and Thoreau are evoked – and that's just the Prologue!
One of Cash's most unlikely but satisfying encounters occurs during his Birmingham sojourn, while he is holed up in the ruins of an abandoned steel factory near downtown. Cash – wearing his Shining Man garb at an Interstate exchange – meets up with charismatic Turner Bascombe, bad boy racecar driver. This leads to Cash's employment as a tire carrier for Bascombe's team and facilitates Cash's return to his Carolina homeland and the most intriguing complications of a murky novel.
Larry Brown. Harry Crews. Jack Kerouac. Hunter S. Thompson. Barry Hannah, of course. The reader might find moments reminiscent of all of these writers in the amped-up adrenalin pull of Shining Man. However, a reference that constantly came to mind for this reader was Martin Scorsese's underrated 1985 film, After Hours, in which an unlucky protagonist gets caught up in a harrowing but funny night.
The nocturnal nature of Shining Man gives the novel much of its appeal. Everything significant seems to happen after dark. Even the stock car race where Cash encounters a pivotal plot point is a night run. Dill's night scenes are mesmerizing, mysterious, and foreboding. He creates a sense of surreal mystery whenever the sun sets – wherever that may be. Cash's Shining Man suit is at its full glory only under the artificial lights of the nighttime, so it is natural that this is where his escapades find their mightiest reach.
Cash seems to attract other Carolinians wherever he goes and he occasionally reverts to a Southern trope to explain – and perhaps defend – himself:   
Yes, I might have more than a little tendency integral to the mad mind of the Southern hedonist to elevate myself to mythic status. A rather swaggering sort of impulse, I know, and I apologize. Yes, I've got that defeated land's impulsive apologetic tendency, too – I'm sorry for everything, forgive me.
Cash's "swaggering sort of impulse" makes him both intriguing and infuriating. As a character who is aimlessly searching for something unknown, he is evocative of a particularly confusing time in the first years of the 21st Century, and a portent of the even more volatile and confusing years to come.  Ultimately, Todd Dills proves to be a distinctive and scrappy literary voice, throwing verbal axes in many directions to see where they hit. Sometimes, it's a bullseye.
Edward Journey, who recently retired from Alabama A&M University, regularly shares his essays in the online journal "Professional Southerner" (www.professionalsoutherner.com) and has most recently published reviews, papers, and articles in Arkansas Review, Southern Theatre, and Theatre Symposium.