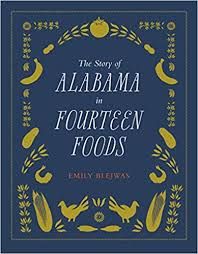 The Story of Alabama in Fourteen Foods
By Emily Blejwas
University of Alabama Press, 2019                                     
Trade Paper $39.95; E-book $39.95
Genre: History
Reviewed by Carla Jean Whitley
Though my childhood memories take the form of Mrs. Winner's on Parkway East in Birmingham and Popeye's in a Florida suburb, the homemade chicken Emily Blejwas describes in The Story of Alabama in Fourteen Foods makes my mouth water. The crispy crust. The tender meat that crust gives way to. (I always preferred dark meat.) It's simple but, in my mind, it's a symbol of family gathering.
And, as Blejwas illustrates in this detailed history, I'm not alone in holding fried chicken in high esteem. Blejwas, who recently became executive director of the Alabama Folklife Association, shares her considerable research on the state throughout this 344-page examination of Alabama.
Throughout Alabama's 201-year existence, fried chicken has represented family get-togethers and much more. In years past, when the cost of chicken exceeded that of beef or veal, chicken was a status symbol. Fried chicken was often the centerpiece of dinners on the ground, events to which Alabamians brought the most impressive dishes they could manage.
Readers will find such rich detail throughout The Story of Alabama in Fourteen Foods. The book offers recipes for many of the dishes it highlights, but it isn't a cookbook or a conversation piece for a coffee table. Or, more accurately, it's not just that. Blejwas has crafted a detailed history of the state, reaching into the years preceding statehood. Like the traditional dinners on the ground, when communities would gather to celebrate important events, the food satisfies but the fellowship she portrays is what really feeds the soul.
Blejwas uses each of the 14 foods as an entryway to periods of Alabama history. For example, readers might know Lane Cake as a labor-intensive, whiskey-laced confection. It won prizes for creator Emma Lane and merited mention from Harper Lee in "To Kill A Mockingbird." Blejwas places the treat in context: Its creator became a cookbook author in the second half of the 19th century, when many American women, black and white, were writing books full of economical, efficient recipes. Blejwas explores how these women fit into and chafed at the progressive movement. Cookbooks played a complex role in women's values and expectations—and those placed on them—and "The Story of Alabama in Fourteen Foods" examines it closely.
Blejwas offers that careful attention throughout the book, which was released as part of the state's bicentennial celebration. Food can be the result of coming together, as with the chicken stew fundraisers held by Tennessee Valley fire departments. It can be a reminder of our predecessors, connection, and oppression, as with roasted corn and the Native Americans who made it a staple. Some foods are prominent in a corner of the state. Others, such as barbecue, have taken on regional flavors.
The Story of Alabama in Fourteen Foods is not a light or quick read, and, at times, it veers into a a voice that is almost academic in tone as Blejwas blends a historian's eye for detail and a storyteller's desire to find the people born of this history. Though her research reflects centuries of development, Blejwas uses eyewitness reporting to show how those long-ago events affect what Alabamians eat today. Her experience as a novelist (Like Nothing Amazing Ever Happened, Once You Know This) is evident in the tales and insight Blejwas draws out of her modern-day sources.
The historical records and present-day individuals Blejwas consulted during her research reveal how the flavor of their homes has persisted throughout generations. "With every action, you think about the generation before you and the generation after you," Poarch Band of Creek Indians cultural educator Alex Alvarez said of roasting corn. And it's an explanation that reverberates throughout the book. "You connect yourself into that cycle."
Carla Jean Whitley is a writer and editor who lives in Birmingham. Because she spent many of her formative years in Florida, Whitley has spent her adulthood making up for missing Alabama history in fourth grade.