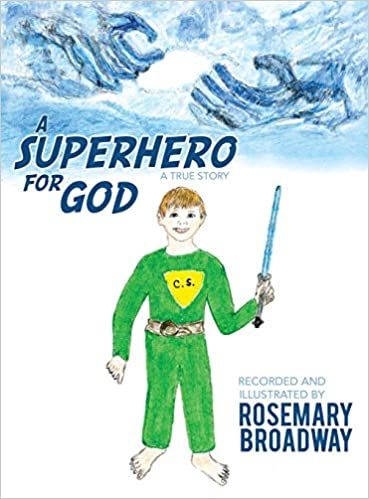 A Superhero for God
By Rosemary Broadway
Archway Publishing, 2014                                            
Hardcover $25.99; Paperback $15.95
Genre: Children's Book
Reviewed by Jan White
Rosemary Broadway has written a children's book based on a true story about one of her grandsons. The story teaches an inspirational lesson for all ages, reminding readers of God's love, forgiveness, and mission for each of us. 
The narrative resembles a parable with a "moral to the story" take-away. The words of a child, who thought he'd misspoken, give a congregation something to think about and transform him into a Superhero for God. The story hinges on the pastor's thoughtful application of the child's words.
While spending a weekend at her house, Rosemary's young grandson attends church with her. During the worship service, the pastor shares a message just for the children. She tells them the Bible story of Moses taking off his sandals while standing on holy ground. To illustrate her message, she takes her shoes off. Standing in her stockinged feet, the pastor asked the children what was different about the way she was dressed.
"You aren't wearing your feet!" the grandson blurts out.  Suddenly, his face turns red from embarrassment. The pastor understands what he is trying to say and tells him he is correct.  Later, she considers the message behind his words and writes a column creatively titled "Happy Feet," published in the church newsletter.
"Happy Feet" tells the lesson she learned from the little boy. The pastor recalls times when she recognized that she should go somewhere and do something for someone else; but, instead, she did nothing. That's when "she wasn't wearing her feet." The pastor concludes her column by emphasizing the importance of our feet to help our body to stand, walk, run, dance, etc. She tells her congregation that our feet may take us out of our comfort zone, as when setting up a lemonade stand to raise funds to benefit tornado victims (depicted in a colorful drawing of children and the pastor).
The pastor includes the scripture found in Psalm 119:105, "Your word is a lamp to my feet and a light to my path." She points out how God watches our feet and shows us the way to go because He has a something for each of us to do. To conclude her column, the pastor asks a pointed question, "Are you wearing your feet?"
The author believes that little boys desire to portray a popular superhero, dressing up in costumes like Superman or Batman. She also believes that little children, like her grandson, can be transformed into a Superhero for God, sometimes unintentionally.  She writes, "God used a small boy and a little mistake to inspire a wise and creative pastor to send an important message."
The book concludes with colorful drawings of children catching fireflies and then letting them go to "let their light shine."  
A Superhero for God features colorful drawings on almost every page to illustrate the story of how a child can be a superhero for God. Rosemary Broadway, the author of the book, is also the artist who sketched the illustrations.  The illustrations appear to have been drawn freehand with color pencils. 
Based on the vocabulary of the book, it is specifically written for adults (ex. family members, Sunday School teachers) to read aloud to children. Time spent reading the book can be teachable moments for adults and children alike.  The cheerful story tells how an embarrassing moment for a little boy turned into an inspiring lesson for a pastor and congregation.
Rosemary Broadway is a poet, mother of three daughters, and the grandmother of seven boys.  She lives in Montgomery, Alabama.
Jan White has worked for three newspapers and written articles and devotionals for various Christian publications. Jan has written a weekly religion column for over 25 years. Her column is published in the Andalusia Star-News and Enterprise Southeast Sun. She is an award-winning writer. She received a nationwide honor, being named the 2006 Amy Writing Award winner for one of her columns Forgiveness is the Key to Unlocking Hatred.