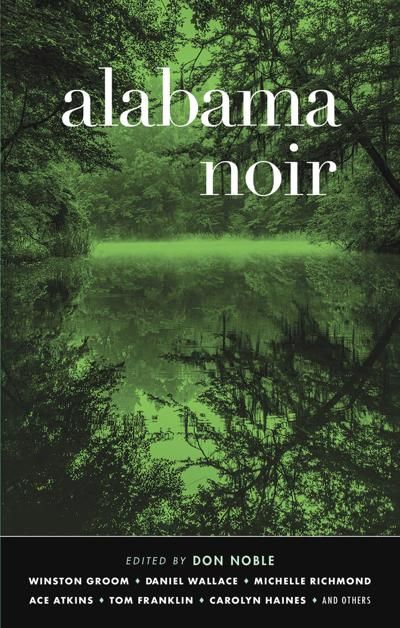 Alabama Noir
Edited by Don Noble
Akashic Books, 2020                                                                          
Paperback $15.95
Genre: Short Fiction
Reviewed by Philip Shirley
Sixteen new short stories covering 255 pages in Alabama Noir send a message that short fiction is alive and well in Alabama. The compelling stories collected here by Don Noble are set in Alabama by well-established, and a couple of emerging, writers.
No one knows better the writers and writing in Alabama than Noble, editor of several other collections of Alabama fiction and the perfect choice to edit this collection. His six-page introduction serves as a bonus essay on how to understand noir fiction, especially in an Alabama that he describes – despite its "sunshine" and "lovely beaches" – as "…a famously dark place."
This book is one of more than 100 in the award-winning Noir series created by Akashic Books, based in Brooklyn. Each book in this important series, which was launched in 2004, focuses on a city, state or region. Alabama Noir sits nicely alongside the recent Mississippi Noir, edited by Alabama native Tom Franklin, whose Clark County short short story "Her Job," about a mother covering up her son's dark deeds, is included in this volume.
The settings focus often on locations in and around the larger cities of Birmingham, Montgomery and Mobile. Yet there is plenty of rural and small-town flavor here for anyone seeking to peek into the black hearts beating inside a swath of Alabama characters leading lives of not-so-quiet desperation. One can hope there will be a second volume soon. There is more ground to cover with untold stories set on Sand Mountain, the Cumberland Mountain foothills of northeast Alabama, the red dirt peanut fields of the Wiregrass area in the southeast corner, or any of the communities too small to call a town that are isolated in the dense oak and pine forests along river bottoms stretching north to south.
These stories each stand on their own. The authors hardly matter to the reader captivated by the characters depicted and the situations we may have found horrifying, but could not look away, as they say. Yet it's worthwhile to mention the affirmations this group has found among organizations who formally recognize great writing. Our sixteen authors and the editor tally among them numerous Edgar awards and nominations, Pen/Faulkner Awards, a couple of Emmys for writing, several anthologized stories, major book prizes, best-seller status, and a few works turned into movies. Perhaps most important for a book by Alabama writers is to mention there are four recipients of the Harper Lee Award for Alabama Distinguished Writer of the Year that is selected by the Alabama Writers' Forum (Carolyn Haines, Winston Groom, Brad Watson, Daniel Wallace), as well as two winners of the Truman Capote Prize for Alabama's Distinguished Writer of the Short Story (Michelle Richmond, Marlin Barton). Add to that both Noble and Kirk Curnutt have received the Eugene Current Garcia Award for literary scholarship.
Otto Penzler, known for editing and publishing noir, stated that noir fiction "is about losers." Alabama Noir meets that standard with its cast of characters who may as well walk around with big Ls on their foreheads. Take, for example, Carolyn Haines's "The Price of Indulgence" where the local reporter sells moonshine, the radio evangelist visits hookers, and the hookers frame others for murder -- though revenge is the theme as with several of the stories. Or Anita Miller Garner's "Exhaustion," in which three small-town punks decide to steal from criminal bosses – never a good idea.
Other highlights for me include Marlin Barton's "All the Dead in Oakwood," which is set at the grave of Hank Williams where an ex-con and his lover who killed her husband in a car wreck bring out the worst in each other. I also loved Brad Watson's "Laughing Boy, Crooked Girl," in which a woman suffering from apparent scoliosis and the barbs of her tyrant aunt finds a way to use the darkness within to take revenge on the darkness around her even as she runs a cheap roadside tourist trap complete with alligators and Indian relics. I must include the somewhat enigmatic "Triptych" of Daniel Wallace in my personal faves—three vignettes that leave us forcing together puzzle pieces that almost fit. An exploited child star faintly echoing JonBenet Ramsey in Ace Atkins's "Sweet Baby" isn't to be underestimated as she weaves her own devilish plans. And I have to give a nod to Ravi Howard's "The Good Thief" for showing us there can be mercy even in prison darkness to allow someone to die on his own terms.
There is not a single story unworthy of this collection infused with Alabama settings, and all readers will find tasty literary morsels to their liking, though some with a bitter aftertaste. The stories include Wendy Reed's "Custom Meats," where a working class butcher and a moneyed-class woman fall for each other with no possible good outcome, Thom Gossom Jr.'s "Xenia, Queen of the Dark," about a DJ trying to face down a stalker, D. Winston Brown's "The Junction Boys," where racial prejudice paints the background but the revenge motive is universal to people of any color. Kirk Curnutt's "Bubba and Romy's Platonic Bender" treats us to a fast ride of double-crosses, brutal violence, and a drunken night of exotic cocktails. Michelle Richmond in "What Brings You Back Home" exposes the lengths a mother will go to seek vengeance for a wrong to her family. In "Come Like a Thief" Anthony Grooms explores the lives and emotions of those who lived in black communities during the dark period of bombings in Birmingham in the early 1960s. Winston Groom's "Murder at the Grand Hotel" takes us through a series of failed attempts for revenge against the tax man.
These stories are unsettling but show us that Alabama, like anywhere else, has its people who even scores, take revenge, act on dark and fatal impulses, and let prejudices take them down dark paths.