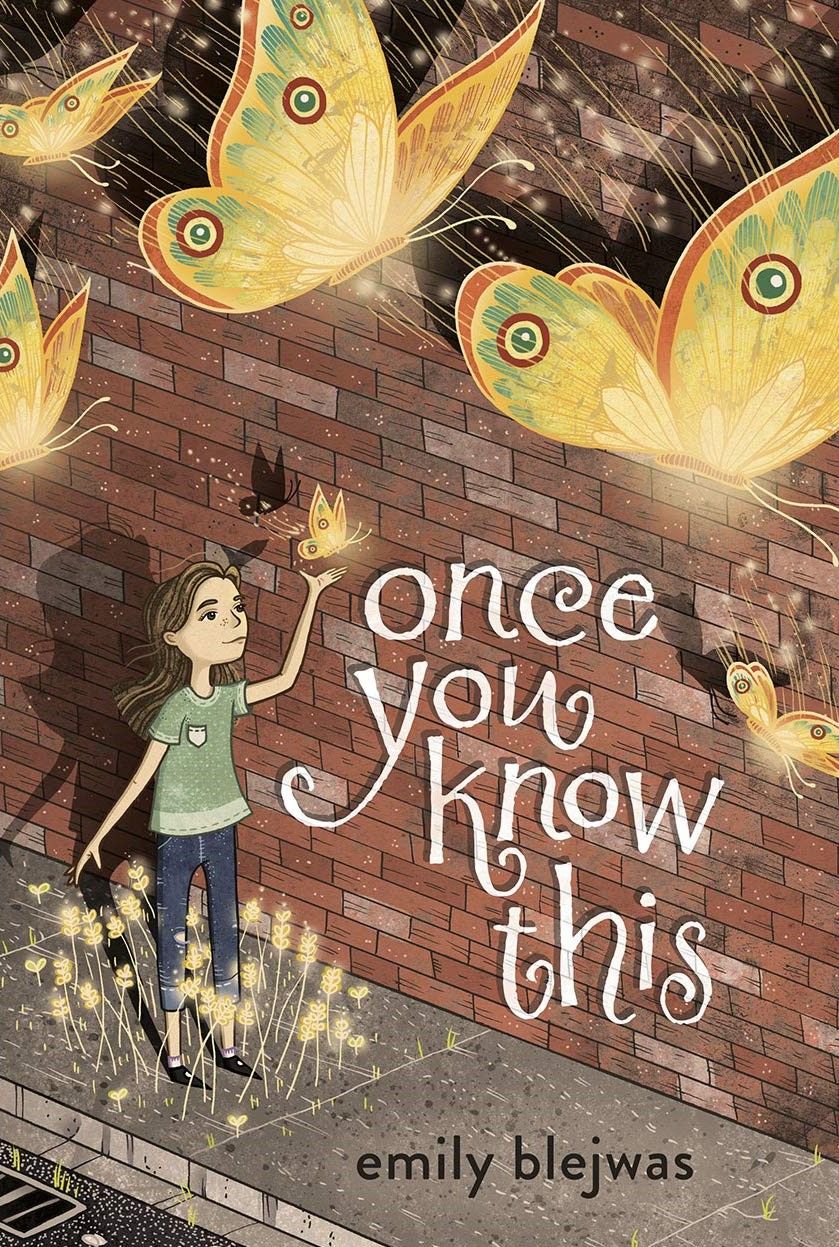 Once You Know This
By Emily Blejwas
Random House/Delacorte Press, 2017
Hardcover $16.99
Genre: Young Adult Fiction
Reviewed by Katie Lamar Jackson
Knowledge is power, especially when you feel powerless.
That's one of many empowering insights that middle-grade readers — readers of any age, actually — can find in the pages of Emily Blejwas's unflinchingly truthful, yet unerringly optimistic, debut novel, Once You Know This.
As the book begins, 11-year-old Brittany Kowalski, her mother Maureen, baby half-brother Tommy, and ailing great-grandmother Daisy are little more than enduring their down-and-out lives on Chicago's West Side. It's there that they live with Jack, Maureen's abusive, neglectful boyfriend and Tommy's father. He is a man who barely keeps a roof over their heads but manages to keep them in a constant state of turmoil and insecurity.
Their situation is terrible, and it seems inescapable, because they have no one but Jack to turn to for help. Brittany's birth father, a University of Chicago math student from Poland, vanished before she was born. Maureen's extended family, whom Brittany has never met, lives states away in Alabama. Even Brittany's cat, Patches, has gone missing and can no longer give her what little comfort she affords.
These may seem gloomy subjects to address in a children's book, even a book aimed at pre-teen and early young adult readers, but Blejwas handles them deftly, gently, and with an authenticity born of her own experience working as a domestic violence advocate and community organizer. In those roles, Blejwas has witnessed the struggles of families caught in the cycles of financial want, where food, medicine, and even heat, are scarce. She captures the profound sense of powerlessness and the shear effort it takes to slog through government red tape by taking us along as the Kowalskis navigate through illness, insecurity, loss, and threat.
Thankfully, through Blejwas's exceptional writing the story is ultimately an enlightening one. She writes beautifully in Brittany's 11-year-old voice, capturing the many moments that define this girl's complicated life. Case in point is this tiny, eloquent glimpse of the Kowalskis's derelict neighborhood as Brittany sits alone at the end of a day with the achingly diminishing Daisy: "…Granny sits listening to regular night-starting-up sounds: cars gunning and bass buzzing and sirens close and far and random shouts, some happy and some not."
Blejwas also infuses the story with hope, much of it found in the Kowalskis's makeshift network of friends, neighbors, and compassionate bureaucrats who intersect with their lives. There's Marisol, Brittany's best friend whose Mexican-American family faces its own struggles, but who is dauntless in her support of Brittany. There's Odessa, Brittany's next-door neighbor whom she barely knows but who steps in to help at moments of greatest need. Then there are people like Faiza, the welfare worker whose kindness and respect are a balm to Brittany's soul, or Haley, a victims' advocate who helps them navigate to a different future.    
One particularly engaging character is Mr. McInnis, Brittany's fifth-grade teacher, who against all odds manages to teach his students math, science, history, and English while exposing them to arts and culture. More importantly, he helps them imagine better futures for themselves, inspiring Brittany to develop a "Plan B" for her own future, a plan she sets in motion by gathering ideas and knowledge on the pages of a shoplifted yellow notebook.  
Through these characters and through Brittany's imagining of better places — from her father's homeland of Poland to her mother's homeland of Alabama — Blejwas creates a story that is not just a sentimental tale about an idyllic childhood. It is a gritty story about a precarious childhood. It's a book filled with uncomfortable authenticity, but one that rings true because Blejwas writes about people and places she knows firsthand.
By gathering her personal experiences of working and living in Chicago, Poland, and Alabama, Blejwas has created a story that is utterly authentic. It is a story of truth and hope that is provocative in the best possible way — provoking understanding of, and perhaps conversations about, real-life issues facing real-life people. In doing so, Blejwas, author of The Story of Alabama in Fourteen Foods (University of Alabama Press, 2019) and a forthcoming second middle-grade book, creates a story that manages to teach, not preach, while offering a life-affirming truth: knowledge is power and with it we can all imagine — maybe even invoke — a better future.