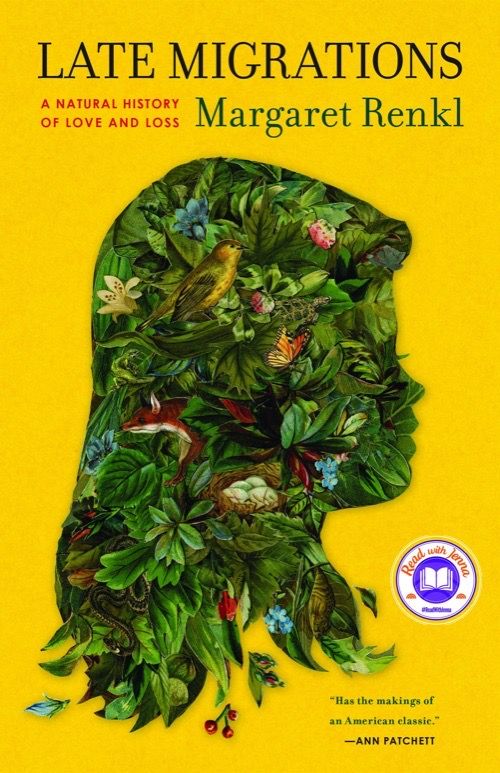 Late Migrations: A Natural History of Love and Loss
By Margaret Renkl
Milkweed Editions, 2019
Hardcover, $24
Genre: Memoir/Nature
Reviewed by Carla Jean Whitley
"I was just calling to tell you I'm going to be fine. I love you, baby."
The rest of that conversation is fuzzy now. I believe my father and I spent a half hour or so talking about football—the college season would kick off a week later—and rock music, both among our favorite topics since I was a teenager. I sat on my balcony during that phone call, enjoying a pleasant, late-summer Sunday in Birmingham while my father was confined to an intensive care unit in Florida. I don't think we discussed much of significance, beyond briefly touching on the unexpected surgery he would undergo the next day.
But I know for certain he ended that call, as he always did, by reminding me of his love.
It was the last time I would hear his voice.
---
"This talk of making peace with it. Of feeling it and then finding a way through. Of closure. It's all nonsense...Here is what no one told me about grief: you inhabit it like a skin. Everywhere you go, you wear grief under your clothes. Everything you see, you see through it, like a film."
The next afternoon I took my lunch break at a local coffee shop, where I completed my second reading of Late Migrations: A Natural History of Love and Loss.
I didn't recognize my emotions as grief as I reread Margaret Renkl's words, my mind 500 miles away in a riverside medical tower. But Renkl, an Alabama native and first-time author who had buried both of her parents, understood the tangle of emotions I experienced. I sought comfort in her words as my dad's surgery began. His doctors were optimistic, but it's human to be on edge when someone you love faces surgery, no matter the medical staff's confidence.
In Late Migrations, Renkl shares reflections on her family of origin, a childhood spent wandering through the forests and fields of lower Alabama and her adulthood raising her own children—and caring for aging parents—in suburban Nashville, Tennessee. Throughout the book, collages by artist Billy Renkl, the author's brother, connect natural images to family stories, with each artwork framed as though to be mounted in a family album.
Margaret Renkl intertwines her familial reflections with observations of the wildness in her backyard. She uncovers rabbit and bird nests, and then carefully leaves them as she found them, monitoring her dog to increase the babies' chances of survival. She mourns when she realizes the eggs she spotted are now vacant shells, their contents sucked out by a predator. She plants clover and milkweed to support monarch butterflies in migration. Renkl deftly contrasts her confrontation of her parents', then her mother-in-law's, mortality with the natural cycle of life and death that always surrounds us.
Late Migrations is a celebration of life, with its family connections and the vibrant colors of the verdant South. Renkl's nature and family essays connect the reader to the South in the same way environmental activist Terry Tempest Williams' work portrays the beauty of the sometimes-barren American West. Though rooted in her experience at home, Renkl's exploration of loss extends to systemic racism and climate change. It's a story of great sorrow as the people we love must die and the natural world is shaped by an ever-warming atmosphere. Renkl offers readers space to embrace beauty and grief in their many forms.
---
I didn't recognize my own mourning the day after surgery, when we believe Dad's stroke occurred, or the following night, when he underwent emergency surgery. I didn't see my sorrow as I boarded a plane to Jacksonville or as I spent hours with mom at the hospital.
The weeks, then months, added up. Maybe I was grieving. I returned, repeatedly, to Renkl's words. "The cycle of life might as well be called the cycle of death," she writes on the book's second page. But this wasn't the story I was living. I chose not to worry. Worry wouldn't change Dad's outcome.
Then I met Renkl in Nashville at the Southern Festival of Books. I intended to tell her that she'd inspired me. In essays and interviews, she shared that the book started as a simple writing exercise. Renkl hadn't written her own words in years, as she focused on her role as founding editor of Chapter 16, Humanities Tennessee's online literary journal. A friend challenged Renkl to write 15 minutes a day, and in the process, Renkl rediscovered her voice. That 15-minute practice eventually led to Late Migrations.

Its essays range from a paragraph to three pages. My own essays tend to be much leaner than the work in collections that fill my bookcase, often dozens of pages long. In my repeated readings, I was encouraged to see a brilliant writer flout that form. As I waited to meet Renkl, I planned to thank her for sharing her writing process.
Instead, I wept as I attempted to explain how dear her words had become to me. The first time I read Late Migrations, I raced through an advance review copy, devouring pages I knew merited meditation. I returned to the book several months later, savoring each short essay over a period of two weeks. I began that second reading days after my parents visited me in Birmingham—days after I last saw my dad healthy.
Renkl held my hand as I cried and recounted this, exhibiting in person the same compassion that's laced through her book. "You're so young to be going through this," she said. I agreed but quickly deflected. Doctors said Dad was doing well. He would transfer out of the ICU to another medical facility later that afternoon. I was grieving where he was and what he may have lost. But I wasn't grieving the end.
---
Six weeks after I met Renkl in Nashville, I closed "Late Migrations" for the third time. Dad had died four days earlier, and the next day we would honor him with a memorial service.
Each time I returned to Renkl's book, I found comfort in the words of someone who has walked the path that stretches before me.
"Blessed are the parents whose final words on leaving—the house, the car, the least consequential phone call—are always 'I love you.' They will leave behind children who are lost and still found, broken and, somehow, still whole."
Carla Jean Whitley is a writer, editor, yogi and teacher in Birmingham. Find more of her work at carlajeanwhitley.com.