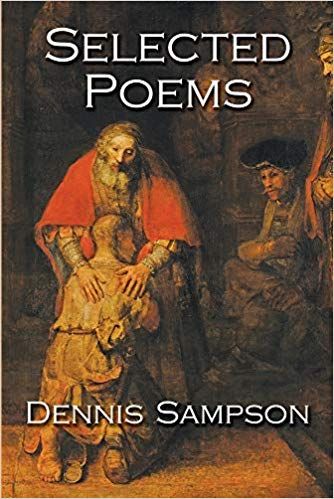 Selected Poems
By Dennis Sampson
Homestead Lighthouse Press, Inc., 2019
Hardcover $24.95; Paperback $16.95
Genre: Poetry
Reviewed by Claire Hamner Matturo
The poems in Dennis Sampson's eloquent collection, Selected Poems (Homestead Lighthouse Press 2019), are haunted with a wrenching tenderness, as well as gentle grace and certain beauty. These are lovely, lonely poems that resonate with humanity, easily assessable to readers, fueled by an inquisitive mind, and filled with rich, lush language.  
Sampson's poems are often intensely personal without being overwrought or too confessional. Within free verse stanzas, his poems convey Sampson's reverence for not just "the only life I had," but the lives of others, especially his father. Indeed, sixteen of the poems in this collection are taken from Sampson's prior book, For My Father Falling Asleep at Saint Mary's Hospital. Among those touching poems, Sampson captures something so perfectly that only his words from "look, I don't say to my father" will do:
          And this my love for you coming out like wind
          into the clearing, that cannot help me, rippling the
          long grass
          at twilight where the first time we observe
          the world together without fear.
With equal favor, Sampson also reveals his father's love for him in several poems, including one titled "Father," which includes the lines "Father," I would say, not to apologize, / "do you remember the time…" and he would nod, / remembering every trick I pulled as a child."
Poems of such poignancy as those quoted are not limited to his father, however, as several heartrending poems reflect the struggles of his young friend, Stephanie, against terminal cancer. In "Laundry in Venice," one of the longer poems in the collection at 83 stanzas, Sampson writes of Stephanie's fight "against the notion of her mortality / and the conclusion that she would have to come to / that everything she held most dear / would be left behind."
In the poem "What is Written Down," Sampson continues to struggle with Stephanie's death as he writes:
Death is the issue, and what it does
to the chameleon that sees clearly
          each petal relenting in the garden
          behind a two-story house where someone
          still frets over the lateness of the day, the season,
          Stephanie preparing dinner in her bathrobe,
          shadow among shadows, almost a shape,
          shooing a moth through the window
          with a hand that never looked so pale and thin.
Grief is not the only subject in Sampson's collection. He displays a true poet's gift for infusing the everyday with fresh significance. For example, in "Reverence for Life," Sampson finds meaning in his father's shoes.  
             Polished on Saturday evening till they
           glimmered
             beside the sofa for all of us
            to see, my father's shoes
                  seemed mystical to me, …
In keeping with his celebration of the everyday, in "Falling in Love with Laundry," a sensual ode to the "elemental freshness and color" of clean, wet clothes drying on a clothes line, Sampson writes how "I love to come up to the towels and plunge my face / deep into their odor of water and air, / swept dry by the wandering breeze of the Dakotas." He also celebrates "Bat," ("in the beginning / you were the one didn't wait for creation") and "The Snapping Turtle at Templeton Pond" ("as a shape darker than water with glints / of yellow"), "The Leopard" who "sees us for who we really are," and myriad other creatures.
Not only does Sampson make gorgeous poetry out of the everyday objects and events, but he uses ordinary, reachable language in so doing. These are imminently readable and understandable poems, which makes them all the more evocative. But that is not to suggest there isn't an inquisitive scholar's mind busy at work in these poems. Boris Pasternak, Stalin, Osip Mandlestam, and Henri Rousseau, all make appearances in ways that invite penetrating contemplation.
Sampson's poems frequently voice sentiments harsh and judgmental, yet he does this in a refined, studied manner that somehow both softens and enhances their bite. In "Devotional" for example, he writes:
          Let's erect a tomb to someone stupid,
          ***
          There will be a citadel, like an upraised finger,
          meant as a guide for the humorless
          traveling by sea, the penitent, the devotee,
          with rumors of instantaneous healings,
          of demons wrenched from the ear
          from gazing at this monstrosity to me.
In "Shadows" the images are also bleak and harsh, beginning with the "frozen dead at Stalingrad" and ending with this question of Christ:
          did you ever imagine the furnaces of Buchenwald

                 might come to pass
                 walking out with the rain beginning to fall
             all over Galilee, your silence
                  and the voice of your rough companion calling after?
Still, for all the intellect and celebration of laundry, bats, and shoes in these poems, what echoes the strongest in this collection is the haunting sense of loss, perhaps captured best in one line from "For the Dawn:" "I am alone / with the death of everyone / I have known." And in this, from "What the Rising of the Dead Shall Mean:"
          Nothing lasts. Not even the silent river at your feet.
          Not that first star directly overhead in a firmament
          Turning light to dark—turning aquamarine.
          And you let that truth come at you. You let it sing.
Yet these are not depressing, and certainly not dreary poems, as the imagery and language are so beautiful and soaring that they lift the sadness up into something quite eloquent. These are poems, fully realized, which will make the reader sit up and notice something in a fresh, new manner and feel something genuine, if not wholly unique. Sampson might well have summed up the impact of the collection in "Litany" with this last line: "what it means to be among the living and the dead."
          What more could we as readers ask of a poet?