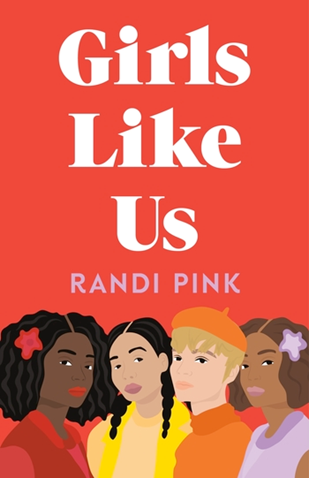 Girls Like Us
By Randi Pink (Feiwel and Friends)
MacMillan Press, 2019
Hardcover $18.99
Genre: Fiction
Reviewed by Kirk Curnutt
Randi Pink's debut novel, Into White (2017), told the provocative tale of an African-American teenager in Montgomery, Alabama, who wakes up one day to discover she is Caucasian—a prayer Jesus himself has answered to spare her from insidious bullying at her high school, much of it coming from fellow black students.
Now comes Pink's equally bold sophomore effort, Girls Like Us, which takes on the even more politically charged issue of teen pregnancy. Although set mostly in the pre-Roe-v.-Wade America of 1972, the novel explores young women's battles to develop their sense of self-worth in a culture that at once demonizes and exploits their sexuality. In particular, Pink takes us back to an era in which adolescents who found themselves pregnant were shipped off to what were politely known as "homes for unwed mothers," most of them—like the crowded apartment Ms. Pearline here runs in Chicago—operated by wizened women devoted to battling misogyny in the name of humaneness.
The "girls" of the title are a trio of impoverished Georgia teens: the sisters Izella and Ola and their acquaintance, Sippi (short for Missippi), none of whom has any sexual education when they must suddenly face the adult reality of reproduction. When Sippi's embarrassed father exiles her to Ms. Pearline's, she befriends a white ally, Sue Day, whose father, an anti-choice senator, is so disconnected from his daughter he doesn't even know she's with child—Sue's deceptively stuffy mother sends her away, not out of shame, as it is slowly revealed, but to spare the hippie-ish Sue from being coerced into a loveless marriage with an effete Ivy League twit.
Pink populates her cast of characters with broad types, which is not a critique of her enviable storytelling talents. There is something about "the conversation" we often fail to have with teenagers, rather, that reduces us to living embodiments of pro- and con- political opinions and religious beliefs about how best to "regulate" sexuality—especially the sexuality of "girls." Not for nothing does this button-pushing novel appear in the wake of Pink's native Alabama passing the so-called Human Life Protection Act, an anti-abortion bill specifically designed to reverse forty-six years of reproductive rights by appealing to an increasingly right-wing Supreme Court to dismantle Row. Indeed, in a remarkably audacious move considering the intended audience here is readers age 13-18, Pink's final chapter leaps from the Nixon era into our own Trumpian swamp, showing us how the heir of one main character takes to Twitter to fight for #girlslikeus—the "broke," the "traumatized," "loud mouth girls [who] speak for the girls who don't know how."
Despite this urgency, Girls Like Us never sacrifices art for politics. Pink is dedicated to demonstrating the psychological complexity of her characters' awakening agency and self-possession, as well as their commitment to women's communities. The book is also a primer in African-American folk life, reminding us of how dangerous remedies for unwanted pregnancy like "ginger-root tea" could be before contraception was safe and widely available. In effect, Girls Like Us rewrites the tragedy of Toni Morrison's The Bluest Eye, a classic specifically referenced in the plot (and one that as recently as 2013 was targeted for banning in Alabama). Reading Girls, I was reminded of Morrison's often misunderstood remarks about teen pregnancy, which even white liberal allies were guilty of misreading as romanticizing out-of-wedlock births. Not surprisingly, Morrison never tolerated reductive readings of her takes on motherhood or on black life. In the best tradition of that recently passed icon, Randi Pink doesn't accommodate simplistic interpretations either—and Girls Like Us is all the more catalyzing for it.
Kirk Curnutt wrote the introduction to a forthcoming collection of F. Scott Fitzgerald's stories about Montgomery and his courtship with Zelda Sayre called All of the Belles (New South Books), due in 2020. A short story of his will also appear in the forthcoming collection Alabama Noir (Akashic Books), edited by Don Noble. Curnutt currently serves as professor and chair of English at Troy University.