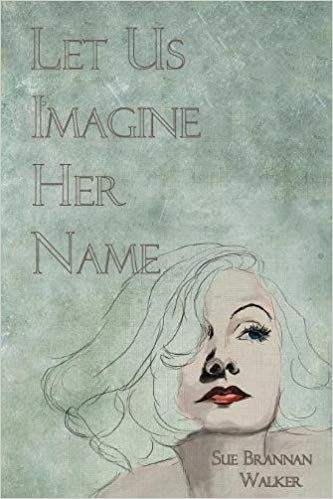 Let Us Imagine Her Name
By Sue Brannan Walker
Clemson University Press, 2017
Paperback $15.95
Genre: Poetry
Reviewed by Alyx Chandler
A poetry memoir in the form of an abecedarian is something one doesn't happen upon very often, but for former Alabama Poet Laureate Sue Brannan Walker, it's a challenge she skillfully navigates, easily drawing readers into her world of curious speculation and her own personal, unresolved identity. Not only has Walker mastered the art of sharing her wisdom with us, she digs through the trove of history to show us the gems of truth in the legacy of women across the globe who have passed.
In the first section of the book, entitled "[Pre]view," Walker invokes Josephine Jacob, and her quote that "[p]oetry names. If there is one thing it does, it is to name." Literally and figuratively, this is what Walker's book sets out to accomplish. Let Us Imagine Her Name is an epic search and reckoning for the author's largely "unnamed" history, as a child given away at an early age and then adopted into an Alabama family.
Instead of taking a predictable route to discovering her roots, Walker uses her expertise in historical research to share her imagined similarities and differences with 26 fascinating women of our past, spanning histories and national borders. The book begins with a helpful explanation of her stylistic choices when it comes to each featured poem, ranging from collaborative poems to plays, from sestinas to ghazals and carefully chosen appropriations of the writers who influenced her life.
Let Us Imagine Her Name includes women like first lady Abigail Adams; the controversial Coco Chanel; Yuko Shimizu, the Japanese character designer and illustrator of "Hello Kitty;" the orphaned Vietnamese rebel fighter, Trieu Thi Trinh; Disney's well-known half-woman, half-octopus villain Ursula; and, of course, the book's namesake, "The Face:" Greta Lovisa Gustafsson Garbo. By combining historical evidence with her modern pursuit for self in paragraphs of prose poetry that take on the form of chapters, she switches seamlessly back and forth between the then and the now. 
In each chapter, Walker addresses these varied women as "you," which plays as yearning and honest, as if the reader is being let in on a wonderful secret of Walker's. It forces the reader to do a little research to grasp the entirety of her meaning and takeaways from each woman (the helpful "Conversities" section in the back provides insight), while also illuminating their lives with unusual and thrilling lyrical language. She writes of surprising connections that highlight the way women are "assembled, reassembled, and affirmed," as put by Marianne Moore.
The South, along with much of America, is a place that cherishes familial lineage and tradition, but Walker resists tradition and names herself through what she learns from a myriad of mostly unrelated women from the past. For readers of Southern origins, such as myself, the references to the South at times come across as heavy-handed and seem to cater a certain overrepresented viewpoint of what it means to be Southern. I found myself craving more nuance, for Walker to paint the obscure and often contradicting realities that are involved in growing up in the South, a place where opinions run heated and where everyone doesn't fit the Southern stereotype. Nonetheless, Walker writes the South in the way she knows it, as an important part of her identity.
At times, the descriptions of Walker's memories and her relationship to the South pair and mirror magnificently with the imagined lives of women she named from other eras who reckon with their own cultures. Though many of them are so far removed from Walker by years, location and cultures, their reluctance to follow suit in the ways in which women are expected to fit into a patriarchy-dominated society gradually guide Walker to reclaiming her own legacy amidst societal expectations. Hypatia, for example, defies social norms and refuses suitors in an age and time where she was expected to marry, and Walker explains that the star matter that made up Hypatia "became the star stuff that lives in me." In this way, she points directly to her own resistance, given to her by women long gone.
Despite numerous setbacks in their lives, it is clear the women establish a name for themselves and embed it into history, a history that shapes and molds Walker into much more than a "traveling crone." While traversing the will and determination of women who fought for a name in our past, Walker also reveals her own vulnerability to us, hidden in sparks of sprinkled prose and plainly in the middle of the book, where she speaks about her adopted mother's legacy, and pays homage to her.
It is impossible to reach the end of the book without gaining a sense of power by the ways in which we name ourselves. Despite the circumstances and difficulties that drape over us from birth, Walker instills in the reader the sense of an underlying truth and a keen voice for inspiration, curiosity and imagination, all of which conclude (possibly) in a resolved identity. In an era and a culture that at long last are spotlighting women for their strength and the things they contribute to the world, this book is a must-read.
Alyx Chandler is a current English teaching assistant and MFA poetry student at the University of Montana in Missoula and a former features editor for a publishing company in Birmingham, Alabama.