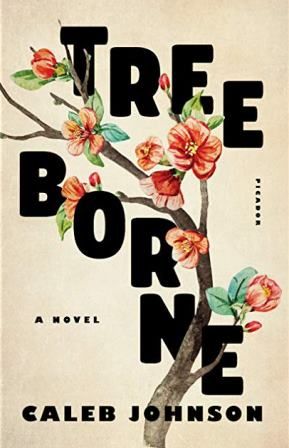 Treeborne
By Caleb Johnson
Picador, 2019
Paperback $17.00
Genre: Fiction
Reviewed by Laura Lilly Cotten
At a church reception this weekend an in-law told me, "We live on the worse half of the farm; the better's under the lake." It's a familiar Southern tale: power company bought land, built dam, lake swallowed town. In Caleb Johnson's debut novel, Janie Treeborne tells her family's history and in doing so tells the history of the Hernando de Soto Dam and Elberta, Alabama. Elberta's not a swallowed town, its neighbor is, and Elberta's people benefit from the lake—that is until eighty years in when the dam's ready to quit and The River Authority decides to implode it, come high water.
Even with fair flood warning, Janie won't leave the peach orchard where she lives. Assessing the young man who's come with tape recorder and microphone to get her reasons for staying put, Janie lands on a phrase which must've been a cliché in Elberta back when: "A Treeborne…right down to the bone." What does she mean? All we have in answer are the stories she tells. Now God hates a frame-narrative, and Treeborne doesn't escape judgment simply because it's a novel about storytelling. But if you read past the current day chapters—cleverly titled "Stories We Tell // Today"—you'll be rewarded with the kooky and often surprising saga of a family and a small Southern town. The tales are pulled from 1929 and 1958, mostly following Janie's Aunt Tammy, her grandmomma Maybelle, granddaddy Hugh, and a few might-as-well-be family members.
In 1929 Hugh Treeborne works as a digger for The Authority building the dam. The pay's good, but he's never at ease with helping erase "more than ten thousand acres of deep woods and pastureland and homesteads that'd belonged to generations of local families." He eventually discovers a gruesome higher purpose in the work and most of his remaining narrative takes place on what becomes "Hugh Treeborne's Seven Hundred Acre Junk Garden," a reimagining perhaps of Howard Finster's Paradise Garden in Summerville, Georgia. Hugh calls his folk art "assemblies," and perhaps it's a propensity for parsing some sense from gathered junk that makes someone "Treeborne to the bone." These narratives make up Janie's assembly—and Johnson's. Treeborne isn't precisely a novel-in-stories, but it is a novel of stories sculpted out of bits'n'pieces found in Alabama woods.
Not all of Johnson's novel glorifies storytelling. The stand-alone chapter "This Didn't Make the Paper Either // 1958" follows a former high school football star after his fall from favor. Ricky Birdsong is reminiscent of Denis Johnson's (unrelated) main character in Jesus' Son (1992). Though they differ in innocence as their names suggest, Birdsong's brain is similarly addled, in his case by repeated football injuries rather than drugs. And he too is more of a mystic than any of Elberta's bible-beaters. Toward the end of the novel, Ricky sits at Elberta's most popular diner counter, the go-to haunt of "big-talkers." He sips coffee and talks to a teenage waitress while "all around him a people's particular past hung on the walls in pictures and jerseys and clipped newspaper articles stuck inside frames."  Johnson's handling of Birdsong is as heartbreaking as his prose is poetic. Birdsong's story is an admonition against small-town apotheosizing and gossip.
Maybe then the frame narrative is a refrain, reminding us: these are stories we tell today. Or stories we should tell today. Regardless, the novel tells us "people's memories [are] worth preserving. Memory the only thing keeping us from being nobodies from nowhere." This core belief accompanies all the Treebornes' most desperate acts. There's an anxiety in Johnson's assembly over what happens to those about whom stories aren't told, or about whom the wrong stories are told, and I can't help but wonder if his narrative comes from a longing to convey that the backwoods of Alabama's a someplace, populated by somebodies.
I mentioned Treeborne to a friend recently, and she told me she couldn't read any more about "lonely people wandering around in the woods." And let me tell you, there's a lot of that here. Johnson thoroughly demonstrates his understanding of loneliness and its manifestations, the often overwhelming burden of memory. But memories can be funny and wild and fun too, as the Treebornes' often are. This novel includes a kidnapping, a tornado, a rattle snake heist, vanished hot-air balloon, prison concert, multiple searches for missing persons, stolen sculptures, grave-robbers and runaways, a film-shoot, a suicide, and bungled murder in broad daylight— during a peach parade! Johnson's prose too is full of wild treats: "ribs…ringed in with a beautiful pink halo just inside the hard black bark," "unripe muscadines that popped out of their hard skin like snotty pimples," and "big bald birds [who] rode an updraft like screws being loosened from a hard board." How does it all fit into 300 pages? Johnson's answer: Look what all can fit in a small Southern townLaura Lilly Cotten is the co-owner of Thank You Books, a new independent bookstore coming to Birmingham this November.