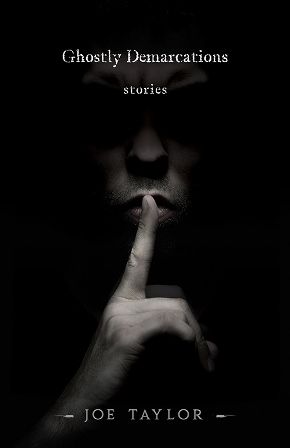 Ghostly Demarcations: Stories
By Joe Taylor
Sagging Meniscus Press, 2019
Paperback $19.95
Genre: Fiction
Reviewed by Jason Gordy Walker
In Joe Taylor's latest book, a collection of linked stories titled Ghostly Demarcations, the author surprises the reader with Southern, character-driven tales. Taylor examines the grotesque undercurrents running silently beneath overlooked dirt-road towns and communities, describing these rough places, more often than not, with empathy, and although his characters are highly-flawed individuals, he persuades us to feel compassion for them too. Despite their awkwardness and political incorrectness, these characters feel familiar, relatable. Often, their fears, dreams, and traditions interact with their physical environments. For example, in "Ms. Sylvia's Home Cure," our nameless narrator-protagonist and his current love-interest, Sylvia, must shoot down a group of evil cannibal spirits who have haunted Sylvia's childhood vacation home for years; oddly enough, these ghosts have a physical weak-spot, making them vulnerable to bullets—Sylvia's "home cure"—a violent solution for any major problem, passed down to her from her father. Taylor seems thrilled to push against literary horror genre conventions, integrating his own idiosyncratic rules into the mix, honing in on entertainment-value while sustaining a sense of pathos.
Galen, a recurring character who acts as an adoptive older brother to the narrator, is one of Taylor's most original, realistic creations. After a stint in the Navy, Galen returns home and conducts himself like something of a big-shot; to the narrator's admiration, Galen is strong-willed, clever, and skilled at getting dates with beautiful women. However, Galen is deeply flawed, no matter the narrator's appreciation. Galen's hyper-masculinity cannot help but feel like a dangerous intoxicant for the narrator, who sometimes resembles a carbon-copy of Galen, mimicking his macho behaviorisms, reasoning how his best friend reasons; this is not to say that Taylor has been lazy and created the same character twice; rather, the author knows how his male characters' minds work, and he creates a unique juxtaposition between them. While Galen is more sexually active and financially stable, the nameless narrator has more sensitivity, more introversion, and generally more insight than his adored counterpart. Therefore, a tender-hearted, though rough-around-the-edges, dynamic forms between these two young men.
Fans of a good ghost yarn will enjoy this book for its humor, playfulness, and, of course, its horror—nearly every story features a bizarre ghoul or group of ghouls—but more importantly than that, bibliophiles with a desire to read developed genre characters will finish the book wanting to read even more about the awkward narrator's haunted life; since the main character can literally see ghosts, it would not be too far-fetched to expect a few more ghost stories featuring him in the future. If easily offended readers can get past the obvious moral flaws of the men in the stories--they are oversexed, politically incorrect, socially clumsy, and somewhat unreliable--then they will be rewarded with a plethora of humor and tenderness once they break through the surface layer of these men's phony masculinity. Perhaps the best move that Taylor makes is to paint a spooky portrait of two men enthralled by each other's company—one a bit more than the other, but the reader can go figure that one out—showing how the deep bonds between these gritty characters is what ultimately saves their lives, protecting them from succumbing to the terrible fates of the very ghosts they so often talk about, listen to, talk back to, fight, and run from.
Taylor reminds us that ghosts are everywhere around us, they may even be us, and they have entrancing experiences to share. Ghost stories have always united people, and in this fresh collection, Taylor continues the Southern ghost story tradition most effectively. Recommended for anyone interested in paranormal fiction or tall tales, this book is sure to delight students and educators alike. The best pieces in the book include: "Kids Know," "Angel's Wings," "Galen's Mountain Child," "Ms. Sylvia's Home Cure," and "Hey-hello/hey-goodbye/hey-weep-no-more." With titles like these, Taylor's longtime fans are guaranteed to be satisfied, too.
Jason Gordy Walker has published poems, stories, and book reviews in Confrontation, Broad River Review, Measure, Poetry South, Monkeybicycle, and many others. He has received scholarships from Poetry by the Sea: A Global Conference, West Chester Poetry Conference, and the Auburn Writers Conference. A teacher at UAB, Walker is currently working on translations and a novel.