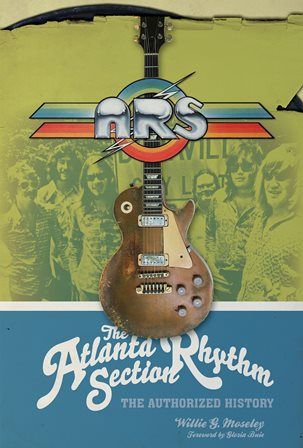 The Atlanta Rhythm Section: The Authorized History
By Willie G. Moseley
Schiffer Publishing, 2018               
Hardcover $29.99
Genre: Nonfiction
Reviewed by Kirk Curnutt
Forty summers ago it was impossible to turn on FM radio and not groove to the slinky hits of an impossibly hirsute but impeccably virtuosic collective of studio musicians associated with Doraville, Georgia's Studio One. The road to success was long for the Atlanta Rhythm Section (the first half of the 1970s), their moment brief (basically 1977-1979), but their best-remembered songs remain Carter-era ear candy: "So Into You," "Champagne Jam," "Imaginary Lover," and their remake of the Classics IV's "Spooky," an entirely appropriate cover considering that key ARS players had cut their teeth as members of that late-60s' bubblegummy group. Despite their Alabama/Georgia roots, ARS stood out in Southern rock for not sounding particularly Southern: they shouldered none of the epic tragedy of the Allman Brothers or Lynyrd Skynyrd, and they didn't beat to death the Dixie tropes the way other bands did, whether parodically (Black Oak Arkansas) or with leaden seriousness (Molly Hatchet). I remember vividly when Spencer's Gifts at the mall stocked an ARS poster alongside the Kiss ones, and I wondered what sane teenager would want these furry, in some cases flabby guys staring from their walls. Not a single one of them looked like a rock star.
Which is exactly how ARS wanted it. As Willie G. Moseley notes, the band was always more about chops than image, which is why they faded off the charts in the MTV age. One might wonder if a band whose logo is better known than the names of its members really deserves a biography, but Moseley's eminently readable authorized history is, in many ways, less about the group than about two elements far more fascinating than the usual Behind the Music rise and fall: it's a tribute first and foremost to rock 'n' roll entrepreneurship and secondly a celebration of region.
The entrepreneur is Buddy Buie, a Dothan-bred scrapper (b. 1941) who founded a booking agency in high school, became Roy Orbison's tour manager, and eventually started a songwriting collaboration with the Classics IV's J. R. Cobb that led to "Spooky" (a jazz instrumental for which the duo devised lyrics), "Stormy," "Traces," and other AM standards. Like Muscle Shoals's Rick Hall or Capricorn Records' Phil Walden, Buie envisioned himself as an all-purpose empresario—songwriter, producer, manager, etc.—and founded Studio One outside of Atlanta, where early Skynyrd and .38 Special records were recorded. ARS congealed out of the session musicians Buie and Cobb hired. As for regionalism, the first half of the book offers a vivid picture of the grind fledgling bands like the Webs (which featured Buie's high-school buddy Bobby Goldsboro), the Bushmen, the Candymen, and the Classics survived as they zigzagged between the Wiregrass and the Big Peach, playing endless one-night National Guard Armory stages, proms, and even the occasional go-go club with "girls dancing in cages." It was a period when such constant gigging could turn teenage Beatle wannabees into seasoned pros.
Aside from Buie and Cobb, the book's other star is Barry Bailey, a teenaged guitar wiz widely hailed as one of the South's most fluid and expressive axemen. Because Moseley is a senior writer for Vintage Guitar Magazine, there is a techie's emphasis here on gear, especially Bailey's signature 1969 Gibson Les Paul, affectionately nicknamed "Reb." The book also emphasizes the band's professionalism over rock 'n' roll hijinks; readers looking for the stereotypical cocaine-and-hookers decadence will have to settle for tidbits on songwriting sessions and recording processes. The focus is a wonderful reminder, however, that popular music is a craft, not a lifestyle or a morality tale.
Moseley's narrative naturally peaks with ARS's best-selling LPs, A Rock 'n' Roll Alternative (1977), Champagne Jam (1978), and Underdog (1979) when the band shared the stage with Fleetwood Mac and Steve Miller and hobnobbed with Jimmy Carter. The story loses steam as we creep into the 1980s, when AOR (album-oriented-rock) melded into "classic rock" and became a nostalgia machine, effectively putting operations like Studio One out of business. By the 1990s, as the group hemorrhages original members and devolves into a secondary market mainstay touring state festivals, biker rallies, and cruise ships, chapters feel like laundry lists of hired guns and roadies. And while ARS still exists today fronted by original keyboardist Dean Daughtry (the only continuous member) and initial vocalist Rodney Justo (who quit in 1972), time inevitably takes its toll. A multiple-sclerosis diagnosis forced Bailey into retirement circa 2005; Moseley's final glimpse of "the greatest guitarist ever to come out of Atlanta," dependent on walkers and a push-button alert device in case of a fall, is both somber and inspiring. Singer Ronnie Hammond (the voice on the hits), bassist Paul Goddard, and drummer Robert Nix all passed away between 2011 and 2014. The irrepressible Buie, celebrated as a local hero in Dothan with a colorful mural, died at his beloved Eufaula retreat in 2015.
One of Moseley's liveliest interviewees, J. R. Cobb, succumbed to a heart attack just this past May, only a few months after the book's publication. His passing makes this worthy tribute to a group that always let its musicianship do its talking all the more poignant.