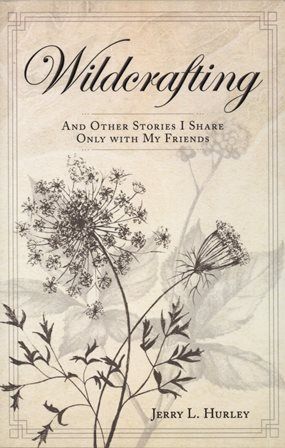 Wildcrafting: And Other Stories I Share Only with My Friends
By Jerry L. Hurley
Mid-Atlantic Highlands; Publisher's Place, 2017
Paperback $14.95
Genre: Memoir; Appalachia
Reviewed by Jennifer A. Sheffield
Jerry L. Hurley starts his book about a personal Appalachia—Wildcrafting: And Other Stories I Share Only with My Friends—by penning a love letter to the men, and women still listening in on the what the neighbors have to say in his hometown of Mammoth, West Virginia. He then prepares an uncanny trip to exhume bodies left behind when he left the places where his family's roots "spread deep in the mountain soil." He wants us to not only laugh about strange things that take place within these pages, but to be wrapped in the warmth of his relatives while becoming more in tune with the natural worlds we almost can touch at the close of this collection of memories.
Hurley's young life in Mammoth was innocent – like a fly on a cracker, and his unapologetic accounts of growing up are accelerated by boyhood hijinks and packed with unmuted tales of crazy uncles and his great granny, brewed in an aged barrel of folksy wisdom. But it is the hard work of wildcrafting—defined as a walk in the woods to seek and gather plants for food or medicinal purposes—that forms the maternal bonds that truly define this upbringing bound to a landscape.
The first selection he unpacks begins with a frontispiece poem, about a morel mushroom, entitled, "Molly Moochers."
     xv                                                                                                                      
     We carefully picked them, each a treasure indeed,
     and we took what we needed with no thought of greed.
     These golden fried treasures fit for a king
     are a succulent herald of what Spring can bring.
His prose shows us what gets hidden in the "deep, shaded places" of his twilight mind serves a purpose for the picker where everyone gets by on meager means and children are tattered with cuts and scrapes resulting from the fun and games they'll live to tell about. Hurley sets the tone for mischief to ensue throughout each chapter, in which he captures lessons learned on the countryside of life, carefully contained inside a capsule of a child-like mind.
He compares the 1930's and 1960's as historical times that hadn't changed in desperate coal mining towns; where one dollar got him a trip to the pool and a soda pop. This is where unlikely friendships crossed socially acceptable race divides and railroad tracks as his family moved him back and forth from Cleveland, Ohio, before settling again in the familiar hollows of his obscure heritage. Planted there once more, his epic tales of a drunken cow, Halloween pranks, plus exploding frogs, deftly compliment grown-up musings on prejudice, mental illness, the 1945 attack on Pearl Harbor, and homespun religious miracles.
Hurley's "family quilt" is stitched with intimate moments recording birth and death, and a mother's yarns. The beauty of Hurley's rhymes and riddles is how he writes about raising eight kids on a moonshine budget with the same grain of salt as he would a road trip in a beat-up car.  The hardest lesson learned is as satirical as it is serious. According to Hurley, you have to bury bodies of fresh frogs if you want to eat the legs. In other words, get the worst over with; then, savor what's good.  "I'd eat them again…whenever I had the chance," he writes, "…even if I had to bury more bodies." It's another poem, near the end of the book, about his Aunt May's weathered feelings for her late husbands that sums up this sentiment. 
     150
     I like 'em close so as to put flowers on their graves,
     without causin' too much trouble at my age.
     Wipe your feet good and come in
     while I put on some coffee.
Ultimately, Hurley's prose is an invitation for readers to join a journey back through moments both "poignant and jubilant." Here is vivid picture of a bygone era through the lens of youth, spent under the watchful eye of both forest critters and the memorable characters of a small mining town. Hurley shows us how nature's bounties provide for those seeking God, and lets us experience revival-sized amounts of amazing grace by letting us into the growing up he did. His pungent description of cooked mushrooms—but also how blackberries get picked in spring and ginseng dug in the fall—becomes a guidebook to all of life as a great adventure.
Just as we must be born to be able to die, the seeds we sow and shots we take go with us, as if we are just passing through. Hurley believes that the secret is not to forget how the forest floor feels under your feet, because without it how else would a person have stories worthy of sharing with her friends. He ends one particular story about blocking the road on a Halloween night, "Oh, we all went our separate ways soon enough, and chose various paths in life." "But," Hurley says, "I recall things done in my youth with friends that I will always remember fondly and with good reason."
Jennifer A. Sheffield studied journalism at Boston University after obtaining a BA degree in Anthropology from Skidmore College. Florida Sportsman, The Chronicle of the Horse, The Albany Times Union, and the Apalachicola Times, have published her stories. She lives in Alabama where she writes an entertainment column for The Eufaula Tribune.