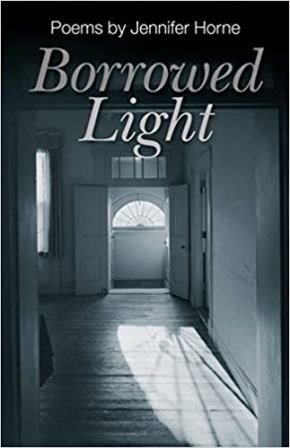 Borrowed Light
By Jennifer Horne
Mule on a Ferris Wheel, 2019
Paperback $15.00
Genre: Poetry
Reviewed by Caitlin Rae Taylor
Alabama Poet Laureate Jennifer Horne's Borrowed Light is a collection of invented happiness, of scrounged-for peace, of borrowed hope and simple solace. It is a balm for a humankind that is no stranger to pain and self-flagellation, for a womanhood that is weary and pinioned. The collection's entire conceit rests on the titular architectural term: "borrowed light," light which spills into an otherwise unlit room or passageway from an adjoining, windowed space. Some form of light, literal or metaphorical, finds its way into each of Horne's poems. It is the simplicity and clearness of this imagery that helps these poems shine, despite the darkness which surrounds them.
The collection begins with a door opening "quietly / so as not to wake the dogs," a soft, inviting, domestic welcome. Familiar, comforting, but a small thrill, a curiosity for what we may find behind said door. "Morning Gift" acts as a response to Robert Frost's "Two Look at Two," the last line of which serves as the opening poem's epigraph. Horne has played with the structure of her poem here, dividing it not only into couplets but also into two separate numbered sections to denote the stillness and violence of witness. This structure also provides a reminder that a human relationship is a joining of two separate entities who can never fully merge. In Frost's "Two Look at Two," a hiking couple are met with their human limitations: "a tumbled wall / With barbed-wire binding." Yet, for their patience and resistance against their instincts to overcome nature, earth rewards them with the sighting of a doe and buck. In Horne's "Morning Gift," the speaker greets a lake on the other side of her door, and what she witnesses there is "Bird…Long neck, gimlet eye, fancy feathered hat." The speaker is still, witnessing, eating her breakfast and drinking her coffee. Her lack of interference is rewarded as "Two Belted Kingfishers [ratchet] by." But it is the silence before, the small moment of peace, that our speaker acknowledges as the light in this poem, a light that could not exist without those Kingfishers acting as "disturbers of the peace."
The second part of "Morning Gift" acknowledges Frost's poem directly as the speaker's significant other is revealed as the second witness, the one to read the poem within the poem aloud, to revel in the kismet of their similarities. "Morning Gift," is itself a gift, reminding Horne's readers that the smallness and stillness of a domestic life can breed both happiness and surprise, if we let it.
The collection's first few poems flirt with a similar sort of easiness. They are stillness broken by simple reverie. They give the illusion that the collection's whole will be the serenity of a quiet life. Until we reach the simmering rage of "Domestic Lessons," aptly placed as the collection's fourth poem. Its first section is homey, instructional, a treatise on how to properly make the bed, dust the furniture, fold the laundry. There is little sign of percolating anger until the sixth stanza: "And always, especially to the children / and the man you love, say yes. / It is unwomanly not to yield." The first section ends, and suddenly we are with the speaker in an art gallery considering a sculpture of "loosely woven white web." Light pouring in from a window acts epiphanically, urging the speaker, "[before] endless acquiescence / becomes a cage of your own making…it is up to you, / once in a while, / to close the door / and be alone / with your own thoughts." For femme- and feminine-identifying people, this idea of domestic, womanly imprisonment is familiar, but "Domestic Lessons" wrests away the conceit that the woman, our speaker, is agentless. The poem urges a personal definition of womanhood, a plea for our speaker to recognize her own power and the power of her language: "If you say you are the pillow, / you are the pillow. / If you say you're the sky, / you are the sky."
The following few poems, "Simplicity," "Wick," "Family Story," are love letters to women, to feminine spaces, to socially-defined "feminine" arts. They praise female rage and extoll the Biblical Eve, always with the shortest lines, the fewest words, tightly-knit creations that can be held in the hand, their stitches clear, purposeful, economical. One of the collection's later poems, "Present," makes a case for Horne's entire thesis: "When I say that at times in my life / I've been saved from despair / by one particular bird, tree, rock, sky, / that's what I mean by God." The small, still beauty of nature, but also the vast, jarring indifference of it, the inevitability of death, is proof of life, and that alone acts as deliverance from grief. And the persistence of the soul among that grief to witness the forward march of time is, itself, a miracle: "Each detail is a shading-in / of something hugely necessary. / And here am I: / small, quite small, but present."
"guest house" follows "Present" as a plea wrapped in giddy play on sound. The long-vowel assonance and soft sibilance of lines such as "two crows harry a hawk, / robins arrive at the end / of the second month / woods' edge warblers / inhabit this house / its good bones" elicit a quiet, happy reverence, as if the reader is watching the scene unfold alongside Horne. The deliberateness makes for delightful, out-loud read, but the poem ends with another of the collection's main points: "...the day will come / of leaving and goodbyes, / make your art now."
Borrowed Light saves much of its mourning for its last few pages. We have been given so many gifts before we reach the speaker of "Cemetery Mailbox," devising a letter to her passed loved ones. Or the speaker of "Monument," who recounts her miscarriages. Or the speaker of "Tell," who lists all the moments she has contemplated suicide. "Voice" closes Horne's collection, and though its speaker "[wakes] to sunlight, the smell of last night's bonfire in [her] hair," this last poem is far from the still wonder of the collection's earlier poems. The Biblical miracles of the burning bush and Ten Commandment tablets are reduced to a "smoking stump" and "tattered notebook." The beloved is gone, the speaker wondering if the beloved can be attained again. There is darkness here, the heavy feeling of disappointment, the fog of smoke and rain obscuring the light Horne's collection has promised. But the titular ideology here comes in the form of a call to action, both to the speaker and to Horne's readers: "I resolve to do as you urged: / begin my true life, start now." With the beloved's voice ringing in our ears: "'You're not afraid of not liking it…You're afraid you'll like it so much it will change you, / demand a life as big as you can imagine, / a voice to match.'"
Horne leaves us there to question our own lives. To look around at our circumstances, our reactions to those circumstances, and ask ourselves if we have let the darkness envelope us so completely that we are no longer living. She urges us to swallow that darkness, as heavy as it might have become, and create our own light in a world that, though indifferent to our survival, is ripe with wonders that can keep us going if we stop to savor them. Borrowed Light is a peaceful book that reckons with its own sorrow, accepts its sadness, and fights to pull itself through that sadness, into another room, where, perhaps, the light is brighter. Where maybe it casts a shorter shadow.