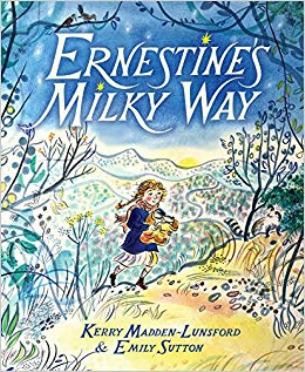 Ernestine's Milky Way
By Kerry Madden-Lunsford and Emily Sutton
Penguin Random House, 2016
Hardcover $17.99
Genre: Children's Literature
Reviewed by: Samantha Bonner
Kerry Madden-Lunsford and Emily Sutton have written a story that I greatly enjoyed reading to my soon-to-be five year old daughter. The story is set in the Great Smoky Mountains during the 1940s. Written from a third person point of view, the tale is about a five year old girl and her pregnant mother working hard to maintain their family farm while the father is away at war.  The young girl, Ernestine, is a hard-working, very determined little girl, who enjoys working alongside her very pregnant mother.  Each time she faces a challenge, she says, "I can do it, Mama. I'm five years old and a big girl." As a parent, those words symbolize a child's transition from baby to big kid. In this delightful tale, Ernestine is shown milking the family cow and basking in the glory of a successful milking. Her mother, who understands the struggles of maintaining a family farm alone, volunteers to contribute milk to one of their neighbors. The young girl is charged with the task of carrying two jars of milk to her neighbor. Slightly intimidated by the distance, this brave girl is up for the challenge. As she embarks on the lengthy journey, she reminds her mother that she is five years old and a big girl. Thus begins the major narrative of the story.
Using the planets as her guide, this tenacious young lady embarks on her journey.  Along the way, young Ernestine hears an seemingly ill-fated noise in the bushes and naturally assumes the worst. However, she meets this obstacle with bravery, reminding herself that she is strong and capable.  As she descends deeper into the woods, she continues to hear very unsettling sounds, causing her to scurry. Fortunately, each unsettling sound proves to be nothing more than calm, docile animals. Confident of her abilities, she continues on the journey but, eventually, she accidentally drops one of the milk-filled mason jars. Feelings of disappointment overtake young Ernestine as she arrives at her destination. Ever so understanding, Mrs. Ramsay, welcomes young Ernestine and basks in the gift of a neighbor's milk.  As the family celebrates this luxury, they thank young Ernestine and, soon enough, send her home. This young girl is able to prove that she is indeed a 'big girl.'
The infusion of figurative language brings to life each element young Ernestine experiences on her journey. For example, "She carried the jars in an old feed sack close to her heart while the mountains slept like giant elephants under a scattering of stars."  Madden's personification of the mountains as sleeping elephants further illustrates the sense of calm and quiet Ernestine experiences on her quest. Another example is the use of onomatopoeia to depict the sounds of the forest: "...she heard a fearsome grunta-grunta-grunta," and, "...she heard a snuffa-snuffa- snuffa along the path." The realistic sounds that you can make as you are reading further create a more compelling and immersive reading atmosphere.
In addition to the colorful language, vivid descriptions, and realistic depiction of life in the 1940s, the motivation to keep trying stands out. Even though Ernestine was faced with a difficult task to complete, she perseveres, even at her young age.  My "soon-to-be" five year old daughter thoroughly enjoyed joining me in saying, "I'm five years old. I am a big girl!"   She immediately found a connection with our main character.  When selecting books to read to my young child I hope that she can make a connection to the text in a positive way. This book definitely provided me with that.
Ernestine's Milky Way is a phenomenal, realistic depiction of a young heroine surviving her world with tenacity and determination. The young girl, Ernestine, demonstrates traits that kids of any age can relate to. Kerry Madden-Lunsford and Emily Sutton were able to infuse various educational and character building lessons in this carefully written book. Ernestine's Milky Way will be a hit in any elementary school classroom.