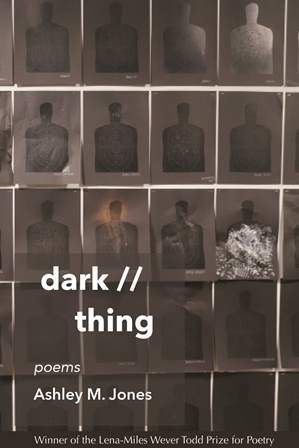 dark // thing
By Ashley M. Jones
Pleiades Press, 2019
Paperback $17.95
Genre: Poetry
Reviewed by Alina Stefanescu







I want this country to inhabit the poetic splendor and formal innovation of Ashley M. Jones' dark // thing. I want everyone and their mother to read it, and no child left behind. But first, I want to thank the author, herself, for poeming the difficult space between blackness, americanism, and power, sparing herself no vulnerability, and clearing the landscape of ennobling lies we tuck into postcards and lullabies.
The poems in this collection are inhabited, lived from within the flesh, situated in the state of Alabama, as Ashley makes clear in "Red Dirt Suite":  
             "I was born in starry Alabama--
             the night mixed me up a blue so sweet
             I swallowed it whole."
She writes Birmingham as only the lover can write the beloved--from inside the space of intimate questioning. The poems circle around the power of stereotype to fossilize into known histories and received wisdoms.
The first poem, "Slurret," begins by listing racial slurs, and revealing their relationship to commercial culture:
             "You a spade, a spook, an open-mouthed
             black pickaninny. Ashy Aunt Jemima,
             Americoon, you blue-gummed Beluga.
             you cotton-picking jigaboo."
The poet's role in speaking to the past is often nostalgic, and Ashley does not abandon this role entirely. In the section entitled, "Side A: 3rd Grade Birthday Party" (a part of the poem "Slurret"), the poet positions her adult mind alongside her child mind with the memory of "that Blond Birthday Party in the suburbs". This juxtaposition of child and woman recurs in several poems and enriches the texture of remembered events by speaking the lived past into the present where Birmingham zip codes are still "chewed like a wad of gum" to establish one's personhood.
To nostalgia, Ashley adds the poet's crucial role in holding a mirror that enables us to see the parts of ourselves we overlook--like the mess in a room we know well. It is this reflective role of poetry that matters more in a world of clickbait, hot takes, and hashtag prayer chains. And it is this lens that feels so imminently personal and challenging, as in "Sunken Place Sestina", where she explores the price of gentrification "at the hipster food hall that fills Birmingham with gentrified spice", and concludes:
             "We add spice--call integration equality; call gentrification progress,
             reduce our brothers to pixelated dust, turn heartache into wine,
             sink further and further beyond a blindingly bright sky."
Many poems probe the difficult, inhumane options offered to black, citizened persons, whether to assume the role of monster or clown ("maybe we're all just shucking and jiving until our time to die") in the limited repertoire of received roles.
Ashley invigorates the ekphrastic form by placing the poet's eye on archival postcards. "Uncle Remus Syrup Commemorative Lynching Postcard #25" examines the once-popular southern past-time of the public lynching by recreating the scene in a chilling layered collage of language and voices. To read it is to know the monstrous depth of our state's socialization, and to grapple with our shared commitment to celebrate a history that teaches us to dehumanize of black men.
dark // thing's greatest contribution to poetics is not an aesthetic or a lyricism or a memorable love-bite--it is the use of poetry to unmask and reveal stereotypes. By  harnessing language to experience in such a richly-textured way, the poet makes clear  the power of stereotypes in authoring history, in normalizing oppression with "harmless" dehumanizations that limit what black Americans can imagine of themselves, or expect of their role as citizens.
"(Black) Hair" plays with the sonnet corona in a prose form that weaves through the poet's personal history with black hair, and ends on an encouraging note of self-acceptance. "Recitation" brings magic to the prose poem form by using its density and heft to offer an embodied experience of dressing as Harriet Tubman for a school poetry recitation. Ashley leads us through the cosseted feel of a body that struggles with adenoids and allergies, a throat whose breath betrays in sudden wheezes, a body she must believe but cannot entirely trust.  "Imitation of Life" explores how we cannot avoid the tiny terrors, the minute complicities, the tangles of careless reactions that lead to the wreck.
For the poet, perhaps nothing signifies as much as what we do to the bodies of the dead, what we put in the mouths of those who can no longer speak for themselves, or raise their voices to refute us. Although I've found no quick formula for honoring other voices when asking them to speak inside a poem, I am inspired by the way Ashley enables the persons that she personifies and subjects to speak through epigraphs.  The lengthy epigraphs quoting Harriet Tubman in "Harriet Tubman Crosses the Mason Dixon for the First Time" and "Avian Abecedarian" position the poems to speak with Tubman rather than for her.
In speaking alongside, or after, Walt Whitman, "Song of My Muhammad" is an absolutely beautiful, fiery testament to the black American experience, as sensed through the black body of Muhammad Ali. It is a hymn that subverts the harm of white supremacy. It is a paean not to the strength of the state or the nation but to the single human being who stands in a ring and readies his gloves.
At her reading in the Birmingham Museum of Art, Ashley prefaced the Harriet Tubman poems by addressing the ghosts in the room. She promised to read "in the spirit of powerful women." In this promise, one holds the spirit and legacy that infuses this collection. In chaos, poetry remains resilient as a source of truth and possibility. A poem is an algorithm of resistance against despair. This book is its pulse.
Alina Stefanescu was born in Romania and lives in Alabama. Her poems and prose are recent or forthcoming in DIAGRAM, New South, Mantis, VOLT, Cloudbank, Prairie Schooner, NELLE, and others. She serves as Poetry Editor of Pidgeonholes, President of the Alabama State Poetry Society, Publicity Chair of AWC, and co-founder of the Magic City Poetry Festival. Her first poetry chapbook, Objects in Vases (Anchor & Plume Press, 2016) won the ASPS Poetry Book of the Year Award. Her first poetry collection, Stories to Read Aloud to Your Fetus (Finishing Line Press, 2017) included Pushcart-nominated poems. Her debut fiction collection, Every Mask I Tried On, won the Brighthorse Books Prize and was published in May 2018. More online at www.alinastefanescuwriter.com or @aliner.