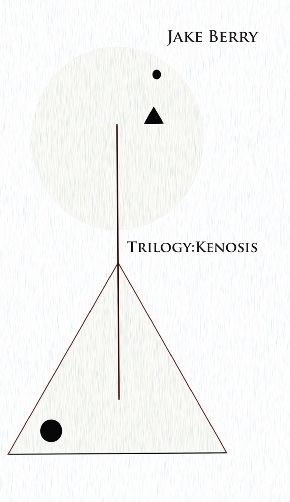 Trilogy: Kenosis
By Jake Berry
Small Press Distribution, 2018
Paperback $16.95
Genre: Fiction
Reviewed by Carey Scott Wilkerson
Let me propose here that Jake Berry's new collection of poems, Trilogy: Kenosis, is both an eloquent argument for what remains possible on the page and a splendid exemplar of that very possibility. As ever, Berry's essential project braids together philosophical sophistication, linguistic invention, and an old-fashioned delight in the work of poetry itself.
The first of three sections, "Scale," is a kind of formal mediation on the spiritual poetics of postmodernity. At once theological, archaeological, and musicological, these seven gestures open an inquiry into the secret nature of our poetics. Like the poems of its brilliant dedicatee, Gregory Vincent St. Thomasino, "Scale" searches for, excavates, and claims (in the name of goodness and deep truth) certain unmapped spaces of hermetic lyricism. Berry's capacity for poetic utterance is admirable indeed not least for the way in which it transmutes the received tropes of self-disclosure and torques the language of epiphany:
4
out from – sheltering
as the lungs
across the bed
toward zero (face to face)
This is our habitation
to visit
along the way

dust on our
     rags
5
[discovered]
a femur
a pelvis
a shoulder blade
     upon which
     inscribed in Greek
     (as was the Orphic inclination) :
     body σῶμα soma
     water ὕδωρ hudor
     spirit πνεῦμα pneuma
an octave apart
a spike in the earth
There is, of course, an urgent human narrative here and indeed in the entire collection. Death and its attendant transfigurations haunt this book. We feel it as much in the line breaks and internal stresses as in the declarative aspects of the poems, which are nonetheless arresting:
7
The word
has shaken
us free
with an essential,
forbidden
summoning
more than knowledge
more than life
a music
one step beyond
"A Second Octave" stages a further modulation of Berry's philosophical-spiritual exploration. And if the turn here is more inward, it is perhaps also more emotionally explicit. It is among this fine book's many high achievements that the confessional is never conventional but, rather, always framed inside the dual expressive motifs of a searching mind and a singing heart. I find here, a discernible invocation of Charles Olson's lines "As the dead prey upon us / they are the dead in ourselves." And as these are inscribed for yet another extraordinary dedicatee (and an important Olson scholar), I might point as well to the complexity and range of reference in Berry's poems. Folks, here is a book informed by an architecture of formal design and the architectonics of metaphysical unity:
2
Easter
     for Jack Foley
Out of death –
   such abundant nothingness –
   a fire is lit
   in the imagination
   (who understands this mysterious capacity?)
   Even the seeds we do not want
   spring to life
   We wept
   when he has taken from us
   even though we did not know
   who or what he was
   All those dead
   taken away
   But our sorrow
   cannot prevent spring arriving
"Kenosis," the titular and final section, is, in some sense not only the center out of which the whole book spins but also the singularity to which it finally returns. Dedicated to yet a third essential artist, David Thomas Roberts, the language here fuses the energies of the previous sections in a dramatic synthesis of stentorian pronouncement and oracular vision:
To surrender completely, utterly
To be broken
  as the earth is broken
  as the seed is broken
  and surrenders its spirit
  so the sky is broken
  and the rain pours down
We have every reason to celebrate the courage implicit in the title's meaning for contemporary poetics and the vanguard of postmodern spirituality. Moreover, we might also envy Berry's willingness to investigate those originary forces and the ways they animate his work. I do not know what we must surrender or how, but my own intellect and faith tell me that Berry is showing us something we need to see. Withal, Kenosis is an elegant, daring, and beautifully honest work. Berry says that "memory is the past made sacred." I believe this book does the same for the presence of language itself.    
Carey Scott Wilkerson—a dramatist, Pushcart Prize-nominated poet, and author of four opera libretti—is Assistant Professor Creative Writing at Columbus State University.