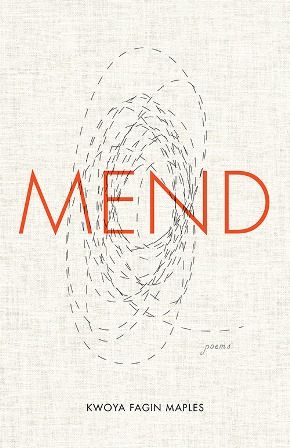 Mend
By Kwoya Fagin Maples
University Press of Kentucky, 2018
Paperback $19.95
Genre: Poetry
Reviewed by Rachel Nix
Mend is history – as with all history, the harshest aspects are either untold or fibbed about by the profiteer. Few moments of America's past were recorded properly – especially in terms of effect on women, particularly black women. While Maples uses persona poetry to give voice to women in this collection, the tellings aren't overdone or in any way fictionalized for excess. Instead, they are humanized and shown for more than bodies afflicted by fistula.
The women who speak in these poems were slaves who had their bodies loaned to Dr. James Marion Sims of Mt. Meigs, Alabama in the years between 1845 and 1849 for gynecological experimentation in an attempt to cure vaginal tears. They did not give their consent and of the eleven bodies which underwent wildly invasive and unethical surgical experiments, only three of the women in Sims' autobiography, "The Story of My Life," were named: Anarcha, Betsey, and Lucy. Maples allows their perspectives to be told with careful respect for detail and clear mining of any historical accuracy which could be researched. She delivers their memories in simple language that is colloquially true to the location and time period, as in "Mt. Meigs Arrival," but also with a lyrical vibrancy that at times soothes before urging the reader to be enraged.
"It's the most city I've ever seen.
When we ride up to the big-house,
the land has all the things I know:
honeysuckles, pines
unseen crickets off somewhere,
and the air is the same sweet I've known my whole life."
Mingled in between poems are a few direct quotes by way of Sims' autobiography; interestingly enough, they're the only bits which seem molded for purpose. They work well in juxtaposition to the poems that follow.
"[…] and of course, her life was one of suffering and disgust. Death would have been preferable. But patients of this kind never die; they must live and suffer." - Dr. Sims
Maples follows his coldness with the poem, "A Thousand Cats" – cats, a south Alabama slang used for 'vagina'. The delivery of this poem hits at a needed time early in Mend, showing the women possess not only resilience, but that they also see the doctor for what he is: less interested in curing their ailments, but eager for the title he'll receive for doing so.
One of the most interesting aspects of the book is Maples' choice to write in voices that are under the influence of opium – given to the women for pain management, but also caused both confusion and memory loss. This manifests believably in the sequenced sonnets, aptly titled "What Yields."
"We nod off like pine trees as you
stitch. Always sighing, you hover

over us. Fool, we know you will never
be done, […]"
It would prove difficult to point to favorite pieces in Mend, as all are important and build upon each other phenomenally; however, I'll say I was most drawn to the sonnets. These occupy the purest reflections of Anarcha, whose straightforward but stunning language give the collection its fiercest strength. Lines such as "Bodies above virtue are never black" jarred me and have stayed with me long after finishing Mend.

Rotting fruit is the take-away image in these poems. Referenced several times across the book, it's a pertinent way to see the flawed value these women held to science; they were to be used for a white man's professional sustenance, rather than willing contributors to a broader understanding.
"We are rotting fruit, yet our bodies yield.
How easily we yield to you, for you.
We slide into our poses, blossoming.
You examine our stalks for blight, mildew
and rust. One morning your eyes examine
the field and we are ripe."
Maples ends the above poem with Anarcha saying, "We must yield, even if you lie to reap." The calm reserve, layered with pre-implied anger and trauma, amplifies that which the women know they can't escape but will survive. Before the book leaves you to your thinking, the notion of joy as resistance appears: a reminder that not everything can be taken for another's use.
With Mend, Kwoya Fagin Maples is equal parts teacher and poet: releasing a part of history that needed to be told, she's brought dignity and light to the women of Mt. Meigs; further, she's urging readers to learn and listen, to not repeat the ugliness hidden in our white-washed past. This is a must-read book for anyone, timeless and worth any praise Maples may yet garner for it.
Rachel Nix is a poet in north Alabama and serves as an editor for cahoodaloodaling, Hobo Camp Review, and Screen Door Review.