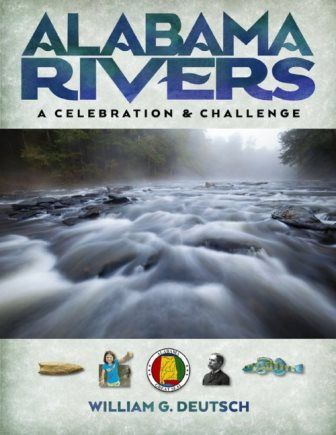 Alabama Rivers: A Celebration and Challenge
by William G. Deutsch
MindBridge Press, 2018
Paperback $27.00
Genre: Nonfiction
Reviewed by Mark Kelly
Alabama is a river state. That simple statement becomes abundantly clear in showing how Alabama's history, ancient to modern, connects our rivers to who we are and where we are going. Forces of nature and human activities have profoundly shaped our rivers, and whether or not we appreciate it, our rivers are now shaping us.
So declares author Bill Deutsch, near the beginning of the enchanting — and, to anyone who professes to love Alabama, downright essential — Alabama Rivers: A Celebration and Challenge. Retired from a long career as a teacher, aquatic ecologist and professional proponent of the economic and cultural value of Alabama's most ubiquitous resource, Deutsch knows whereof he speaks.
In hands less intimately engaged in the subject matter and a voice less engrossingly knowledgeable, this book might have been a pedestrian recitation of facts and statistics, dressed up with a sprinkling of anecdotal garnish. But Deutsch places Alabama's rivers in compelling context as the point of connection for every aspect of the state's history and development, from the arrival of the first humans more than 12,000 years ago to the present day. His joyously-earned expertise, along with a deep and abiding love of his home state, infuses the book's every sentence.
And it's not just history. Alabama Rivers takes in the geography, geology, topography, hydrology and biodiversity of the state's major river basins — the Alabama, Black Warrior, Cahaba, Chattahoochee, Coosa, Tallapoosa, Tennessee and Tombigbee, the Coastal Plain and the Mobile Delta — which comprise nearly five dozen rivers and well over 300 creeks, forks, prongs, branches, bayous and bogues.
Nor does Deutsch neglect the tremendous economic and cultural significance of Alabama's rivers. People divide, water connects, he writes, culminating an overview of the role of rivers in the evolution of commercial activities, population growth, flood control and the development of hydropower, recreation and tourism and public health.
On the cultural side, Deutsch notes that "[Alabama's] art, music, and folklore depict rivers in a variety of ways, from transporting goods to being baptized." In the section of the book titled "Celebrating Alabama's Rivers," he singles out "native sons and daughters" who have distinguished themselves nationally and internationally, including civil rights icon Rosa Parks, renowned biologist and conservationist Edward O. Wilson, baseball legend Willie Mays and a host of others, from Helen Keller to Hank Williams.
Finally, Deutsch writes compellingly of the environmental and ecological challenges, both natural and manmade, affecting the present and future of the state's waterways. Documenting the necessary interactions of government, the free market and civil society, and the positive and negative impacts of those interactions on politics and policies affecting Alabama rivers, he strongly encourages readers to become personally involved in river-related work, which he divides into the categories of awareness and education, protection and restoration, and advocacy and policy.
The economic benefits of Alabama's rivers are growing, Deutsch asserts. The challenge is to keep rivers healthy by protecting water quality and quantity for both humans and aquatic organisms.
Ultimately, the thread that ties together the impressive breadth of subject matter in Alabama Rivers — that keeps the current of information and entertainment flowing, so to speak — is the author himself. Deutsch has a companionable style that draws the reader in and allows the writer to casually deliver facts of sometimes startling import. To wit: 
 Alabama is the most biodiverse state east of the Mississippi River, and leads the nation in the most species of fish, turtles, mussels, freshwater snails, crayfish and caddisflies.

Up to 250,000 Native Americans may have been living in Alabama prior to the decimation of as much as 90 percent of the population by diseases — measles, smallpox, chickenpox and various forms of influenza — introduced by explorers and early settlers.

Alabama receives the third-most annual rainfall in the continental United States.

All seats of state government in Alabama history have been in river towns: St. Stephens (Tombigbee), Huntsville (Tennessee), Cahawba (Cahaba), Tuscaloosa (Black Warrior) and Montgomery (Alabama).
And those are just for starters. For anyone who wants to know more about Alabama, and especially for those who care about its human and natural resources, its past, present and future, Bill Deutsch's Alabama Rivers is a treasure and a delight. 
Mark Kelly is a Birmingham-based writer whose latest book, Back to Nature: A History of Birmingham's Ruffner Mountain, will be published early in 2019.