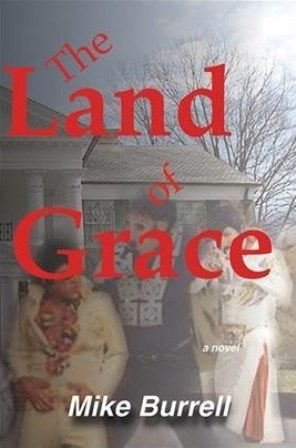 Land of Grace
By Mike Burrell
Livingston Press, 2018
Paperback $14.95
Genre: Elvis Fiction
Reviewed by Anita Garner
Since December 3, 2018, was the 50th anniversary of Elvis Presley's television "comeback special" when Elvis' dead career arose like a black leather clad phoenix from ashes reborn, and since NBC plans a two-hour primetime special tribute to the 1968 special sometime in the first half of 2019, now seems like the perfect time to take another look at mid-century modern Elvis to discover some of the newer Elvis fan fiction. Mark Childress' Tender is a great place to start to pique one's interest, and Mike Burrell's Land of Grace would have to come next.
First of all, the book is a wry, fun read, a burlesque novel that begins as a picaresque. Burrell claims the idea for the novel came years ago when the host of a party asked him to drive home a female guest whose ride had deserted her. Burrell says he drove until he felt sure he would be lost, trying to find his way back to civilization, and once they arrived at the woman's home, she invited Burrell to come inside. After seeing many pictures of Elvis on the walls and a three-foot-tall Elvis statue with votive candles lit in front of it, Burrell tried to make polite conversation about Elvis' death. The woman's reply was to scream, "Elvis is not dead!" The detail never left Burrell's memory.
To tell the plot of even the first fifty pages of Land of Grace is somewhat of a spoiler, and anyway seeing the story unfold through Doyle Brisendine's eyes is the greatest delight of many in the novel's first half. Doyle is a self-styled Elvis impersonator from San Angelo, Texas – a man with no family to speak of but decent good looks and a voice too much like Elvis' to be a big success otherwise in the music industry. And as good as Doyle is at impersonating Elvis, his fan base is growing older and his work van is perhaps the only thing keeping Doyle from being homeless.  When he gets an offer of six thousand dollars to perform at the AMVETS in Willow Ruth, Alabama, Doyle shows up and gives the audience a solid performance. Even the reader most casually aware of the facts of Elvis' life will begin to recognize eerie details. The man who shows up to manage the stage details is named Parker, Colonel Parker, in fact. As Doyle falls down the rabbit hole, we become aware that the part of North Alabama between Birmingham and the Tennessee River is the perfect place to hide a many-thousand acre Elvis-era Brigadoon.
Without revealing too many plot details, I simply will say that the reader has some hilarious burlesque characters to look forward to, not the least of whom is Mama, a woman who looks like Vestal Goodman in a housedress but can preach to her mega-church on Sundays like a fired-up Joyce Meyer—and she can write like a good imitation of one of the Apostles in a King James translation voice. We do not get Mama's back story until several chapters after her introduction, but she is not the simple Gladys Presley wannabe she appears to be upon first glance.
And of course, for those of us steeped in Christianity Alabama-style, Burrell has not been unobservant of the multiplicity of Alabama religions. The mega-church, the Sunbeam Sunday school class, the Good News, the Resurrection, the Ceremony of the Scarves, the King, God's promise to unite the Children and take away all their sins: Burrell's mash-up of New World Christianity and pop culture will keep the reader turning from one page to the next. The final third of the novel may offer some surprising directions, but the burlesque-cheesy quality never waivers. There is never a scene in which characters remove clothing that the reader will not be thinking, Please, please, keep it on.
By the end of the novel, you will understand a little bit more about this insane ruined beautiful bizarre illogical place called Land of Grace (and, by extension, what makes much of the State of Alabama tick.) This is a meta Elvis novel you will want to read and then share.
Anita Garner is Professor Emeritus of English and Creative Writing at the U of N Alabama and serves as Fiction Editor at MindBridge Press in Florence, Alabama.