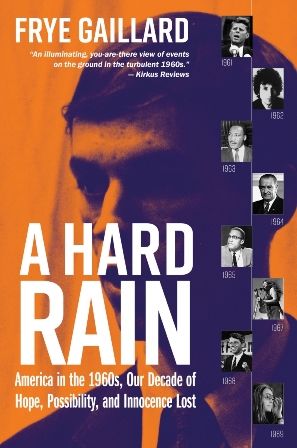 Hard Rain: America in the 1960s, Our Decade of Hope, Possibility, and Innocence
By Frye Gaillard
NewSouth Books, 2018
Hardcover $35.00
Genre: American Studies
Reviewed by Foster Dickson
Published in the year that constituted the fiftieth anniversary of the deaths of Martin Luther King, Jr. and Robert F. Kennedy, Frye Gaillard's Hard Rain takes a voluminous approach to the jam-packed decade that brought both men to prominence. Loaded with facts, insights, and anecdotes, which are presented in a smooth-flowing narrative style, Gaillard's look-back at the 1960s, comprised of seventy-two chapters separate into three sections, offers readers a thick but not overwhelming mixture of the well-known and lesser-known events and people that changed America.
Considering that a gracious plenty of qualified writers, journalists, and historians have written whole books on just one aspect of this turbulent decade – one politician or one movement – Hard Rain's prospectus is a daunting one: to cover America in the '60s. Looking at the physical object – the book itself – before I began reading, I could see that the author had certainly tried. Also before reading, its sheer heft caused me to do what most folks would do: I flipped to the end to see how many pages this one had— the actual text ends on 625, followed by sixty more pages of end notes and index. Yet, my initial apprehension about its length was eased when I started reading and found this goal in the preface: "As future generations debate the meaning (I also seek to do some of that here), I hope to offer a sense of how it felt." If this book were a dense, heavily cited, academic work of the same size and scope, the slog through it could have been unpleasantly slow and arduous; but that isn't what Frye Gaillard has done here. This one, by contrast, has humanity and warmth, two qualities that augment the historical substance and allow for smoother reading.
The first of Hard Rain's three parts is titled "Possibilities" and covers 1960 through 1963. Gaillard begins with a somewhat inauspicious name, Franklin McCain, who, along with three other student-activists, staged the first sit-in in North Carolina. It then goes from zero to sixty in a matter of moments, shifting our attention next to James Lawson and the protests in Nashville, then in chapter two to the music of Sam Cooke, Elvis Presley, and Joan Baez, and the groundbreaking book Black Like Me by John Howard Griffin. In the chapter three, John F. Kennedy comes on stage, led by a brief discussion of Lillian Smith's Killers of the Dream. Chapter four then describes the FDA's approval of the "the pill," Timothy Leary's endorsement of LSD, Barry Goldwater's insistence on conservatism, and the Supreme Court's ruling on desegregating interstate travel. And yet, there are fourteen more chapters in Part I—which cover such dizzyingly diverse subjects as the Freedom Rides, the Cuban Missile Crisis, the suicide by fire of Thich Quang Duc, the Sixteenth Street Baptist Church bombing, and the publication of The Feminine Mystique. Of course, the ending demarcation for this period of "possibilities" is the assassination of John F. Kennedy in Dallas, on November 22, 1963.
The second section of Hard Rain is governed by Lyndon Johnson and titled "Inspiration/Loss." I began Part II with a deep breath, after reading the years on the title page: 1964 through 1968. Then Frye Gaillard's words carried me through them like a panoramic guided tour. On the political front, the heart of the decade brought two distinctly different Southerners into national prominence – Texas's Lyndon Johnson and Alabama's George Wallace. On the musical front, the nation got Motown and The Beatles, as well as Nina Simone's "Mississippi Goddam" and Johnny Cash's "Ballad of Ira Hayes," songs that Gaillard writes are "part of a musical canon in America intended to call attention to our flaws." This was a time when the Civil Rights movement matured even further, resulting in 1964's Freedom Summer and 1965's Selma-to-Montgomery March, two events that foreshadowed landmark federal legislation those same years. Page by page, Gaillard introduces us to activists Fannie Lou Hamer and Allan Lowenstein, Conservative Phyllis Schlafly, author Alex Haley, martyrs Malcolm X and Jimmie Lee Jackson, evangelist Billy Graham, and communist leader Ho Chi Minh. As the narrative rolls on, Hard Rain apprises us of the complicated escalation in Vietnam, the resonance of The Sound of Music, the ascent of Robert F. Kennedy, and the emergence of Black Power. It was during these years when stark contrasts dominate, in the voices of educator Jonathon Kozol and TV personality Fred Rogers, in the imagery from the musical Hair and the film In the Heat of the Night. This middle section of the book is the most substantial and comprehensive, containing more than forty chapters, and with good reason: there's a lot to talk about.
By the final section of Hard Rain, the narrative enters the Nixon presidency, and this shortest section of the book carries us out through the banner year: 1969. The opening chapter, titled simply, "President Nixon," begins with his inauguration and includes this statement on the second page: "It was an ugly time in America, and the ugliest part was the war that felt like a nightmare with no end." After nine years of protests, killings, experimentation, consequences, backlash, and war, Vietnam was raging, Black Power and feminist activists were speaking out, and the Stonewall Riots went down. There was the peace and love of Woodstock on the one hand, and the murderous lunacy of Charles Manson on the other. And who could forget the moon landing?
Though he does interject his own asides periodically throughout the book, Gaillard ends Hard Rain on a personal note, in the chapter titled "Redemption." Here, he discusses his own journalistic work with Nashville's Race Relations Information Center, where he volunteered to work with Native Americans. And as the main text of the book reaches its end, the author shares this, for modern readers to ponder: "History did not stop as the 1960s came to an end, nor did the great American schizophrenia, that cleavage in our national heart and soul that had come so painfully into sharper focus."
Hard Rain articulates a great deal about the "decade of hope, possibility, and innocence lost" by framing this massive narrative within the experience of one young man who was raised as the son of judge in Mobile, attended Vanderbilt in Nashville, and became a journalist and author himself. The book's holistic treatment does provide readers with a sense of "how it felt" to live through such an invigorating and exhausting decade. In the spirit of the Pete Seeger tune, "Turn, Turn, Turn," which is discussed in chapter 31, there is a time for everything, and Hard Rain indicates that this must be Frye Gaillard's time for reflection.
Foster Dickson is a writer, editor, and award-winning teacher in Montgomery, Alabama. His new book Closed Ranks: The Whitehurst Case in Post-Civil Rights Montgomery was published by NewSouth Books in 2018.