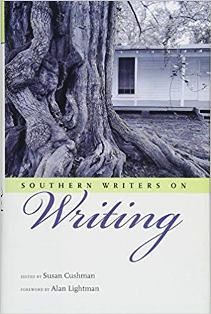 Southern Writers on Writing
Edited by: Susan Cushman
University Press of Mississippi, 2018
Hardcover
Genre: Nonfiction Anthology
Reviewed by Donna Estill
Southern Writers on Writing, edited by Susan Cushman, addresses the ever-present question of what it means to be a writer, and more specifically, what it means to be a Southern writer. The complex relationship of writer to place is further complicated in the South by its history of racial tensions and by the ghosts of literary giants like William Faulkner, Flannery O'Connor, and Harper Lee. The twenty-six essays in this book are divided into six broad categories: "Becoming a Writer"; "Becoming a Southern Writer"; "Place, Politics, People"; "Writing About Race"; "On the Craft of Writing"; and "A Little Help from My Friends." Writers as diverse as the South itself take readers through the familiar and the strange in the way that Southerners like best: storytelling.  The glue that holds this collection together is love, sometimes unwillingly, for the South and writing—not a wide-eyed innocent crush, but a very grown-up love that acknowledges the problems yet is still committed to the relationship.
The dual nature of the South threads through the entire anthology.  For some, like Joe Formichella in "Consider Kudzu" and Sally Palmer Thomason in "How I Became a Southerner," it means immigrating to the South from other parts of the country and discovering a land that is very different than frequently depicted in television and news. For others, it's the challenge of living with a personal heritage; as W. Ralph Eubanks says in "The Past Is Just Another Name for Today": "My lived experience has taught me that turning away from one's personal history is a way of denying yourself and your very existence...it is the way Mississippi continues to embrace its myths that troubles me, yet it is the deception and denial of history that also propels my writing.".
Writing, like the South itself, can be a bittersweet experience. Cassandra King describes her family's ambivalence about writing as a career even as she herself is both immersed in it and fascinated by it in "The Ghost of Josiah King." Jennifer Horne sees writing as a separation from the world, a way to view the South that is both beautiful and challenging from the sanctity of her space in "Where I Write." On the other hand, Corey Mesler sees writing as an entry into a world from which he is isolated in "The Agoraphobic Writer." For Wendy Reed, in "Lyrical Acts," writing is the ultimate aphrodisiac, while for others, it is intimidating. Editor Susan Cushman shares how a group of supportive women writers helped her overcome her insecurity about writing in "Hard Labor: The Birth of a Novelist."  In "A Woman Explains How Learning Poetry Is Poetry and Not Magic Made Her a Poet," Jacqueline Allen Trimble finds that poetry isn't magic but is hard work: "Most writers are not geniuses, and most of those who appear to be have created that illusion by the steady, consistent application of enormous sweat equity." Suzanne Hudson, writing in part as her biting alter-ego RP Saffire in "That's What She Said: The Sordid Business of Writing," illustrates the divide between writing and the world of publishing and marketing.
The literary heritage that provides a strong backdrop for many of the authors in the collection provides both an entry into literature and a hurdle to overcome, as Katherine Clark's "The Burden of Southern Literature" illustrates in trying to find her voice that is not "professional Southern," as one of her professors puts it. The source of this literary heritage is, by consensus, the storytelling culture of the South.  John M. Floyd, in "In the Land of Cotton," credits both the problems of race and politics and the storytelling culture that allows the South to deal with its problems. In "Dirt, Death, and the Divine: The Roots of Southern Writing," River Jordan finds the strong elements of religion and storytelling as the source of Southern literature: "Southerners draw from a well that is a mystical blend of raw earth and our peopled history. From the storytellers that bore us because all those that came before us were storytellers." Claude Wilkinson's "All That 'Southern' Jazz" also acknowledges the storytelling ability of Southerners: "Now about the South, even the boys in my community who had never heard of a creative writing class, nor who were ever promoted as far as high school for that matter, were still master storytellers in their own right."
For all the conflict, writing is the one act that allows the South to deal with its history and present.  Lee Smith shows in "A Life in Books, from Dimestore: A Writer's Life" that writing "gives us the chance to express what is present but mute, or unvoiced in our personalities." Julie Cantrell's "Southern Fiction: A Tool to Stretch the Soul and Soften the Heart" looks at the beauty and ugliness of her native Louisiana and reflects: "When reading a nonfiction account of another person's experiences, we tend to enter that story with our defenses high. We may think to ourselves, 'Oh, I'd never do that.'…It's easy for us to separate the real person's life from our own, and therefore we convince ourselves we could never end up in the trouble they're in…[F]iction tears down those walls…we enter the story with an understanding that is no threat to us because this situation is not real…Fiction builds empathy. Fiction is the truth teller. Fiction is the peacemaker."
Southern Writers on Writing ends with a bit of advice for those who strive to be Southern writers. Clyde Edgerton's "Three 'One Things': An Essay on Writing Fiction," identifies three specific tactics for editing: look for one single most important identifying characteristic of a character or place; keep each character in a separate paragraph when possible; and let the characters' dialog give information rather than using exposition when possible. Niles Reddick recommends in "Capturing the Essence of Difference" exploiting differences to open up perception. And the book ends, fittingly, with the most profound advice of all, urging perseverance as one pursues a writing career, in Michael Farris Smith's aptly titled "Keep Truckin'."
The South's contradictory nature may be challenging, but in the end, for these authors it's home.  Trimble expresses it, as all good Southerners do, with a story:  "A professor once said to me, 'Southerners don't transplant well.' He was right. I lived outside the South for two years and hated every minute of it…When I re-entered Alabama after that long absence, I stopped my car, got out and kissed the ground…My poetry comes out of my quarrel with myself as I grapple with the dualities of my feelings about the South, my home, my lovely, dysfunctional home—pride and shame; joy and sadness—the place from which comes both the love and rage that undergird my work." Telling stories in the beautiful language of the South transcends the everyday ugliness and provides hope. This soft melody of Southern voices rises from the page, saying, as Sonja Livingston suggests in "Stardust: An Essay on Voice in Four Parts": Listen. Here I am. We are together now.