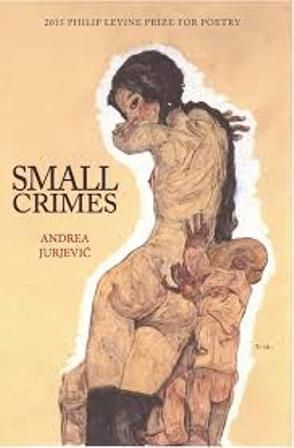 Small Crimes
by Andrea Jurjevic
Anhinga Press, 2015
Paperback $20.00
Genre: Poetry
Winner of the Philip Levine Prize for Poetry
Reviewed by Mary Jane Ryals
Even the cover photo of Small Crimes tells a story--a homunculus clinging to an unclothed woman. The homunculus is a monstrous form used to express postwar anxieties about refugees, persecution of minorities in war and the adoption of minorities into a big world.
Yet this gritty and tender collection by native Croatian Andrea Jurjevic tells an intimate and personal story of survival in a brutal war that occurred in Europe only two-plus decades ago. Named the Croatian Revolution, a million people were counted in the dead, missing, imprisoned and displaced just across the Adriatic from Italy.
Jurjevic focuses, rather than on historical facts, on how the quotidian of regular people's lives managed to help them keep their humanity in the midst of bombs, firing squads and loss. In "Sarajevo Cycle: 1992 to 1996" the visuals tell the death toll in ironically beautiful language:
past the fast-clacks through debris, clutched loaves of bread,
more Run or RIP signs nailed to posts, the cyclist not heeding
the sickle-shape of a couple's legs on the sidewalk, or the child in a fuchsia
duffel coat with fingers curled in the red drool under her mouth...
In the poem "Small Crimes," in contrast, longing, tenderness, and grace through the body come to two people in a car at a roadside shrine of the black Madonna:
I'd leaned towards you behind the wheel.
You stirred, semi-vigilant as I snapped the white buttons
on your shirt, undid the equator of your belt,
ducked from the eyes of people pushing cars
filled with cured lamb, corn on Styrofoam, cellophaned rye
And as the last sprays of sunlight slid down
the hood of the sky, you shielded my black hair,
your hands familiar with churned earth,
and what it takes in the tucked back of a parking lot
to absolve a peopled afternoon of a small crime
and keep it hidden, keep it safe.
In the last section of the book, "Americana: Threshold," the book's final poem, "Threshold," the narrator describes cleaning a "Strange place I resist calling home."
The descriptions of everyday domestics are angled by the vision of someone who's seen too much: "Four blistered black mailboxes," "faded geraniums...like spent debutantes," and "I try to removed time from the worn carpet, / restore something in this house..."
Yet the mere fact that survival occurs seems a miracle as the end of the poem approaches:
...I think of how right now
someplace boats are leaving their docks,
how easily they move--like the lifting
of eyelids, the sound of dawn, like breathing.
This book of poems certainly earned the 2015 Philip Levine Prize for Poetry that it won, through voice, story, detail, scrutiny, understatement and love of language.