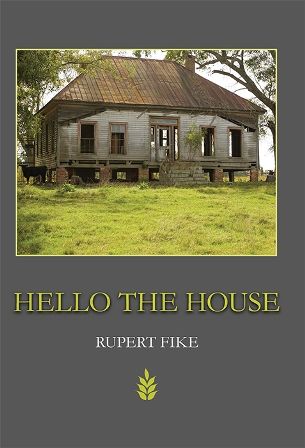 Hello the House
by Rupert Fike
Snake Nation Press, 2018
Paperback $15.00
Genre: Poetry
Reviewed by Michael Blanchard
If poetry is a compass for us as readers to find our place in the world, it is necessary for the poet first to get his or her bearings in time and place. And, that is exactly what Rupert Fike undertakes to do in his newest collection, Hello the House (Snake∼Nation∼Press). The poems here are rich with memory, rumination, and images evocative of a particular place and culture. And, Fike's imagination drifts easily and dreamily between past and present, flowing inexorably to insights gained or wisdom to share.
In highly accessible poems that are conversational in both tone and diction, Fike serves as an engaging tour guide through a region he calls home. Geographically, that land is a swath of the American South close to the Georgia/Tennessee line. Culturally, it is a world of AM-radio preachers; fried grits, grilled cheese sandwiches, and chicken cooked in bacon grease; and early-morning hunts for "rabbits, /doves, anything with a beating heart." It is a world also where neighbors are served "a coke-cola on ice complete with tatted glass-holders." And where family is close and death as familiar as the corpse of a "great aunt laid out/on the dining room table."
More important than Fike's eye for telling detail and gift for story-telling, though, is his moral/ethical compass, which guides him in staking claim to a territory all his own in this world, even if doing so lands him on the other side of the metaphorical fence from family and neighbors.
A literal fence figures in the collection's title poem, a reminiscence about a youthful hunting trip with a hard-drinking father figure. The fence to be crossed here is a "three-strand" one of barbed wire. Symbolically, it marks a key divide in the poet's coming of age:
He has waited too long to bring me out here.
I'm citified, beyond reclamation.
I will see the rabbit's side of things
when it comes bounding past with great leaps.
"The Old Man. So Alone. Out in the Cold" provides another example of the poet's moral awakening. Through memory, he feels a connection to an aging poet who struggled during the public reading of a poem against wind, cold, and glaring sun. The poet was Robert Frost; the setting, the inauguration of John F. Kennedy:
Years later I will have cataracts myself,
but that moment on the store floor was when
I first learned to feel sorry for someone.
For the old man. So alone. Out in the cold.
Who no one would help. And I felt sorry.
Mother wanted to move on, but I dug in.
"Georgia/Tennessee Line, Sunday" provides yet another example. In response to the message delivered by AM-radio preachers of the day, the poet concludes:
Even as a boy I couldn't buy this,
though I could tell she really believed it.
Here was the first fault line I had noticed
in the great church of grown-up wisdom.
Not that I became a boy atheist,
it's just that this was when I first knew
I'd have to figure things out all by myself.
If the 47 poems in Hello the House are a true indicator, it appears Rupert Fike has done a lot of figuring things out. And, for that, we are fortunate to have him as our guide.
Hello the House is the winner of the 2017 Violet Reed Haas Prize for Poetry. Fike's previous collection, Lotus Buffet (Brick Road Poetry Press, 2011), earned him recognition as a finalist for the Georgia Author of the Year Award, the oldest literary prize in the southeast.