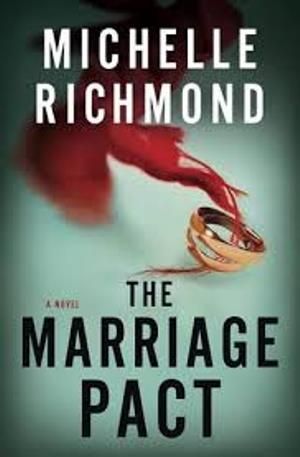 The Marriage Pact
by Michelle Richmond
Bantam, 2017
$27 Hardcover
Genre: Fiction
Reviewed by Anita Miller Garner
Followers of Michelle Richmond's career will be happy to discover this latest novel by the author has a good chance of being made into a film. All the more reason to read the book now so that you can make up your own mind about its mysteries, its plot twists, and mainly envision your favorite ending.
Like the author, the female lead character of the novel, Alice, is a native of Alabama who has left the Deep South for California. But unlike the narrators in most of Richmond's earlier work, this time the narrator is not the female but rather her husband Jake, a rather dull psychoanalyst whose main purpose in life is to eat French toast, drink hot chocolate, and adore his brilliant, striking, high-powered, hot, attorney wife who was once an up-and-coming rock star and now has many lingering adoring fans. Awkwardly, Alice also has a lingering adoring song-writing partner from the now defunct band, a temperamental man but one with whom Alice still shares the creative ability to synch souls and write exquisite songs, such as deeply moving love song duets. What Alice shares with her husband Jake is something quite different: the Pact, sometimes which manifests itself as just a small blue P in the corner of their cell phone screens. The Pact is the marriage police Big Brother. Like the omniscient, omnipotent, omnipresent God, the Pact can detect when one is even thinking about adultery before the adultery even happens. And what happens to adulterers of the first degree in The Pact, one does not even wish to imagine.
How Alice and Jake get tangled up with this cult is part of the appeal. They were in California and were not paying attention. It seemed like a good idea at the time. Around the date of Alice and Jake's wedding, Alice had handled a case involving a famous Irish musician and song writer. This celebrity in an offhand remark said he loved weddings, and Alice handed him a spur-of-the-moment invitation. The celebrity and his wife showed up, and the wedding was an afternoon of love united forever and happy golden California sunshine moments—and of course a mystery gift from the celebrity couple, a puzzle box of sorts that when the purpose is revealed—to strengthen Alice and Jake's marriage and make it everlasting—the young bride and groom sign on the dotted line. Alice and Jake then receive a rulebook the size and thickness of the old paper San Francisco phone book. Alice is an attorney and Jake has a PhD and even they cannot make it through that document.
But as anyone who has ever been married or observed a marriage can tell you, the offenses expressly forbidden by the Pact start building for Jake and Alice at an alarming rate. Jake forgets what the date is and realizes too late that he did not buy Alice a thoughtful gift that calendar month. And he also runs into an old acquaintance from college at the first Pact dinner party Alice and Jake attend. Jake and JoAnne had had classes and job assignments together in graduate school, so when JoAnne finds him at the party to tell him she wishes she could have warned him never to join the Pact, Jake and Alice suddenly get a very bad feeling about what they have signed up for, and the alarms that had already been ringing in the backs of their minds take on a more ominous tone.
Part of the fun of reading The Marriage Pact is of course playing in one's mind the dialogue for each character through which Hollywood actor you would like to see play that part. (I will say that Orla, the grande dame and inventor of The Pact, is a small role that would be deliciously ironic played by Jane Fonda or best ever played by Vanessa Redgrave.) Richmond's writing style also engages the reader as she uses that same type of realism laced with the surreal that, in manner, lulls the reader into perceiving stories such as Shirley Jackson's "The Lottery" and certain stories by Shirley Ann Grau as straight realism before the real world starts sliding off the icy road like a car into a dangerous ravine. Richmond's expertise as a short story writer carries over to the plot of this novel with no extraneous details and gratuitous side plots, no unplanned characters popping up late in the action, those details having been so meticulously planted early on that we are not even aware. And Richmond fans who loved the way coffee became part of one of her previous novels will love the way facts about marriage (of course!) thematically grow the plot of this one. Did you realize that the third year of marriage is statistically the happiest? Jake and Alice have not made it six months in, and you will question if they will still be alive come their third year.
The sad truth is that when Alice and Jake are spied upon so easily via their cell phones and when every small detail of their lives is available for dissection, speculation, and punishment, this does not even seem an exaggeration of what we now accept as reality in our own day-to-day lives. If The Marriage Pact does nothing else, it forces us to realize that, yes, marriage is hard, but also wonder if marriage is even harder today with all of the 21-century's relentless technology and obsession with staying plugged in. Richmond does symbolism very very well. You will be thinking about this one for a while—or at least until the cast is chosen for the movie version and the ending they choose is not the one you had imagined.
Anita Miller Garner is professor emeritus of English and Creative Writing at the University of North Alabama, publishes short fiction, and edits fiction and nonfiction at Mindbridge Press.